What Is Double Texting and Its 10 Pros and Cons
What is double texting?
Is double texting a good thing? Is it a bad thing?
How do I stop double texting?
Are there ground rules for double texting to avoid putting my relationship in trouble?
If you are in a committed relationship, there is every possibility that you may have found yourself asking these questions at some point.
Figuring out what it means when a guy double texts you, the pros and cons of double texting, and how long to wait before double texting can be a lot to wrap your head around sometimes.
Anyways, this article will give you all the information you must have on the subject of double texting.
By the time you are done reading this article, you'd know the pros and cons of double texting. Then you would be equipped with all the information you need to make an informed decision for yourself.
What is double texting?
Simply put, double texting is the act of sending one text message and following it up with another (and maybe another text message), even when the recipient of these messages is yet to reply or acknowledge the first one you sent them.
While this may look like nothing to be worried about, double texting may send across the information you didn't plan to communicate to the recipient of your back-to-back messages.
Since, according to the reports, texting is 10x quicker than calls, and 95% of all texts would be read within 3 minutes after it has been sent, the temptation to double text a guy you fancy can be overwhelming sometimes.
However, if you want to build a strong and mutually beneficial relationship, you may want to hold off on this for a while and evaluate the pros and cons of double texting before you get started with it.
Related Reading: 

Texting in relationships: Texting Types, Affects & Mistakes to avoid
How long should you wait before double texting?
Sometimes, it can feel as though the person you have a crush on (or you are in a relationship with) is ignoring you.
For some reason, you may think that they may be on standby to reply to your messages the second they drop, but what happens if they do not do so? How long should you wait before firing off another message to them?
A study by Google revealed that people generally believe that waiting more than 20 minutes to respond to a text message can easily be interpreted as rude. This, however, doesn't mean that you must spend your entire life around a smartphone so that you can reply to messages with the speed of light.
If you are in a romantic relationship (or you have a crush on someone), you must understand that double texting a guy or lady can easily be interpreted in a number of ways and it is vital that you wait for an appreciable amount of time before you double text them (if you must).
Unless it is a life or death situation (or something that requires their urgent attention), wait at least 4 hours before you fire off a double text to them. This way, they don't see you as clingy or desperate for crumbs of their attention.
Then again, the time interval gives them the opportunity to pay attention to the pressing matters they may be dealing with before replying to your messages as well.
Pros and cons of double texting
Now that we have defined what double texting is and the amount of time you must allow before double texting, here are some of the pros and cons of double texting.
With this information at your fingertips, you can decide whether or not you still want to send double text messages.
Pros of double texting
Here are some advantages of double texting
1. It serves as a reminder
The truth is that sometimes, people do not reply to messages because they genuinely forgot to (and not because they are snubbing you or anything like that). When you double text the right way, you remind them to attend to the message you sent earlier.
2. Double texting can show that you care about them
Some people seem to be more attracted to those who double text and constantly check up on them. They believe that these people are more friendly and easier to be in committed relationships with than those who send single texts and follow up with late replies.
Related Reading: 

Am I Ready for a Serious Relationship: 25 Sure Signs You're Ready
3. Double texting helps you to reboot the conversation
Has the conversation started slacking in some ways?
Double texting is a great way to restart the conversation and infuse a little more life into your exchange. All you need to do is politely refer to a previous section of the conversation and have things start off from there.
4. Double texting can open the relationship up for more
Knowing what to say in a double text can land you a 'yes' where you desperately need one.
Consider a scenario where you are interacting with someone who doesn't appreciate wasting time but prefers that you be completely honest with them. Saying your intention in your double text can allow the relationship to evolve into bigger things.
5. What if they were too nervous to ask you out?
While you stand the risk of being interpreted as being desperate or clingy, double texting is one way to take the pressure off the shoulders of your intended date.
If you think they were too nervous to ask you out (or even ask you for something), you can ask them first with the double text and see where things go.
6. You can keep them updated with the things that matter to you
This is the beauty of text messaging. When you text, you can keep people updated on the things that matter to you. This includes career milestones, major accomplishments, or the things you just would want them to know about. Texting is generally easier and less formal than calls and emails.
7. Double texting can be a sign that you won't give up on wooing them
However, for this to work in your favor, you must be sure that they are the type of people who won't be put off with this. Some people want to be courted, wooed, and pursued before they give their consent, and this is a subtle way to pass that message across.
Also Try: Am I Texting Him Too Much Quiz
8. Double texting can present you as a warm and approachable person
When you know how to double text and do it the right way, it can make them see you as warm and approachable. If you don't mind sending them a follow-up message when they slack on replying to your first message, it could imply that you aren't one to commit errors to memory.
9. It could be a sign that you aren't yet tired of the relationship
This applies if you have been dating for a while. When you are receiving double texts from your partner, it could be a sign that they are still interested in you and in your relationship.
As far as their texts aren't intrusive, you may want to pay attention to them and to build your relationship still.
10. Double texting can make your partner feel like you are genuine
When your messages aren't being a nuisance, double texting can make your partner feel as though you are genuine and not afraid to show them the real you.
When you think about it, almost all of us want to double text the ones we love.
However, it takes a level of vulnerability to let go of your inhibitions and actually shoot off the next message. There's a lot of uncertainty about how they would receive the message. Sending a double text takes a lot of guts.
Cons of double texting
Here are the disadvantages of double texting
1. It can be annoying
As much as it may be difficult to admit, double texting can be annoying, especially when you won't stop sending off rapid-fire messages, especially about things that the recipient of your messages can't be bothered about.
2. Double texting can make you come off as clingy
Is double texting bad?
The simple answer is no. While it may not be bad per se, it is easy for your multiple texts to be interpreted as being 'clingy.' When you just won't stop texting someone (even when they don't reply to your messages), it can be suggestive that you are desperate for their attention.
3. It could be an express instruction for them to 'move on.'
Imagine that they were interested in pursuing something with you, only for them to come up to meet a plethora of messages from you; messages that suggest that you may be a clingy person, that could be their cue to drop you like a smoldering hot iron and move on with their lives.
Double texting can be a huge turn-off, especially for people who value their space, peace, and quiet.
4. You can't undo those messages once they are sent
This is another reason why you may want to give more thought to the double texting thingy. One of the major cons of double texting is that once those messages are sent, there's no undoing what has been done.
Even if you end up deleting them, there's no guarantee that the recipient wouldn't see what you have sent and think of you in unflattering ways.
If your dignity is important to you, you may want to think again before sending out the double text.
5. You stand the risk of getting royally ignored
An unanswered first text can be excused. However, what happens when you send a double text, and they still do not reply? This risk is another disadvantage of double texting. If you don't mind the emotional scar that can come with it, you may have it. If not, please take a second to think things through.
6. What if they think of you as not being able to take a hint?
This is the painful truth, but it begs to be said nonetheless. There's every possibility that the reason why they didn't reply to your initial message is simply that they didn't want to. Under these conditions, sending a double text is one way to easily tell them that you don't take a hint and you don't know when to quit.
It can be annoying.
7. You may not be able to live down the embarrassment
So, assume you shut your eyes and ears to all warning signs and sent that double text, only to have them ignore you again. How would you feel the next time you run into them at a public function?
You may be unable to hold yourself together the next time you meet them in person. Even if you do, you may just be remembered as the guy/lady that didn't know when to stop.
8. You get worked up over what to say in your follow-up text
It was easier sending the first message because you had something specific you wanted to say to them.
However, sending the double text wouldn't be as easy because you would have to figure out how to get their attention without coming off as desperate. Sometimes, you may find yourself stressing out unnecessarily over what to say in the double text.
9. You won't be calm until they finally deign you worthy of a response
Should I double text her/him?
Well, think of how uncomfortable you may start feeling after you have sent that double text until they think it necessary to send you a response. If you aren't careful, you may find yourself quivering and unable to focus on the things that matter to you, until they have responded to your message.
If you can't risk this, you may want to allow them to respond to the first message you sent before firing off a new one.
10. You may soon find yourself deep down in the rabbit hole of double texting
Double texting is one of those not-so-good habits that have a way of growing on you. If you aren't careful, you may find yourself becoming addicted to the thrill of sending rapid-fire messages and hoping that the recipient of your messages responds at some point.
In summary, it isn't quite healthy for your self-esteem.
What are the rules of double texting?
If you must double text, here are some rules to bear in mind.
Ensure to follow the 4-hour rule we talked about already. If you aren't sure, please refer to the earlier section of this article, where it was explained in detail.

If you must double text, ensure you are texting them about something remarkable, not just about a random tidbit they can't be bothered about. It helps to also talk about something they are passionate about.

Don't send another text (after sending the 2nd one) until you have gotten an answer. Even during the conversation, you may want to pay attention to how they are responding. If they are replying with single sentences and lousy phrases, you may want to take that as a cue to kill the conversation.
Suggested Video: When to stop texting a guy (Do not text too much).

Never text them late at night or at an ungodly hour. It may just send off warning bells in their mind.

If you don't feel the connection, you may want to allow them to lead. This way, it doesn't feel like you are stringing them on to what they wouldn't want o be doing with their time.
Related Reading: 

20 Tips on How to Not Be a Dry Texter
How to stop double texting
Are you ready to stop double texting? Here are some things you may want to try out.
1. Get busy as well
One of the reasons why you double text could be because you have some time on your hands. Get busy. When you have a lot on your to-do list, you'd only be obsessed with ensuring that you burn through the activities that matter to you, and double texting someone may not be a part of them.
2. Accept the mistake
It is impossible to find your way around a habit you haven't yet acknowledged. So, start by accepting that you have been double texting.
3. Take phone breaks throughout the day
When the pressure to double text begins to mount again, you may want to take a phone break. This way, you shut out that desire to be on the phone and also allow the desire to text them to fizzle away, even if it is for a few minutes.
4. Focus on the people who prioritize you
You may want to spend more time communicating with the people who do more work appreciating you and to whom it doesn't feel like you are a nuisance. This would help you stay in touch with people, but with the people that matter to you this time.
Summary
What is double texting, and is it bad? Is it okay to double text?
If you were asking those questions, this article should have helped you put some things in perspective. Double texting isn't bad per se, but it is vital that you consider many single and interdependent factors when you are about to double text.
Again, if it feels like you are being a nuisance to them, you may want to put your feet on the brakes and stop double texting them. You'll be fine eventually.
Share this article on
Want to have a happier, healthier marriage?
If you feel disconnected or frustrated about the state of your marriage but want to avoid separation and/or divorce, the marriage.com course meant for married couples is an excellent resource to help you overcome the most challenging aspects of being married.
More On This Topic
You May Also Like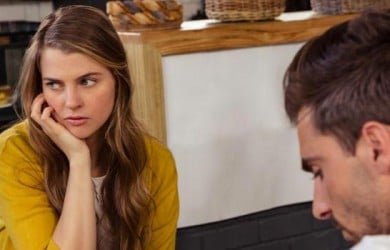 Popular Topics On Married Life