Combining Logic with Emotion to Create a Healthy Relationship
What is the most important missing key, in the world of dating, in the world of relationships?
So many people want to find deep love.
Others want to take their current relationship and go into a more committed and exciting arena.
And others are trying to figure out if it's even possible to save their current relationship.
So what's missing in all these scenarios?
For the past 30 years, the number one best-selling author, counselor, master Life Coach, and minister David Essel have been helping individuals and couples to understand the profound steps that it takes to create an incredible love relationship.
Also watch:
Below, David shares his thoughts on the missing key that once we grab onto it, it will make relationships a hell of a lot easier.
The missing key
"When you think of love, what do you think of?
Most people think of emotions. Desire. Compatibility. Lust or Sexual desires. Interest.
Some would stretch this out and include compassion, communication, and more.
But there's still something missing when it comes to creating a healthy relationship!
And that something missing is going to surprise you.
In our new top-selling book, "Love and relationship secrets… That everyone needs to know!"
I go into great detail talking about the missing link, the missing links, and what we need to do to create a different form of love in this world.
In our 40 years of experience, we have seen that 80% of relationships are unhealthy.
Read that again.
80% of relationships are unhealthy!
And why is that? It can run from addictions to fantasy, to neediness, passive-aggressive behavior, control, domination, codependency, and more.
People stay stuck in relationships because they don't want to be alone.
People stay stuck in relationships because they don't feel worthy of anything better than they have right now.
But there's still something missing!
So what is it… What's missing in all these unhealthy relationships that could make a real difference in the world of life?
What is missing in unhealthy relationships is commonplace in healthy relationships.
And what is that thing? Logic.
Oh, my Lord, I can hear the screaming from the balconies right now.
"David, Love is supposed to value sentiment more than logic… David, you're trying to slow us down and not allow our hearts to be open… David, love is all about feeling an attraction, compatibility, and choosing emotions over logic… Please don't bring logic into this; it's going to spoil all the fun!"
Do you resonate with the above comments about logic vs. emotion in relationships?
Logic vs. emotion
If you are in an unhealthy relationship, whether you want to agree or not, some of the above comments are extremely valid as to why you're in a crap relationship.
But what about the 20% of couples that are in healthy relationships?
This is where we received our most valuable information, which is over the past 40 years, comparing the 80% of couples that are in unhealthy relationships versus the 20% that are in healthy ones.
And the difference is really easy to see: it's logic.
When people are dating, they allow their hearts to get in the way of their logic, they allow their sexual desires to get in the way of logic, and they also allow their codependency, like the fear of being alone to get in the way of logic too.
But logic is the answer! Logic and emotion, when combined, are the answer to create that outrageously powerful love relationship that so many of us desire and are missing.
So with logic, before we even begin dating, we know the characteristics of someone that will not work for us.
Regardless of what else they bring to the table, if they have any of our deal-killers, we're not going to buy into the insanity of pushing what we know to be true, what works for us or what doesn't work for us aside because of they… Have a great body… Have a lot of money… Have power… Or are submissive and will do whatever we ask.
Combining logic and emotion
There are so many different ways we rationalize, justify staying in, or getting into unhealthy relationships.
But if you combine logic with emotion, you will create amazing love affairs.
But in reality, only a few people know how to be less emotional and more logical. Research has also concluded that emotions can have a significant impact on our logical reasoning in different aspects of our lives.
We are so hung up on reading romance novels, romantic movies, magazine articles that talk about finding your "soulmate, "and the pressure to find your "soulmate, "especially as you get older, increases dramatically.
Due to which when we pit logic versus emotion, logic totally goes out the window!
Our neediness… Our fear of being alone… Our wanting to be accepted by society because now we have "a partner."
Let's slow down.
If you look at your past relationships and they are filled with drama and chaos, which most of ours are, reach out to a professional today to at least get a start on how you need to change your beliefs, mindset and even the subconscious mind in order to create a different type of love in the future.
We offer a "jumpstart, 30-minute counseling session", for people from all over the world via phone and Skype to help them at least begin the process of evaluating what their beliefs are, and how they can bring more logic into the world of dating, love, and relationships.
I know I can help you, and I know you'll be so happy to do the work."
Share this article on
Want to have a happier, healthier marriage?
If you feel disconnected or frustrated about the state of your marriage but want to avoid separation and/or divorce, the marriage.com course meant for married couples is an excellent resource to help you overcome the most challenging aspects of being married.
Learn More On This Topic
You May Also Like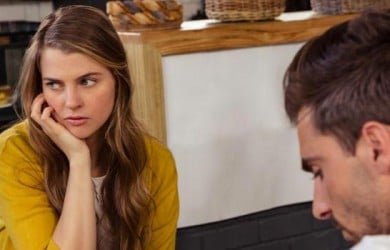 Popular Topics On Married Life