What Is Cohabitation in Relationships? Agreements and Laws
Research by Pew Research Center on cohabitation statistics shows that increasing numbers of couples choose cohabitation. In some cases, cohabitation in relationships is a way to test compatibility before marriage. In others, it is an alternative to marriage.
Legally, cohabitation is a different situation from marriage. Therefore, it is strongly advised to have a cohabitation agreement in place to protect both parties.
What is cohabitation in relationships?
In essence, cohabitation in relationships is when a couple (mixed or same-sex) lives together in a relationship equivalent to matrimony. You can consider a couple to be in a cohabiting relationship even if they are both married to other people.
By contrast, sharing a home with someone legally does not qualify as cohabitation.
Cohabitation meaning is similar to a "common law marriage."
Currently, however, there is no legal recognition of cohabitation in England and Wales. There is only limited recognition of it in Scotland. Studies show that in the US, too, a significant distinction is made between legal rights for cohabiting and married couples.
Related Reading

: 

14 Live In Relationship Rules That Every Couple Must Follow
What is an example of cohabitation?
Cohabitation in relationships can occur due to various factors, such as financial, practical, emotional or logistical.
Examples of cohabitation include a couple who may choose to live together as they are trying to save money or because they want to take their relationship to the next level. Or a couple may try cohabitation before marriage because they want to test whether they should get married to each other.
Cohabitation in relationships and the law
If a couple marries (or enters into a civil partnership), the law will make certain assumptions about their relationship.
In particular, the law will automatically treat each half of the couple as their spouse/civil partner's next of kin. A man automatically gets parental rights over any child his partner carries.
If, however, a couple is involved in cohabitation in relationships, then the law cannot and will not make these assumptions. Instead, it will treat the two halves of the couple as distinct individuals. The next of kin will be cohabiting couples' closest blood relative(s).
Additionally, a man will only have automatic parental rights over his partner's child if his name is on the child's birth certificate. This has three key implications when thinking about the legal recognition of cohabitation in relationships:
A cohabiting partner may find themselves deprived of a say in major decisions during their partner's lifetime.

A cohabiting partner may find that their partner is deprived of a say in major decisions relating to their welfare.

A cohabiting partner will not have any default inheritance rights in the event of their partner's death. In the case of men, this includes inheritance rights over their children unless they are explicitly named on the child's birth certificate.
These issues can be addressed through cohabitation agreements.
The basics of cohabitation agreements
First, understand what a cohabitation agreement is.
Cohabitation agreements are, essentially, just contracts between two parties. They are legally binding, provided they meet the criteria for valid contracts. In basic terms, the signatories must be adults giving free and informed consent to the contract.
In principle, couples can draw up their cohabitation agreement without using lawyers. It is generally better to have a cohabitation agreement drawn up by lawyers.
Each half of the couple should have their lawyer acting in their interest as an individual. This provides compelling proof that both halves of the couple understood the agreement.
A cohabitation agreement can be whatever the couple wants it to be. In general, however, it is likely to cover the following points:
Ownership of assets, including property, intellectual property, and businesses

The state of your

finances

. This can include joint and separate bank accounts, shares, insurance, pensions, and debts.

A record of who paid the deposit on your home and what happens to it if you split up or sell the property.

What share of the rent or mortgage will each person pay and, in the case of mortgages, how does this translate to equity?

Who is responsible for what household bills and how will they be paid?

Ownership of pets

Next of kin rights
Cohabitation agreements do not usually deal with inheritance rights. However, drawing up a cohabitation agreement can be a good opportunity for a couple to update (or make) wills. These would deal with inheritance rights.
Couples may also need to follow this up by informing relevant service providers, e.g., insurance companies.
On that note, cohabitation agreements do not necessarily overrule other contracts.
For example, if you take out a rental contract for which you are "jointly and severally liable," you cannot overrule that by making a living together contract saying that only one of you is liable.
Instead, you would both be responsible to your landlord for the rent. However, you can make a subsequent claim against the other to recoup the money.
Like all contracts, cohabitation agreements are only helpful if they accurately reflect a couple's situation. This means that they should automatically be reviewed after any significant changes.
These could be major life events (e.g., births, deaths, and marriages). Alternatively, they could be events that impact a person's financial situation (e.g., a promotion).
It is best to review a cohabitation contract periodically, even if there have been no apparent changes. Minor changes can easily slip unnoticed, but they can significantly impact. A relationship therapist can help you understand the importance of accounting for changes in your relationship.
To learn more about the evolution of love, watch this video:
FAQ
Is cohabitation good for relationships?
Cohabitation in relationships can be good for relationships as it gives the couple a chance to test whether they can take their relationship to the next level. They can test whether they can get married or share their lives.
The difference between marriage vs cohabitation is that cohabitation allows an easier dissolution if the two partners find reasons for ending the relationship. It stops them from getting married if they feel it would be a mistake.
Summing up
Cohabitation in relationships is common, yet it does not offer married couples the same rights and protections. Cohabitation agreements can help protect your interests and the terms of your partnership.
To make your cohabitation agreements more useful, you should keep them updated and disclose information that may be relevant to your relationship at the moment or in the future.
Share this article on
Want to have a happier, healthier marriage?
If you feel disconnected or frustrated about the state of your marriage but want to avoid separation and/or divorce, the marriage.com course meant for married couples is an excellent resource to help you overcome the most challenging aspects of being married.
More On This Topic
You May Also Like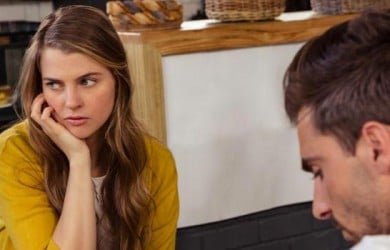 Popular Topics On Married Life