What Is Cheaters Karma and How It Works on Cheaters?
The idea behind cheaters karma is that there are consequences to the actions of cheating. The question is there karma for cheaters like many people claim? You will learn more in this article.
From time immemorial, people have been cheating on each other in relationships. It is an unpleasant and unethical behavior at its core. It does hurt not only the other person but also threatens the foundation of their relationship.
Sometimes it's not even about the action but the things it destroys. You lose the trust, your investment, and your effort in the relationship. Even if everything goes back to normal, it's hard to forget that such an event happened.
As a result, it can lead to negative consequences for the cheated person. This effect is also called the karmic consequences of cheating. Many believe that some divine forces or the universe will eventually punish cheaters.
Going by these assertions, it is only right to ask, is karma real for cheaters? Is karma real when it comes to relationships? How does karma work in relationships? In this article, we will explore the idea of cheaters' karma and whether it's real for cheaters.
What is cheaters karma?
Cheaters karma describes the consequences of an act of cheating on one spouse. It revolves around the statement that what goes around comes around. It means if a person cheats on their spouse, they will get punished by some universe effects.
This consequence may relate to someone else cheating on them, or they may experience a bad situation. It may take time, but cheaters' karma indicates that a cheater will eventually get the repercussions of their actions.
Cheaters' karma is similar to hope. The elixir upon which many people ride after experiencing the pain of cheating on their partner. But do we blame them? Absolutely not. Anyone who has been cheated on will tell you how painful it felt. The action can eat away at your happiness.
In addition, cheating can cause long-term emotional pain and increase your distrust for future relationships. According to research, the effect of infidelity on a person's mental and physical health can be devastating and cause permanent damage.
People grieve differently, and individuals who experience emotional and psychological distress from cheating can engage in more risky behaviors. For example, someone cheated on can resort to alcohol or other substances to cope with the pain.
Is karma real in relationships?
Indeed, cheating is not nice behavior. However, you need to ask whether karma is real for cheaters. How does karma work in relationships?
It would help to dig deeper into the foundation of the word karma itself to answer the above questions. We all believe karma to be about cause and effect. The source of karma can be traced to the Hinduism and Buddhism ideology.
These two religions believe that karma deals with the principle of actions and reactions.
In other words, if you act in a good way, you will get good results in the future. If you act otherwise, you will get it in return as well. Also, they believe you can structure your destiny through your actions, words, and thoughts.
It means that bad actions tend to reproduce bad outcomes in another time and place, and good actions can produce great results somewhere else and in time. Some of the common quotes in Buddha's teachings are:
"Do not think a small virtue won't return to you in your future lives."
"Do not think a small sin will not return in your future lives."
"The little sins that steadfastly accumulate will completely overwhelm you."
So to answer the question, is karma real in relationships? Yes, it is. Karma plays a huge role in your romantic relationship and others'. Acting right in a relationship will give you peace of mind and everlasting joy.
When you put in the right effort, act accordingly and take care of your partner. There is a tendency that they will reciprocate. However, this does not guarantee that your relationship will last.
On the other hand, If you are bent on breaking people's hearts, you might be stuck in a toxic relationship yourself. This is you paying the price of your actions in the past. You can tell karma is real by observing some signs in your relationship.
What are they? Check the following paragraphs for answers.
15 signs karma is real when it comes to relationships
Here are 15 signs of karma in a relationship. Knowing them will guide you to make the best decision.
1. The connection feels natural
A top sign of karma in relationships is that there is an instant connection between you two. That is a typical situation of love at first sight, and you believe proceeding to have a relationship won't have any bad effects.
It's so clear that you're both attracted to and emotionally connected to each other from the outset. The butterflies won't stop flying in you, which will guide you appropriately going forward.
Related Reading: 

What To Do When You Feel No Emotional Connection With Your Husband
2. You rely on each other
The spark you both feel in an instant will naturally lead you to rely on each other. There is nothing to hide, no fear or need to hide anything. You feel safe around and in the arms of this person.
It's easy to rely on them because of the strong emotional connection developed at the beginning of the relationship. It becomes nearly impossible to leave them alone as your partner becomes your haven. You don't have any problem because the co-dependence is mutual.
Also, you will find a friend, family, colleague, and acquaintance in your partner. It could affect your other relationships as your partner fulfills all roles.
3. There is a lot of drama and issues in your relationship
One of the signs of karma in a relationship is that it is full of many issues. You can't just have enough of it. There is bound to be an argument, miscommunication, and fights every time. Often, this drama revolves around some issues that could have otherwise been resolved amicably.
However, because the energy between the couple needs to be aligned, there are bound to be problems. Some feel uneasy even when there is peace because they know it's not permanent.
Related Reading: 

20 Tips to Deal With Unresolved Issues in a Relationship
4. You have communication problems
Another sign of cheaters' karma is that you and your partner will have trouble communicating appropriately. Despite the deep connection you might have felt, it always feels like this person doesn't get you. Every small issue escalates.
In a karmic relationship, partners struggle to understand each other, leading to miscommunication. Once you can't work through your issues as a couple, problems seep through and crumble the relationship. You start arguing over little things.
One minute, it feels like your partner is your soulmate, and the next, you can't tell who they are.
5. You experience some repetitive behavior
One of the karma spells for cheaters is that you notice some patterns in your relationship. These may include constant miscommunication, intentional misunderstanding each other, bickering, nagging, and so on. These issues happen in many relationships once in a while.
However, they become the norm in a karmic relationship. It just feels like that's how it will be for a long time. Going through issues like that constantly can be emotionally draining. Just because you feel emotionally connected initially doesn't mean it will stay that way.
The incompatibility in a karmic relationship leads to more fights.
Check out the signs of an incompatible relationship in this video:
6. There are many red flags
When does karma hit? It does win that you notice many red flags. No one is perfect in a relationship, as we all have flaws and weaknesses. Many people go ahead despite these weaknesses because they believe they are manageable.
However, in a karmic relationship, the red flags are so many and constant. It is hard to overlook and sometimes affects the couples involved. Sometimes, you may ignore and make excuses for them, but it's important to recognize them for what they are.
Some common red flags include aggressive behavior, screaming at each other, controlling behaviors, manipulative behavior, and so on. You might even notice these behaviors in yourself. However, you can't change or act properly around your partner because they bring out the worst in you.
7. The relationship is exhausting
When you reach an exhausting stage in a relationship, you lose any energy or hope you have left. The thought of your relationship should bring a smile to your face. If you feel drained just thinking about it, it is a sign of a karmic relationship.
It is often a result of repetitive fights and arguments, miscommunication, codependency, etc.
Sometimes, you might not even have the energy to argue or talk back to your partner. At this stage, you want some peace and quietness. Also, the fear of whether the relationship will work out is enough to cripple you emotionally.
8. It's addicting
In a karmic relationship, despite the miscommunication and misunderstanding, you realize you can't get enough of each other. When your partner isn't around, you're preoccupied with their thoughts. They become the only person on your mind at that moment.
Also, despite the issues you both have, you want to spend your time with them.
This situation looks like deep affection and love for each other, but it isn't. True love isn't limiting and doesn't prevent you from doing other things. It gives you breathing room and the space to grow as an individual while growing together as a couple.
Karmic relationships are addictive and difficult to break free from. You Find yourself on a roller coaster of emotion, unsure of your next step.
9. You want out
Do cheaters get their karma? Yes, they do. One sign that confirms this is that you become exhausted from all the repetitive and draining issues and want a way out. However, you need to learn how.
You are stuck with the thought of how to leave your partner all day, but when you see them, these thoughts disappear. You can't imagine leaving them in the real sense, yet you are tired.
10. You wish for others' relationship
How does karma work in relationships? First, you might begin to wish you had others relationships. People judge relationships by what they see outside. For example, you may see a man tying his partner's shoelaces in public.
This little act of service becomes a big deal to you. Then, you wish it had been you. While it's romantic to see couples helping each other out, it doesn't guarantee their relationship is perfect. Hoping for them o my shows issues are going on in your relationship.
Related Reading: 

25 Things You Wish You Knew Before First Relationship
11. You don't know them
One of the karmic consequences of cheating is that your partner becomes another person entirely. You can't place who they are because of the several disputes and misunderstandings in the past.
"Could this be the person that promised me heaven and earth?" "Could my partner be the same person who promised to pamper me all day?" Questions and thoughts like these keep your mind busy. Everything has changed, and you have lost track.
12. You can't let go
The relationship is unhealthy for you, but you can't let go. You are exhausted, tired, and have had enough, and you know that the relationship might not last. You also understand that it has affected you negatively in many ways.
However, the idea of leaving the relationship flies out of the window when you think about your effort and investment. You can't break the bond you have both built all these months. It is so sacred that you blame yourself for thinking about it.
13. Someone else confirms it
Do cheaters get their karma? Yes. Suppose someone else has confirmed the toxicity of your relationship. In that case, it might be best to reassess the goals of the relationship.
When you go for relationship counseling, you will get a trustworthy person to help you understand ways to resolve the common problems in your relationship.
14. You both agree about the relationship
When does karma hit? When the partners agree that the relationship isn't right for them. At this stage, it is the best form of self-realization. It might not be easy when partners still believe they are perfect for each other. Once they agree that something is wrong, things become clearer.
15. You finally leave
Finally, you agree that leaving is the best option. All your efforts and investment don't matter anymore. Peace is better, and you choose it as a reflection of cheaters karma.
Related Reading: 

14 Signs He Wants You to Leave Him Alone: Additional Tips Included
How do cheaters get their karma
Cheaters karma will eventually happen, but how does it occur? Well, cheaters get their karma through the same way they hurt their partners. A cheater may either get cheated on by their partner whom they had cheated on or the partner in their next relationship.
Despite doing it to others, cheaters feel the pain of their actions when someone else does it to them. They then realize how their actions have affected their partner or previous partners. But it's often too late.
Commonly asked questions!
We hope you have got a fair idea on what cheaters karma is and how it functions in a relationship. In case, you've got more questions around, keep reading this section.
Do cheaters ever regret it?
While some cheaters may act like they don't regret their actions, others regret causing their partners pain. Even if they don't say it, most cheaters feel guilty and show it in their efforts.
How do you know if a cheater is truly sorry?
The best way to know if a cheater is truly sorry is through their actions. First, they apologize to you. Then, they will try to remedy the situation by showing behavior that makes their partners happy or reduces their pain. Notably, they will stop cheating and erase any sign of their cheating act.
Every action must have a reaction!
Cheaters karma means a cheater, somewhere and somehow, will get punished for hurting their partner. The idea of karma is rooted in the religion of Buddhism and Hinduism, and it states that our actions have repercussions in the future.
If you are curious if karma is real in relationships, this guide gives a detailed answer on cheaters karma and its effects on relationships.
Share this article on
Want to have a happier, healthier marriage?
If you feel disconnected or frustrated about the state of your marriage but want to avoid separation and/or divorce, the marriage.com course meant for married couples is an excellent resource to help you overcome the most challenging aspects of being married.
More On This Topic
You May Also Like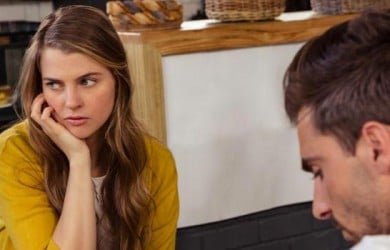 Popular Topics On Married Life