What Is a Minimony Wedding? 10 Great Reasons to Host One
Planning a wedding can be expensive. When you factor in the cost of getting an ideal location, hosting hundreds of guests who want to be a part of your special day, and thinking about your honeymoon immediately afterward, you may need tens of thousands of dollars.
A report by Business Insider revealed that the average cost of weddings in 2019 was about $28,000. What happens if you don't want to spend this much on your wedding day?
Minimony weddings to the rescue!
One of the biggest advantages of minimonies is that they allow you to focus on what's important – sharing these magical moments with the love of your life among the people who matter the most to you, without breaking the bank at it.
Planning a minimony requires skill and tact. Since you may be on a tight budget, you may need more than what it takes to hire a professional event planner who may charge you thousands of dollars for their services. Hence, this article will help fill that gap.
Do you want a killer small wedding that doesn't eat too deep into your pocket? Keep reading for this.
What is a minimony wedding?
Simply put, a minimony is a mini wedding ceremony. It is a smaller, more intimate wedding ceremony that usually holds on your proposed wedding date. Minimonies are attended by a small group of people, usually the closest friends and family of the couple.
Minimonies started getting popular in 2020 when the lockdown was at its worst. When the world was shut down and the number of weddings reduced, people discovered minimonies as a viable option to explore to get married without risking their health.
The trend has become more generally accepted for many reasons. For one, it is less stressful, more pocket-friendly, and more intimate. Over the years, more people seem to be adopting this concept as they can sometimes spend less than $2000 on the whole ceremony.
What are the differences between a minimony, a micro wedding, and a sequel wedding?
These are three event types that are usually confused as meaning the same. Are they all the same thing, or are there differences between them?
Their major difference is the number of guests attending, financial commitment, and what happens after the main event date.
Minimonies are smaller wedding ceremonies held on the original wedding date you had in mind. They are usually the result of hitting an unexpected turn as you plan for your wedding. Sequel weddings usually follow them up (we will get to that in a minute).
Micro weddings, on the other hand, are small weddings intentionally planned and structured that way. For micro weddings, there are no plans for having a sequel wedding, as the idea is to be married in the presence of a small group of your favorite people.
Sequel weddings are a follow-up for minimony weddings. Think of a sequel wedding as the traditional weddings you're used to, with robust guest lists, larger budgets, and bigger venues. Sequel weddings are optional and many couples opt out of them since they require extra planning, time, and finances.
In any case, they all serve the same purpose; to make sure you tie the knot with your heartthrob. It is up to you to examine your priorities and choose the perfect fit for you.
10 great reasons to host a minimony
Here are ten simple but powerful reasons to consider opting for a minimony wedding package.
1. Put a little twist on your wedding ceremony
We're all used to traditional wedding ceremonies. White wedding dresses for brides, tuxedos for grooms, multitudes of people gathered, and thousands of dollars spent. The first advantage of hosting a minimony is allowing you to exercise your creativity.
The first thing to note about minimonies is that you can host them anywhere, including your favorite bookstore. Why put yourself inside a box when you can explore?
2. You're unable to gather in large groups due to health concerns
This was the main reason why minimonies became more popular in 2020. Consider having a minimum when you can't assemble as many people as you would have loved due to health challenges or an inability to gather in large groups for any other reason.
3. You would rather save that money
As mentioned earlier, organizing a decent wedding ceremony in America costs a lot. Kudos to you if you want to host an A-list wedding. You may want to triple your budget in that case.
A minimony is the way to go if you would rather save that money and spend it on something else. Considering the size of the event and the fact that you may not use a venue that's too elaborate, you can save almost 80% of what you would have originally spent if you opted in for a traditional wedding.
4. Plan your event yourself and unleash your creativity
You may agree that one of the challenges associated with having intermediaries when planning an event is that some of your ideas may get lost in transit. Your event planner may need your preferred color palette or flower placement on the tables for guests.
At a minimum, however, you can control every aspect of wedding planning and turn your wedding fantasy into a reality. Then again, if you enjoy putting events together, this would be another opportunity to let your creativity shine.
5. Retain your original wedding date
We don't pray for it, but things can go wrong at the least unexpected times. Imagine sending out wedding invitations only to hear that your proposed wedding venue has to be shut down because of necessary structural renovations. That would be heart-wrenching, right?
Instead of going through the hassle of resending postponement notices to everyone, a minimum can be your plan B to keep your wedding date.
At minimum, you can make small changes to your overall wedding plan and continue with the proposed wedding date. That's an answered prayer if you're a sucker for sticking to laid-out plans.
6. Give yourself the total experience
One advantage of having a minimony is knowing you can always organize a sequel wedding in the nearest (or distant) future without looking like you're doing too much. With a minimony, you allow yourself to experience the best of everything.
You can start with a smaller wedding (to save costs now or retain your original wedding date), then work toward planning and having a more elaborate sequel wedding sometime soon.
7. You don't want to wait
Love, at first sight can be overwhelming. You meet this person and you can tell with instant precision that they're the one you want to spend the rest of your life with. However, planning a full-scale wedding can come in the way as it may require extra time and resources to pull off.
Having a minimony instead is one way to cut to the chase. Why wait to plan a large wedding when you can have it all by having a dream-worthy minimony today and following up with a sequel wedding soon?
8. A minimony is the way to go if you like privacy
Some people prefer to be private in every area of their lives, including who they allow to be a part of their big day. The idea of having a traditional wedding where just anyone can walk in can be scary.
If you prefer to host a small and private event, then a minimony is the way to go.
Another advantage of this privacy is that it allows you to interact personally with almost everyone in attendance (if not everyone). By doing so, you create longer-lasting memories with attendees of your wedding and strengthen the bond between all of you.
Also, the gifts you get and souvenirs you give out at these weddings are more personalized. Think of your minimony as the perfect opportunity to bond with the people that matter most to you.
9. A wider range of venue options to choose from
There are minimum requirements expected of you when you want to host a traditional wedding. For example, you must use a hall or open-air venue that can seat many people (sometimes up to 100 or even more). This automatically limits your options and strains your wallet.
With a minimum, however, you have more venue options to choose from.
You can host your wedding at the poolside, around a bonfire (keep an eye open, so no one trips into the fire, in that case), in an antique bookstore, or even in the heart of the forest. Minimony wedding venue ideas are limitless, as limitless as your creativity.
10. Less stress
Incessant phone calls. Multiple trips to the pastry store to check out cake samples. Two appointments with your tailors every other week for a minimony dress fitting. Seven zoom calls with your event planners per week.
Soon enough, the stress of planning a wedding (or just being the bride or groom) begins to catch up with you. Having a minimony instead of a full-scale traditional wedding is one way to reduce the stress you'd go through while planning your wedding.
5 ways to plan a minimony
It is not enough to know why a minimony is a great choice for you; we have taken it a few steps further. Here are five sure ways to plan your minimony even if you don't have lots of money or time to spend.
1. Keep your eyes on the goal
In many ways, a minimony might be less glamorous than a traditional wedding. You would expect fewer people and may use a more modest venue for the event.
It is easy to lose sight of what really matters: to be joined by the one you love. Don't make that mistake.
As you plan your minimony, keep your eyes on what matters. Instead of worrying about societal perception, consider creating lasting memories for your guests and bonding with your soon-to-be-wed partner. Seize the opportunity to enjoy every bit of intimacy minimonies provide.
2. Revisit or create your guest list
If your original plans were to host a large traditional wedding, there's every possibility that you were working with a larger guest list. Now that you've chosen a minimum instead, the first step is to rework your guest list.
Sit with your partner and review the list. Eliminate the not-so-close people on your list and replace them with those you know must be a part of your intimate day.
Don't feel bad about letting some people go for now. You can always invite them if you plan to have a sequel wedding sometime in the future.
3. Get the perfect venue
Now that you have a slimmer guest list, it is time to find the perfect venue for your minimony. Take cognizance of the setting you want your event to have and the number of people who have RSVP'd your invitation.
As we have already indicated, your venue of choice could be anywhere; a private beach beside your pool, your house, or even a private studio around you.
Think of exciting ways to spice up your event venue after you've made your choice. Let your mind loose and come up with exciting ideas with your partner.
Related Reading: 

Wedding Venue Tips – How To Pick The Right Venue
4. Get a competent photographer
Considering the symbolism of this day, you want to look back and feel the love you felt while getting joined to your heartthrob. You don't want a tacky photographer to ruin the magic of your special day.
Invest in getting a competent photographer to cover the event. Give them a detailed brief of all the angles they should cover during the minimony.
Opting in for a minimum instead should leave you with more money. Channel some of the extra resources into this aspect of your event and you'll be thrilled.
5. Find the perfect officiant
If you want a legally binding event, you would need an officiant. An officiant presides over your minimony and oversees the exchange of vows. Considering the relevance of their role, you don't want to choose just anybody for this role.
Spend some time scouting for the perfect fit. The earlier you start this search, the better. Spend some time establishing an emotional bond with your officiant so they can understand the uniqueness of your love story.
5 best minimony wedding ideas
Do you want to wow the socks off the feet of your guests? Here are five minimony ideas that will make your special day unique.
1. Keep it simple
There's almost no point overcomplicating things after you opt for a minimony instead of a large, traditional wedding. Keep your special day simple and focus only on the things that really matter to you.
Eliminate unnecessary activities from your bucket list. Keep it minimalist instead.
2. Pick out your souvenirs yourself
Since you're now expecting fewer people, focus on using this chance to boost your relationship with the few attendees. Instead of giving everyone a generic souvenir, consider picking out unique gift items with your partner at the gift store.
Let each gift item come with a personalized touch to it. Consider gifting customized mugs, colorful mufflers, or notepads with affirmations in them. The options are endless.
Related Reading: 

8 Amazing Return Gift Ideas for Your Wedding Guests
3. How about you get married on a weekday?
This is another unexpected twist you can add to your special day. The advantage of getting married on a weekday is that you reduce the chances of having random attendees at your event.
When people ask why they weren't invited, you can always use the fact that you married on a weekday as a logical excuse. It's a win-win, right?
4. Write your vows by yourselves
There's almost nothing more magical than exchanging vows at a wedding ceremony. Marked by tears, wide smiles, and bubbling feelings of love within, give yourselves the added gifts of writing your vows yourself.
They don't have to be perfect. They must be authentic and reflect your feelings for your partner. You can do it together but consider doing it separately to encourage novelty on the big day.
Related Reading: 

5 Basic Marriage Vows That Will Always Hold Depth & Meaning
Suggested video: How to write the perfect wedding vows
5. Have fun
Above all, ensure you have fun on your special day. A minimony shouldn't be too rigid or it loses its original allure. Think of exciting games you can incorporate into your day to put smiles on the faces of everyone present.
Consider trying impromptu singing and on-the-spot poetry/rap games. Brainstorm with your partner and you may be surprised at what you'd come up with.
Some commonly asked questions
Here are some questions that give you some clarity if you are considering having a minimony wedding.
What is the minimum timeline?
Usually, the main event lasts between 45 minutes and 1 hour, followed by a lighthearted but intimate dinner that lasts until guests begin to take their leave. In general, minimony timelines can last between 2 and 3 hours.
The decision to spend any amount of time during your special event is up to you. Just ensure you don't stretch things out for too long.
How many guests usually attend a minimum?
Minimonies can take up to 10 people. Try to use this number as an average when drafting your guest list.
In summary
Minimonies are a great way to get married to the love of your life without breaking the bank or adjusting your already-selected wedding dates. Planning one doesn't have to be a herculean task. Use the ideas covered in this article to make the most of your intimate but special event.
And while you're at it, don't forget to pick out the perfect minimony wedding dress to go with your partner's outfit. Your options are limitless.
Share this article on
Want to have a happier, healthier marriage?
If you feel disconnected or frustrated about the state of your marriage but want to avoid separation and/or divorce, the marriage.com course meant for married couples is an excellent resource to help you overcome the most challenging aspects of being married.
Learn More On This Topic
You May Also Like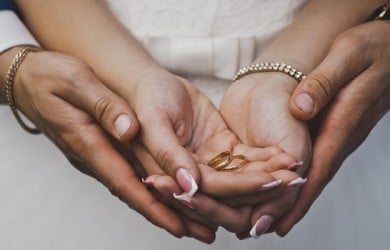 Popular Topics On Getting Married