Children Sleeping with Parents: Is It a Good Idea?
Parents are always protective of their children. They make a point to look after and pamper their kids in every aspect. Parents want their kids to be secure and satisfied every which way. It's their first agenda to take care of the overall well-being of their children.
Children also respond to their parents' love and care in like manner. They grow a habit of being surrounded by both their parents. Furthermore, they build a sense of security conditioned with their parents' presence around them.
A secure home is a need for a child to grow into a stable human being- with emotions in place. But, does it require children sleeping with parents? It's something that needs to be thought about.
Let's have a look at the effects of children sleeping with parents and co-sleeping pros and cons.
Benefits of co-sleeping with your child
The following are the benefits of children sleeping with their parents.
It is historically acceptable
In many cultures, bed-sharing with a baby is acceptable. Children sleeping with parents has been going on for centuries and quite encouraged by parents. Therefore, one of the benefits of bed-sharing is that it is a more natural habit to inculcate as it's in many traditions.
Therefore, kids sleeping with parents should not be seen in a bad light.
It is easier for new mothers
For new moms, co-sleeping with a toddler makes it easy to breastfeed them whenever it is needed during the nighttime with reduced interruptions. Therefore, while bed-sharing with a newborn, it becomes easier for both parties.
It gives children a sense of security
At a young age, it can be easier for children to feel scared about being isolated. Often, parents isolating their children might find it cruel. So, one of the co-sleeping benefits is that it gives makes the child feel safe and secure.
Drawbacks of children sleeping with parents
The following are the disadvantages of children sleeping with parents.
Likely to grow a dependency
Children who become habitual of sleeping with their parents are most likely to grow dependent on them. They learn to depend on their parents for every little thing in their lives.
Small drops of water make an ocean.
Little lessons in life train them for more significant battles that could be calling them out in the near future. If dependence gets rooted deep in them, they would always look around for an escape.
With the presence of their parents all the time, they might develop anxious behaviors if they are not attended to. With children sleeping with parents, they might develop the habit of being patted, back-rubbed during their sleep. And when they don't get what they expect, they might develop anxious feelings.
In such situations, they might find it difficult to sleep in the absence of their parents.
Affects intimacy between the couple
If children continue sleeping with their parents after they are no more infants, it is going to screw the couple's intimacy and sex routine to the ground. It can be one of the negative effects of older children sleeping with parents. A relationship/marriage, no matter how old, always requires some private moments to subsist on.
Parents need to realize that putting their privacy at risk is no sensible thing to do. They should not make their relationship sexless by allowing kids to co-sleep.
Likely to become grumpy and demanding
Kids who are too attached to their parents happen to be possessive and demanding. They grow a sense of entitlement for everything. Such kids are more likely to be grouchy as compared to other kids.
These kids struggle a lot of coping with varied circumstances.
Their ability to endure is not great.
Kids sleeping with parents for many years become importunate and tend to get offended easily.
Need to be trained to take loneliness in a stride
If your child who is newly bestowed with a separate bed complains about loneliness and the fear that comes along, teach them to be stronger and brave.
Your child needs to know that their parents are not going to be around forever, and that, being alone for at least some time is inevitable. You should tell your child how they can make the state of being alone enjoyable.
Teach them to tackle the fear
If your child has just adopted a separate bed and she comes back to you all slouchy at 1 am and persists in sleeping with you, don't let them!
It's your time to muster some courage to send your child back.
In the video below, Dr. Dehra Harris outlines a few steps in addressing your child's fears. One of them is listening to your child's concerns to understand what bothers them. Watch below for more:
Don't let self-reliance fade away
It's always good to leave kids alone with some stuff because they can make their way out without your help. The fact of the matter is, they can survive with or without your support.
Sleeping separately can be an excellent source to teach self-reliance in them.
It's better if they learn to rely on their sole selves in the early years of life.
Be there when you're not there
Don't be around physically. Always extend moral support instead.
Equip them with ideas that'd help them deal with crises. Make them brave enough to survive any situation.
When you send your 4-year-old to their bed in a separate room, instill them with confidence that they are fearless enough to do it all by herself.
Princesses sleep alone in their royal bed. They don't sleep with anyone who's not royalty.
OR
A Samurai is lionhearted enough to sleep alone without his parents.
Any of these tricks could persuade your child to sleep in a separate bed.
Share this article on
Want to have a happier, healthier marriage?
If you feel disconnected or frustrated about the state of your marriage but want to avoid separation and/or divorce, the marriage.com course meant for married couples is an excellent resource to help you overcome the most challenging aspects of being married.
Learn More On This Topic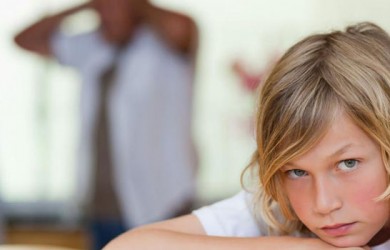 You May Also Like