4 Signs of Family Problems & How to Resolve Them
It is normal to experience problems and issues in personal relationships.
All families go through conflicts and difficult times. Family problems can be overwhelming and stressful for a person. In such cases, you need advice on family problems.
Here, we have discussed the causes and tried to figure out what helps in resolving family problems and conflicts.
Before we delve into how to deal with family problems, let's take an overview of signs of family troubles.
Signs of family problems
Here is the first family problem advice.
The first thing that you should look at while figuring out if anything is wrong between the family members is to ask yourself, what are some family issues that are disturbing your family dynamics?
Here are some common family difficulties. If any of these family relationship problems resonate with your situation, it's time to seek family advice.
1. Frequent arguing
Family members are arguing with each other on a frequent basis. There are very few things you can reach a consensus on. This is one of the signs that there is an underlying problem.
2. Disagreements
It seems as if you disagree with everything, and there is not a single thing that you could agree upon and work on together.
3. Breakdown In communication
You don't communicate much with your family members.
If there are issues going on in your life, because of them or otherwise, instead of talking about it, you tend to stay away from them.
A few other signs of underlying conflicts include angry outbursts, physical conflict, etc.
Reasons for family problems
The next piece of advice on family problems is to figure out the causes of those issues.
The following are some of the reasons which form the basis of problems among family members.
Your opinions are different
Your personalities don't match up
You share different beliefs
Your stance on moral values and ethics differ
You have goals that are separate from one another
Financial problems can also cause issues amongst members of the family.
If you have been newly divorced/ separated, that can also be a cause of family issues.
If you or your family member is undergoing some stress-related issues because of work or anything else, that can also be a trigger for problems and conflicts.
A few other causes might be as follows:
Drug usage
Gambling issues
Mental health problems
Harassment
Natural calamities
Lack of Trust
Consequences of family problems
Family members are very important to a person.
Each member of the family plays a key role in any individual's life. Their importance is unprecedented.
So having issues with them can be very hard on a person. They can lead to the accumulation of negative emotions such as anger and sadness and can make you anxious.
Family problems can be very stressful. You tend to be confused and exhausted as a result of it.
You start feeling isolated and become withdrawn. It is very hard to concentrate and focus. You face difficulties in everyday functioning, eating, and sleeping.
One may start using alcohol or drugs as a coping mechanism. However, the impact of substance abuse on a family is devastating and sometimes beyond repair.
If there are children in the family, they end up paying a heavy cost of growing up in a dysfunctional family
Reconciling family conflicts
Families can be difficult; most of us have been there. So, how do you solve family problems?
Developing healthy problem-solving is the key to repairing damaged family relationships.
The first step in finding solutions to family problems is communicating.
To solve family problems, discuss your problems with your loved ones calmly and honestly.
You should accept the fact that opinions differ, and you may not always agree on the same things. Accepting the differences goes a long way in solving the conflicts.
Even when you are having issues, try to make time for your loved ones.
Another advice on family problems is to have fun together.
Having fun together helps in resolving the conflicts between family members.
You should plan things properly. If you are having financial issues, making a budget will definitely help in resolving your issues. I
If you are unable to solve things on your own, don't hesitate to ask for external help.
Where to go for help
Problems in the family? Where to go to help?
If you need the best advice on family problems, you can talk to your friends and other family members.
You can also get relationship counseling from an LMFT-Licensed Marriage and Family Therapist or ask for mediation from someone who can equip you with the right advice and tools on how to fix family problems while also helping you identify the root cause of problems with family.
A trained, verified professional is credible, experienced, and well equipped to understand common family problems and solutions and can dispense useful advice on family issues from an unbiased lens.
Suppose you need help with family problems but feel reluctant to approach a third-party mediation. In that case, you can also check out helpful information online on common family problems and seek good advice for family problems.
That way, you won't feel like you are exposing your family-related issues to anyone while also getting the right help with family issues.
You can attend courses and workshops on communication, budgeting, etc. If you are concerned about health issues of yourself or other members, you should consult your general physician.
Also, watch this video:
Final take away
All of us have faced difficulties and issues at times.
Facing these problems within the family can be very difficult.
However, there are methods and ways by which you can solve family conflicts. Everyone needs advice on family problems as they can manifest at any point in life, even in the happiest of family units.
Talk to your loved ones, or seek professional help and sort out your issues.
Embrace the differences in each of the family member's mindset, lifestyle, and be open to overcoming difficult times together as a family, solidly, and successfully.
Strive to bind your family with love and solidarity for a healthy future.
Share this article on
Want to have a happier, healthier marriage?
If you feel disconnected or frustrated about the state of your marriage but want to avoid separation and/or divorce, the marriage.com course meant for married couples is an excellent resource to help you overcome the most challenging aspects of being married.
Learn More On This Topic
You May Also Like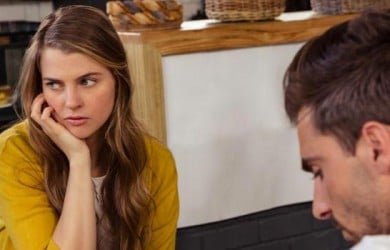 Popular Topics On Married Life