How to Unlock the 'Want-Need-Love' Formula in Every Relationship
There is a secret love formula that every interpersonal relationship can benefit from. I call it "Want-Need-Love" or WNL. In healthcare, this acronym would typically be an abbreviation for within normal limits.
I guess there are two ways we can look at that relative to relationships.
Personal Experience
I uncovered the Want-Need-Love formula during a challenging personal time about 15 years ago.
It was a tough period in a previous relationship. We were both struggling to maintain open lines of communication. There was shut down and disconnect. We were lost until a counselor introduced us to general communication concepts.
Over the past 18 years, I have refined the WNL concept to be worthwhile with interpersonal relationships.
While WNL was initially intended for romantic relationships, you can see by my examples that it works well with business dynamics, generational roles, dating, and marriage. It is particularly helpful with conflict resolution with a partner.
So, what makes a relationship successful?
I have personally adapted WNL to many different scenarios. Now it is a foundation of my clinical practice. I regularly use it in my personal life with resounding success.
What is the Want-Need-Love Formula?
WNL is a communication process. It is a stepped approach to improving expressive and receptive communication.
WNL is the foundation of healthy communication with a partner.
When individuals can effectively communicate, there is an inherent closeness or connection. In turn, that connection strengthens the relationship, and so on. The relationship evolves into a healthier, more direct synergy between and among the partners. The relationship maintains fluidity while becoming self-supporting.
How Do You Apply the Want-Need-Love Formula?
Want-Need-Love is a very simplified approach to specific questions and responses. The back and forth provide clarity and the ability to find one's voice. Ultimately, a trained professional can refine underlying dynamics that are simultaneously constraining a relationship.
In this relationship formula, there are three steps for each participant to engage in. One party begins by writing their thoughts down in a brainstorm. They start with what they want.
Step 1: Want
"I want." Two words with a sense of demand. Usually, this is a more threatening concept. However, in the WNL dynamic, it is only the initial step of the process. It is quickly followed up with a need.
Step 2. Need
The individual need is expressed as a self-directed using an "I need" format. This allows vocal expressions of desires and goals. "I need" is a sequential step that allows personal insight about necessity in the relationship.
"I need" is a request for something. It can be anything. Mostly, it is some form of physical, emotional, or financial acknowledgment. The need supplements what one partner requires within the relationship. The requirement is specific and punctuated by the final step.
Step 3. Love
The third step is, "I love." The goal is to follow up on the want and need. "I Love" is self-validation. "I love" is also an affirmation of self, affirmation of others, and affirmation of specific relationship goals.
"I love" highlights traits or qualities that are appealing to the individual. These are the "I can't do without" in the relationship. These are things, items, or qualities the individual wants to keep intact. Often, this is a breakthrough. The statement acknowledges core values, ethics, or perspectives on the relationship.
Remember, the relationship is a fluid description for the Want-Need-Love formula. It allows WNL to work in personal, romantic, and business dynamics.
However, most people who want to know what makes a great relationship should know how Want-Need-Love formula works.
Application of Want-Need-Love
It is effortless to apply WNL in your specific relationship to establish an equation for love. For substantial issues, relationship success requires some acknowledgment of vulnerability.
However, it is easy in the vast majority of cases. One party begins by expressing the "want."
The "need" is expressed next. It is a request. A romantic partner shows "need for one on one time before sex." A business reference may "need the opportunity to work from home.
"Love" is the final step of WNL. It includes an expression of specific endearing details.
Examples of clinical application of WNL for successful relationships include romance, business, and social interactions.
For example:
Romance: I want us to be closer, I need to know you value my contributions in our partnership, and I love reminiscing about our happier times.
Business: I want more responsibility in my current role. I need to know my position is safe for the next six months because I love the community work environment.
Social: I want you to call me before coming over. I need you to know arriving unannounced is disruptive to my time. I love spending time with you, but we need to have limits on how that occurs.
Life Lesson
Want-Need-Love formula offers significant potential in nearly every relationship. It is a detailed clarifier of expectations and future goals.
Romantically, WNL can draw two partners closer. In business, WNL can enhance the employer-employee dynamic. For having a successful relationship, there is a social relationship impact as well by allowing friends and colleagues to communicate about significant issues.
The process is applicable at many points and can be included in different scenarios. Optimally, you can address issues as they present, before they become significant relationship or communication concerns. Eventually, this process becomes an individual foundation for clients. It becomes part of their toolbox, promoting independence.
My first exposure to WNL enlightened me. Unfortunately, my relationship ended soon after several other unrelated reasons. On a positive note, our communication improved dramatically, which allowed us to realize we should not stay together. It indeed was a win-win, which I credit to the Want-Need-Love formula.
I have since used this technique many times, both personally and professionally.
I use it with my partner, my business associates, and my children. It rapidly unblocks barriers so we can focus on what is essential without distraction. The end intended result is clear communication between two parties. That clear communication should bring connections and deeper understanding.
In the video below, Coach Adrian discusses the importance of communication in the relationship. He shares tips for choosing the right moment, words, and mindset to convey ways by which they can grow and become better people and better partners.


I hope you can find good use of WNL in your own lives. Please reach out and let me know how you have applied WNL and how it worked.
Share this article on
Want to have a happier, healthier marriage?
If you feel disconnected or frustrated about the state of your marriage but want to avoid separation and/or divorce, the marriage.com course meant for married couples is an excellent resource to help you overcome the most challenging aspects of being married.
More On This Topic
You May Also Like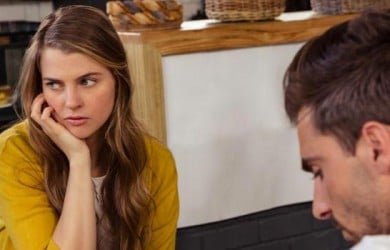 Popular Topics On Married Life