A Testimony of Hopelessness in Marriage
In the present tense, I believe that God would not have brought us this far to leave us. As I look back, I know now that God first loved me so that I may knowingly love unconditionally.
The night God asked me to "stay." He said, "If you want her to understand what true love is, you will "stay" That night was the beginning of nearly 19 years of heartache and often times regret.
No one had ever told me that life would be this hard. No one had ever explained the mental and spiritual anguish I would go through just to prove the Love of God.
This is my testimony of a broken marriage.
To the girl in the picture
It was love at first sight. I was 10 years old when my brother brought a picture home to his best friend. She was a 12-year-old middle schooler, and I knew that one day, she would be mine.
I can almost see her now, sitting on that dresser. A smile as beautiful and vibrant as only God's most skillfully crafted creation could be. She didn't know at the time, but she was promised to be my wife, a marriage made perfect in every way.
About 4 years later, my brother and I were playing basketball at a neighborhood park when one of his friends from middle school jogged by the court and recognized him.
As I was introduced, I remember thinking WOW, I'm in love. After a quick chat, she continued her jog. I immediately asked my brother, "is she the same best friend from the picture years ago." To my surprise, he said no.
Now I'm thinking my brother is sitting on a gold mine of beautiful women. Fast forward a couple of years while my brother and I were hanging out, we visited a friend from high school. And yes, as you can guess.
It happened again; I was in love. I asked, "Is this the same girl from the park" "No," "how about the girl from the picture (my first love)" "No," he replied.
Now for the tricky part
It most certainly didn't love at first sight when I met my brother's closest friend from their high school days. When my niece was born, I'd visit her every chance I'd get after school.
Being the proud Uncle I was, I brought my then-girlfriend and best friend to meet my niece when I opened the door to my brother's apartment, where she was. Some stranger was holding my precious niece, my brother, and sister-in-law nowhere in sight.
So I did what any loving relative would do. I took my niece from this stranger's arms and asked two basic questions "who are you" and "where-is my brother." That's when the staring contest began.
I almost forgot why I was there. After that day, this stranger, my brother's so-called best friend (whom I never met), was named the Godmother. So much for the gold mine of beautiful women.
This friend was cute, but my niece is mine, and I didn't want to share her with anyone, not even her "Godmother." Needless to say, I couldn't do enough to keep this Godmother away. She began to come around every day. We even became friends.
It turns out she wasn't so bad after all. We even began hanging out just to laugh and talk. We realized we had a lot in common. During the summer before my senior year in high school, I built up the nerve to ask her out.
It was one of the most awkward moments of my life. As I stumbled with my words, she said, "yes!" before I could finish my prepared speech. I felt like the luckiest kid in the world; I was dating a college girl. Out of all of my brother's friends, I had chosen the best.
The realization of God's plan
One day my new girlfriend and I were talking about the old days when she first met my brother. She mentioned that she had known him since middle school.
We laughed as I told her that she almost missed out because, as a kid, I was in love with his best friend even though I had never met her — the girl in the picture.
She didn't find it so funny when she said, "that was me sitting on the dresser. I gave your brother that picture." We were amazed at how our lives had played out. Here I was, dating the girl from the picture!
The girl that I said I was going to marry one day. How awesome is that? So I had to know… what about the best friend I met in the park. She said, "oh yeah, I remember that day."
Now for the last "best friend" What about the closet friend we visited that day so many years ago. If this was a God thing, surely, she would be the same friend.
Well, it broke my heart when she said she didn't remember us visiting her. Never to surrender, I described what her mother looked like, the house, the big tree out front, the crack in the driveway.
BINGO… yep, that's my mom and my mom's house. Long story short… I had fallen in love time and time again with the same girl. The girl in the picture was finally mine and destined to be my wife. She was God's plan to bring happiness and joy into my life.
Marriage on the horizon
After about 4 years of dating, we finally approached the threshold of marriage. We took marriage classes. We prayed every night together, read the Bible together. We were determined to be in love forever.
I asked her mother and father for her hand in marriage. September 11, 1999, God had kept His promise. My first love was my one and only true love.
The person I promised to devote my entire life to love, honor, cherish, and respect until death does us part.
During the previous 4 years, we had our ups and downs, but it was all going to be worth it. I was able to bring my bride home and have that first wild night we all dream about… or so I thought.
The veil is lifted
How about that for a love story. You can say it was made for Lifetime TV. But I'm not writing about a love story. This is about the power of forgiveness and understanding my purpose.
This is about my journey of faith and the cost it takes to walk the path God has called me too. My story begins with heartbreak and dishonesty, yet I stand firm… unwilling to see anything other than the promises of God.
Life hit us, and it hit us hard. In an unimaginable state of disbelief and nothingness, I argued with God in the spirit, "How could you allow this" "I trusted you, I loved her with all my heart."
God's only response was, "If you want her to understand what true love is, you will stay." You have got to be out of your mind, I said. Somehow I found the strength to trust Him.
You know the saying, "Insanity is doing the same thing over and over but expecting a different outcome." In my case, that's faith or stupidity; I haven't made up my mind yet. How do you love someone who's hurt you?
A testimony of hopelessness in marriage
How do you trust someone who has the greatest number of knives in your back? Someone who can successfully convince you that you put each and every knife there yourself? How do you find the strength to love someone through all the pain of sleepless nights? How do you find hope for a hopeless marriage?
This is my testimony of hopelessness in marriage.
As a child, God revealed His plan to me. In faith, I watched His plan unfold. The hard part of understanding is why He seemed to have failed to mention the years of me being His whipping boy in order to help save His beloved daughter.
In telling my story, I am not looking for sympathy or to bash my wife because she had a role to play in God's design. The aforementioned questions are presented to bring contrast between hope and hopelessness.
At the moment in life, during my greatest frustration with God I was given Jeremiah 29:11- "For I know the plans I have for you," declares the Lord, "plans to prosper you and not to harm you, plans to give you hope and a future."
I hold tight to this promise from God. I look to the future with hope, even in the midst of my carnal hopelessness. I acknowledge the fact that I have only 1 of 2 choices to make.
Trust God and follow His will. Or.

Count my losses and accept that the world has been against my marriage since before it began.
I choose to fight! I choose to keep the faith and know that God has not forsaken me. I pray that you, too, will one day find beauty for your ashes. It's said that in the fire, we are purged and made whole.
You can never know how God can and will restore your marriage, but you must always keep your faith in him.
Reclaiming hope out of hopelessness
My hope in writing this is that one day, The Girl in the Picture will realize that she is more than her past indiscretions.
She is more than the choices she's made. She is beautifully created and molded in the image of "The One Who First Loved her" and destined to love "the one who first loved her." This is for my Joyce Myers in the making.
I hope these words can comfort you and help you find strength in times when you are wondering how can a hopeless marriage be restored.
Share this article on
Want to have a happier, healthier marriage?
If you feel disconnected or frustrated about the state of your marriage but want to avoid separation and/or divorce, the marriage.com course meant for married couples is an excellent resource to help you overcome the most challenging aspects of being married.
More On This Topic
Recent Articles
You May Also Like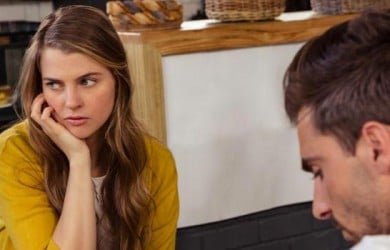 Popular Topics On Married Life