Psychological Effects of Online Dating: A Modern Reality
The advent of online dating has reshaped modern romance, triggering diverse psychological effects of online dating. Users experience excitement as vast choices amplify prospects yet encounter decision fatigue.
Anonymity fosters honesty but sometimes masks deception, leading to trust issues. Swipe-based systems prioritize appearance, affecting self-esteem. Virtual interactions precede real meetings, potentially distorting expectations.
The paradox of choice and digital curations can hinder relationship commitment. While online platforms offer convenience, they also evoke anxieties like fear of missing out. Balancing these effects is vital as society deals with this evolving romantic landscape, understanding its profound influence on emotional well-being and interpersonal dynamics.
The upsurge of online dating
In recent years, online dating has witnessed a remarkable upsurge. Enabled by technology and changing social norms, it offers unprecedented accessibility and a variety of potential partners.
The convenience of swiping through profiles and tailored algorithms enhances efficiency. This surge caters to diverse preferences, fostering connections that might not occur offline.
However, this rapid expansion also brings challenges. Users grapple with authenticity concerns as virtual interactions differ from real-life dynamics.
Balancing the surge's benefits and drawbacks is imperative as society adapts to this new era of romantic exploration, where screens mediate the path to companionship and love.
Psychological impacts of online dating
There can be multiple minor and major effects of online dating, and mental health is one of the aspects of your life to be impacted.
The psychological effects of online dating are multifaceted and can significantly affect individuals' mental well-being in the long run. So, the question is, "Is online dating bad for mental health?"
One notable concern is the potential contribution to depression and anxiety. While online platforms offer a larger pool of potential partners, constant evaluation and comparison can lead to negative effects of online dating, including heightened insecurities and a fear of rejection.
Users might experience anxiety about crafting the perfect profile or worry about not receiving enough matches, triggering feelings of inadequacy.
Another emerging issue is dating app addiction. The gamified nature of swiping and matching can create a dopamine-driven loop where individuals find themselves compulsively checking for new notifications.
This addictive behavior can lead to a sense of being consumed by the apps, detracting from other aspects of life and causing feelings of emptiness or frustration when not engaged with them.
Self-esteem and body image issues
Online dating also influences self-esteem and body image. The emphasis on visual attractiveness in profile pictures can lead to a sense of self-worth being tied to physical appearance.
Users might feel pressure to present an idealized version of themselves, potentially leading to a negative impact on body image.
Repeated rejections or ghosting can further erode self-esteem, fostering feelings of rejection and unworthiness.
Moreover, the paradox of choice inherent in online dating can lead to decision fatigue and commitment issues.
With an abundance of potential partners at one's fingertips, individuals might struggle to make choices, fearing they might miss out on someone "better." This abundance can hinder the development of deep, meaningful connections as commitment becomes more elusive.
To mitigate these impacts, individuals should be mindful of their emotional reactions and usage patterns. Setting healthy boundaries, taking breaks from the apps, and focusing on building authentic connections can help counteract the negative effects.
It's also crucial for society to recognize the need for digital well-being education and foster a culture of empathy and respect in the online dating sphere.
As technology continues to reshape romantic interactions, understanding and addressing these psychological impacts remain essential for maintaining mental health and forming meaningful connections in the digital age.
The phenomenon of burnout in online dating
The phenomenon of burnout in online dating is a growing concern that stems from the unique dynamics and demands of digital romantic interactions. So, let's try to understand why online dating is bad in more than one way.
As users navigate the virtual landscape of swipes, chats, and profile curation, they can experience emotional exhaustion and disillusionment.
Constantly evaluating potential matches and engaging in virtual conversations requires significant emotional investment.
This can lead to burnout as users find themselves overwhelmed by the never-ending quest for connection. The pressure to maintain engaging conversations and the fear of missing out on potential partners contribute to heightened stress levels.
Moreover, the repetitive nature of interactions and the prevalence of ghosting or unresponsive matches can lead to a sense of futility and frustration. Users might feel emotionally drained when their efforts fail to result in meaningful connections or when they encounter insincere individuals.
The commodification of relationships on dating apps, where individuals are reduced to profiles and photos, can also contribute to burnout. This dehumanization can erode the emotional connection and authenticity that are essential for building genuine relationships, exacerbating feelings of disillusionment.
To counter burnout, individuals should practice self-awareness and self-care. Setting boundaries, taking breaks from the apps, and focusing on quality interactions over quantity can help mitigate the emotional toll.
Recognizing that online dating is just one avenue for connection and maintaining perspective on its limitations can also alleviate burnout. As online dating continues to shape modern romance, addressing the burnout phenomenon is crucial for fostering healthier and more sustainable digital romantic experiences.
Shallow relationships and online dating
Online dating can inadvertently foster shallow relationships. The emphasis on visual attraction and brief profiles can prioritize surface-level connections.
This can hinder the development of deep emotional bonds, as interactions often revolve around appearances rather than shared values and interests.
The abundance of options also contributes, making it easier to move on to the next match without investing in meaningful communication. While online platforms offer convenience, mitigating this shallowness requires a conscious effort to prioritize authentic interactions and value compatibility beyond physical attributes.
Overcoming the negative impacts
Overcoming the negative impacts of online dating requires a thoughtful approach that prioritizes emotional well-being and meaningful connections. Here are five ways to navigate these challenges:
Practice mindful usage by setting clear boundaries on app usage. Allocate specific time periods for browsing profiles and engaging in conversations. This prevents overindulgence and allows you to focus on other aspects of your life, fostering a healthier balance.
Authenticity and communication
Prioritize authenticity in your interactions.
Be genuine in your profile and conversations, and encourage the same from potential partners. Engage in meaningful conversations that go beyond surface-level topics. Honest communication develops connections built on shared values and interests.
Work on improving your self-esteem and body image independently of online dating. Engage in activities that make you feel confident and self-assured. Recognize that your worth goes beyond appearances, and seek matches who appreciate you for your true self.
Shift your focus from accumulating matches to building quality connections. Invest time in getting to know potential partners on a deeper level before moving on to the next match.
Prioritizing a few genuine connections over numerous shallow ones can lead to more fulfilling relationships.
Regularly take breaks from online dating to recharge and avoid burnout resulting from the psychological effects of online dating. Use these breaks to reflect on your experiences, reassess your goals, and ensure that the process isn't negatively impacting your emotional well-being.
Reconnecting with real-life social circles can also provide emotional support.
By adopting these strategies, you can enhance your online dating experience and overcome its potential negative impacts. Remember that online dating is just one avenue for meeting people and building relationships.
Cultivating a healthy approach, grounded in self-awareness and genuine connections, can lead to more fulfilling and sustainable romantic experiences.
Commonly asked questions
Here are a few more questions to help you decide whether dating apps are actually bad for mental health and whether there are negative psychological effects of online dating.
Explore traditional dating vs. online dating strategies, how to deal with its challenges, and promoting healthier connections and emotional well-being.
What are the common psychological effects of online dating?
Common psychological effects of online dating include heightened anxiety and self-consciousness due to constant evaluation and rejection.
The gamified nature can lead to addictive behavior and decreased self-esteem tied to appearances. An abundance of choices can foster indecision and commitment issues.
Virtual interactions might distort real-life expectations, while anonymity can lead to honesty or deception concerns. The emphasis on instant gratification can hinder patience in building deeper connections.
Balancing these effects is vital to ensure positive emotional well-being and authentic relationships in the digital dating landscape.
How does online dating contribute to anxiety and depression?
Online dating can contribute to anxiety and depression by creating a hyper-competitive environment. The pressure to present oneself perfectly and the fear of rejection intensify as users constantly compare themselves to others.
The uncertainty of online interactions, potential misrepresentation, and repeated failures to find meaningful connections can heighten feelings of inadequacy and isolation.
Moreover, the constant swiping and scrolling amplify the sense of being judged solely on appearance, fostering negative body image and self-esteem issues.
These factors collectively generate emotional distress, potentially leading to heightened anxiety and depression among users navigating the complexities of online dating.
Can online dating lead to addiction?
Yes, online dating can lead to addiction due to its gamified and dopamine-driven nature. The constant swiping, matching, and seeking validation from notifications can create a cycle of pleasure and anticipation.
This repetitive behavior can escalate into compulsive checking, neglecting other responsibilities and relationships.
The allure of new connections and the fear of missing out drive users to continuously engage, even when it negatively impacts their well-being.
This addictive pattern can result in decreased productivity, social isolation, and emotional distress, underscoring the potential for online dating to develop into a genuine addiction for some individuals.
This thought-provoking video explores in detail the impact of dating apps on our mental landscape. Have a look:
How does online dating affect self-esteem and body image?
Online dating can impact self-esteem and body image in several ways. The emphasis on visual appeal through profile pictures can lead to comparisons and heightened self-consciousness.
Users may feel pressured to meet certain beauty standards, leading to a negative body image. Rejections or lack of matches might be interpreted as personal inadequacy, eroding self-esteem.
Additionally, the culture of "swiping" can commodify individuals, reducing them to appearances. However, positive interactions and genuine connections can boost self-esteem.
Building a strong sense of self-worth independent of online validation and focusing on meaningful conversations can mitigate these negative effects and promote a healthier relationship with self-image and esteem.
What strategies can be used to mitigate the negative psychological effects of online dating?
To mitigate online dating's negative psychological effects, establish time limits to prevent obsession, prioritize meaningful conversations over quantity, and maintain an authentic profile to foster genuine connections.
Focus on self-esteem independent of online validation, and remind yourself that curated profiles don't represent the entirety of individuals.
Balance virtual interactions with real-life connections, seek emotional support from friends, and take breaks when needed.
Reflect on the emotional impact and adjust your approach accordingly. These strategies promote a healthier online dating experience, minimizing anxiety, depression, and addictive behavior while fostering genuine connections and emotional well-being.
Meaningful connections for a fulfilling life
In the modern reality of online dating, a complex interplay of psychological effects of online dating.
While it offers convenience and diverse connections, users grapple with anxiety, self-esteem issues, and addictive behaviors. The quest for perfect matches can lead to shallowness and commodification of relationships.
However, with mindful strategies, such as setting boundaries, prioritizing authenticity, and seeking real-life connections, the negative impacts can be mitigated. Striking a balance between the digital and real worlds, fostering self-worth beyond appearances, and promoting genuine connections are crucial steps.
Navigating this landscape with awareness, empathy, and self-care can lead to more fulfilling and emotionally healthy romantic experiences.
Share this article on
Want to have a happier, healthier marriage?
If you feel disconnected or frustrated about the state of your marriage but want to avoid separation and/or divorce, the marriage.com course meant for married couples is an excellent resource to help you overcome the most challenging aspects of being married.
You May Also Like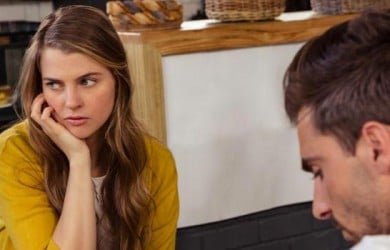 Popular Topics On Married Life