3 Exciting and Fun Alternatives to 'Let's Get Married'
Let's Get Married – Ways to Make Your Marriage Proposal Unique and Fun!
One day it just hits you – you want to get married and you have found the woman that you want to spend your whole life with. So now you begin to get ideas – lots of it.
Just how do you ask your partner "let's get married"? How do you make the moment perfect for the occasion? What preparations do you need to keep in mind and most of all, how ready are you for this type of commitment?
Before asking the big question – keep in mind
Asking your partner to marry you isn't as simple as saying hey, dear, let's get married. It's far from that.
Before you even plan a marriage proposal, make sure that you have an idea if your partner is also ready to for that type of commitment. We definitely don't want to get a no for an answer, right? Also, before you ask her to marry you, make sure that you are already financially, psychologically, and emotionally ready for the change.
Marriage is no joke.
While we aim for the best let's get married proposal, we also have to make sure that we're ready.
Steps in making your proposal memorable
Now that we are already familiar with the things that we need to keep in mind, let us also know that planning the best proposal isn't a joke. You'll have to invest in the "ring" and the proposal itself.
Hopefully, we will only have to go through this event once in our lives, so we have to make it memorable. If you want to have the best surprise marriage proposal, then you have to get all the help that you can get.
There are things to keep in mind before you can say, "Let's get married".
Prepare the ring –

It may take time for us to choose the best ring that we would want. So, better make sure that you will have the one that your partner would love.

Gather hints from your girlfriend –

You can have an overall idea of her dream proposal if you pay attention to the hints dropped by your girlfriend now and then. You can also ask her closest friends to help you with this. Be careful not to give too much information or look suspicious.

Talk to her parents first –

Whether or not you feel that you belong to her family, it's best to talk to her parents first. Let's look at this as a form of respect towards your future in-laws.

Arrange for the specific budget –

Also make sure that you have a specific budget for the proposal. Don't go overboard if you don't have the funds to do it. Let's be practical.

Seek assistance from friends –

Gather your friends and let them help you. This will be a tiring task and you will need all the help that you can get. Accept ideas from people who you know have extensive experience in this field. Allow enough time for your plan to materialize.

Don't stress yourself too much –

Now that you have an idea and a plan. You have to know the perfect moment and the perfect timing. This may be a challenge but don't get too stressed out. Be calm and enjoy the moment. These will be memories to treasure.

Prepare your speech –

Prepare your speech but make sure that it comes from your heart. This may be too cheesy for some but hey, it's your proposal and might as well go all the way!

Plan a unique proposal –

The marriage proposal should be unique, beautiful, and will show your personality and love for her. There can be many ideas to choose from and you'd be thrilled to know how exciting the preparation can be.
Marriage proposal ideas
Now comes the most crucial part of asking the woman of your dreams to let's get married. Here are some of the best marriage proposal ideas for you and your partner.
1. Location
If you and your partner love to go traveling, hiking or just spending the weekend elsewhere, then this will be included in your marriage proposal ideas.
Book a special weekend where you can go hiking or go to the beach and make it seem like any other trips that you have. There you can set up a small place where you can put flowers, photos, and even a video of the two of you – then that's the time you can ask her to marry you.
If you love spending the weekend doing hiking or just spending some quality time, then you can level this up and drop the question. You can also ask her your favorite restaurant to help you with the proposal. Most likely, they would even give you lots of ideas!
2. Surprise!
Almost everyone wants to have a unique marriage proposal that would definitely include a surprise to remember.
Let's get married can be said in many forms. You can ask her friends and relatives to help you or even create a flash mob proposal. You can also ask her to watch a movie and give her your surprise marriage proposal in the ending.
If you are both into music, dedicate a song and propose to her that way!
3. Awww – Cute!
If your partner loves cute things and happenings, you can even ask for your pet's help.
Make sure that they are in the mood and put a little cardboard note with the words of your proposal. You can also fill her room with teddy bears, roses, and whatever she likes! The options are limitless as long as you use your imagination and let love guide you along with the cutest marriage proposal ideas.
The road to forever – after the proposal
Now that you've got your partner's sweet answer to your proposal, what comes next? You'd have more than enough time to prepare for your marriage and with this, do the best you can to invest on personal development.
It's vital that the both of you know what to expect in your marriage and how you can make sure that you can go through the trials together.
The road to forever doesn't end when you ask her let's get married and she said yes. In fact, this is the first step towards your future together. A great transition in your relationship and you should start making sure that you'll be ready for your life together as a married couple.
Share this article on
Want to have a happier, healthier marriage?
If you feel disconnected or frustrated about the state of your marriage but want to avoid separation and/or divorce, the marriage.com course meant for married couples is an excellent resource to help you overcome the most challenging aspects of being married.
More On This Topic
You May Also Like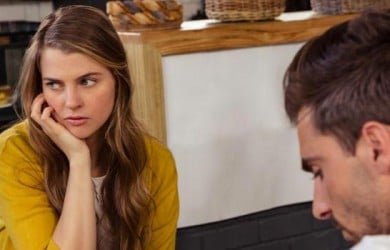 Popular Topics On Married Life