How Do Female Friendships Affect Marriage?
Many women connect emotionally to their best friend and remain best friends throughout life. But, what happens when they get married to other people? Many women find that their relationship with their bestie starts to fade away because of marital commitments. But others find that their relationship with their bestie improves as they enter into a new phase of their life. This happens because they need an emotional release and they get that by confiding in their girlfriend.
Marriage.com interviewed five random women on the subject of women, friendships, and marriages. Here's what they had to say.
Friends for life
Marie, 42 years old, on a second marriage, "I have been friends with Donna all my life. She has seen me through being a widow and now a second marriage. We will be friends for life. Donna respects my marriage and doesn't tell me what I should say to my husband. We usually spend time together, just us. Our favorite pastime is shopping. Sometimes Donna and her husband will come over for a couple's night. We love cookouts."
Best friend eloped with husband
Janice, 33 years old, has been married 10 years. She said, "I don't trust any woman around my man. I remember before marrying John, I was engaged to someone else who ran off with my then best friend. I don't care how nice or trustworthy a woman friend may be, I don't bring them around my husband. When I met my husband, I cut all ties with my girlfriends. I know that is selfish but I am protecting my marriage. I am usually involved with my family and coworkers. I have people I like to hang out with but no best friends."
Best friend through thick and thin
Shelia, 27 years old, has been married for five years. She said, " I love my best friend, Connie. When I had my daughter, she was there just like a blood sister helping me until I was on my feet again. My husband was out of town with work most of the time. He did the best he could to stay in touch. We have named Connie as the parent for our daughter if something happens to me or my husband. I don't have family. I share my husband's family but it's nothing like having someone on your side."
Keep women friends at a distance
Angela, 22 years old, said "my best friend is my husband but next to him is my sister. I love her and many people think we are twins but we are not. My sister will gossip to other family members so I don't confide in her completely but we do a lot of things together. I keep my other women relationships out of my marriage and with boundaries. It is best to know your friend's weaknesses. Everyone knows my bestie is my husband so things are kept in perspective."
Best friend donated a kidney
Stephanie, 55y years old, said "my best friend is my neighbor Phyllis. Phyllis donated a kidney to me when no one was a match. That was over 10 years ago. She gave me a second chance at life without dialysis. How can you not want to be friends with a person like that? Phyllis has strong faith in God and I too have come to share that faith. Before her act of kindness, I would have never thought to do what she did for someone. In addition, Phyllis is a cancer survivor. She said she knows how it feels to face death when you are not ready. My husband is so happy that we know Phyllis. Phyllis is also a widower. So we look out for her. My husband is always trying to fix her up with a man but she is so picky. I am glad I met her and so is my husband. We will be friends for life.
Female friendships are great mostly. But sometimes when they intertwine with your marriage, they can cause certain problems. But there are ways to prevent that from happening. For that you have to ensure that your friendship in the proper perspective is in order not to interfere with your marriage. You can do that by asking yourself a few questions:
Do you value your girlfriend's opinion over your husband?

Do you consult with your girlfriend before consulting with your husband?

Do you change plans to go out to attend activities with your girlfriend?

If you are not in a physically or mentally abusive marriage, does your girlfriend encourage you to leave your husband?

Do you give your girlfriend resources from your marriage without consulting your husband?
If you answered yes to any of the questions above, you need to rethink priorities and remember your marriage comes first so does your husband. It is good to have friends but they can take over a relationship if the friendship is not kept in the proper perspective.
Share this article on
Want to have a happier, healthier marriage?
If you feel disconnected or frustrated about the state of your marriage but want to avoid separation and/or divorce, the marriage.com course meant for married couples is an excellent resource to help you overcome the most challenging aspects of being married.
Learn More On This Topic
You May Also Like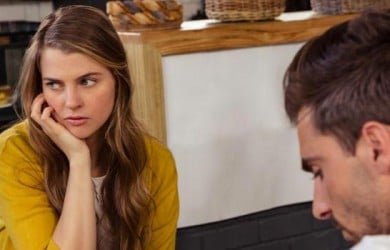 Popular Topics On Married Life