What Is Groundhogging and Is It Ruining Your Dating Life?
Relationships can be tough, but if you've had a series of unsuccessful relationships where you end up with a broken heart, you may begin to wonder if you're doing something wrong.
Groundhogging is one factor that can contribute to problems in your dating life, and you may not even be aware of it. Learn about this behavior below, so you can find out if it's affecting your love life.
What is groundhogging in dating?
If you have had numerous rocky relationships or always get hurt, you may ask yourself, "Why is dating hard for me?" It could be because you're experiencing a concept called groundhog day syndrome in your relationships.
In dating, groundhogging means you date the same person repeatedly, which never works out for you. Instead of recognizing that maybe you're dating the wrong type of people, you continue to fall for the same person, expecting that you'll get different results than the last time.
For example, maybe you always date the athletic but emotionally unavailable type, or perhaps you've dated numerous high-powered attorneys, but you continue to get your heart broken. This groundhogging dating trend means you're setting yourself up for failure because you continue to date people who aren't right.
Is groundhogging ruining your love life?
Many people probably feel that they have a "type" when it comes to dating, and if your type is compatible with you and shares many of your values, it's not necessarily bad.
Sometimes relationships fail, not because of the type of person you were dating, but because it's not the right timing, or maybe you end up growing apart.
However, if you have repeatedly gotten your heart broken, and it seems that no matter what you do, you can't have a successful relationship, it might be that groundhogging is ruining your love life.
Think back on your relationships. Do they all tend to start and end the same way? Do your past significant others have a lot in common? If you answered yes, groundhogging could very well be to blame for your relationship woes.
The do's and don'ts of groundhogging in dating
In some cases, repeatedly dating the same type of person may reflect your standards for relationships. This means that having a "type" isn't always bad. That being said, when it comes to groundhog day syndrome, you may run into problems.
If you notice yourself groundhogging, keep the following do's in mind:
Give yourself standards for who you will and will not date. This means deciding upon your deal breakers. For instance, if you won't date someone unemployed, it's okay if groundhogging means you only date established professionals.

Choose partners who have similar values to your own. If you're repeatedly dating people who are your polar opposite, groundhogging can lead you to fall for people who will never be a good match.

Make sure you're not being too rigid. You can miss out on a good mate if you insist that your potential mates meet specific criteria, such as being above a certain height or wearing only a certain clothing style.
Here are some don'ts for groundhogging:
If you know that a certain type of person isn't a good fit for you, and you've dated this type many times, don't convince yourself that the next person of this type will be different.

Don't go into relationships thinking you can fix a person. Sometimes, groundhogging behavior can lead people to repeatedly date someone emotionally unavailable or fearful of committing because they believe they can change someone.

Don't write someone off as being a bad match just because they don't "check all of your boxes." Dating someone different can help you to get out of an unhealthy pattern of groundhogging.
10 signs you might be groundhogging
So, what are the signs of groundhogging? Consider the ten indicators below:
1. All your relationships end the same way
If you're dating similar people repeatedly, they will all have similar problems. For example, if you continue to date people who fear commitment, your relationship will end because the other person won't settle down and be exclusive, or they'll be unclear about the relationship status.
2. Your past relationships are all with people similar to you
It's human nature to feel most comfortable with people with a similar cultural background, upbringing, and socioeconomic status compared to ours. If you're repeatedly dating people exactly like you, you may miss out on someone who is a good fit.
3. Your typical type reminds you of one of your parents
Sometimes we unknowingly select partners who remind us of one of our parents, and then we play out unfinished business from childhood. This explains groundhog day meaning in relationships.
If your mother was harsh and lacked warmth, you may choose partners who are the same because you subconsciously feel like you can resolve your issues with your mother through your dating relationships.
4. You date people who look the same
There's nothing wrong with dating people you're attracted to, but if you insist on dating someone who looks a specific way, you'll probably end up dissatisfied. You cannot rely on superficial traits to get you through a relationship.
5. You're very specific about what you want in a partner
Are you eliminating people from your dating pool because they don't meet a very specific requirement of yours, such as listening to a certain type of music or being in a particular profession?
You might be missing out on people who could be a way better match for you than the people you've been groundhogging with for so long.
6. Most of your former relationships have been with people who have all the same interests as you
It's certainly beneficial to choose partners with similar values and some interests in common with you. Still, if you choose people exactly like you, your relationships can quickly go stale.
You still need to maintain your own sense of identity and have personal hobbies outside of the relationship, so dating your clone probably isn't going to work out.
7. You settle for people because you feel you can't do better
Maybe you realize you're repeatedly dating people who aren't good to you, but you're convinced you cannot do any better. If this is the case, low-self esteem may be causing relationship dissatisfaction for you.
8. You refuse to date someone who isn't your type
If you've settled on a type and refuse to date outside of it, you'll probably end up groundhogging. You may think you're doing yourself a favor by being sure about your type, but you're creating more problems for yourself.
9. You have had a series of short-lived relationships
When you fall into the groundhogging trend, you're repeatedly starting relationships that aren't meant to last. You're probably participating in this trend if you've had several relationships that last only a few months.
10. You quickly jump into new relationships
What does groundhog day mean in a relationship?
You can be pretty sure you're stuck in the groundhogging dating trend if you end one relationship and immediately start another. Instead of taking time to get to know people and choose a partner who is a good fit, you're simply jumping into relationships with your usual type.
How to get out of the groundhogging cycle
What can you do to get out of the groundhogging cycle? Consider the tips below:
1. Step outside of your comfort zone
If you've always dated a specific type, now is the time to diversify. Step outside your comfort zone and accept a date with someone entirely different from who you'd usually go out with.
You might find that your perfect match is the opposite of who you've been dating all these years.
Watch this video to learn how your life truly begins at the end of your comfort zone:
2. Stop adhering to a type and focus on your values
Let go of the idea that you can only date one specific type. When you fall into this mindset, you will end up dating the same people repeatedly, and there will be a small pool from which to select.
Focus on people who align with your core values, and you'll find that multiple different types can be a good match.
3. Consider counseling
Getting stuck in a pattern of dating people who aren't good for you can indicate some unresolved psychological problems or childhood trauma. Working with a counselor can help you to identify self-esteem problems or childhood wounds that are holding you back from forming healthy relationships.
Related Reading: 

What Is Relationship Therapy – Types, Benefits & How It Works
Some commonly asked questions
Here are answers to certain questions related to groundhogging that can help you get some clarity and understand your relationship better:
What is hardballing in dating?
Closely related to groundhogging is the concept of hardballing. This refers to people being entirely upfront with each other about what they want out of a relationship. Instead of hiding their expectations, they clearly state what they want in a partner and what type of relationship they seek.
This means clearly stating whether you want a long-term commitment or a casual fling. Hardballing can help you avoid some of the challenges that come with groundhogging because you'll be able to avoid someone who doesn't want the same things as you, so you can call it quits before you get too invested.
This question relates to the concept of groundhogging in relationships because the term comes from the movie "Groundhog's Day." In this 1993 film, the main character lives the same day, over and over, with no memory of it.
Groundhog's day is celebrated each year on February 2. This day can remind you that you don't want to live the same relationship repeatedly, especially if it's not working for you.
Closing thoughts
Groundhogging behavior can lead to a repeated cycle of unhappy relationships because, without realizing it, you're dating the same people repeatedly and expecting that the next relationship won't be the same as the last.
If you're stuck in this cycle, it may be time to broaden your horizons and reconsider what you want in a partner.
While groundhogging can lead to problems in your love life, sometimes it's not the people you're dating who are the problem. Maybe you're stuck in ineffective communication patterns or conflict management styles. In this case, you may benefit from working through couples therapy to address underlying problems contributing to relationship woes.
Share this article on
Want to have a happier, healthier marriage?
If you feel disconnected or frustrated about the state of your marriage but want to avoid separation and/or divorce, the marriage.com course meant for married couples is an excellent resource to help you overcome the most challenging aspects of being married.
More On This Topic
Recent Articles
You May Also Like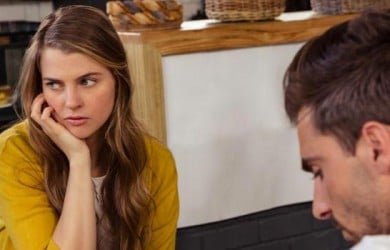 Popular Topics On Married Life