How to Give Your Spouse the Benefit of the Doubt When You're Mad
Have you ever gotten upset with your spouse because they did something and you thought they were doing it just to make you mad, only to find out that they were trying to be helpful and it was just a misunderstanding?
I hear about this sort of situation in my therapy office all the time.
People can make some big leaps in logic when they are hurt
Misunderstandings are a part of any relationship, especially marriages. This is why giving your spouse the benefit of the doubt is so import but can be hard when you are mad at them.
An action can be interpreted in a multitude of ways.
If your spouse brings you flowers you can assume they are expressing their love for you, apologizing for something they did wrong, trying to suck up to you, or trying to attract a swarm of killer bees so they can get rid of you and make it look like an accident.
Now, that may seem ridiculous, but I've heard some pretty far-fetched things in my office and people can make some big leaps in logic when they have been deeply hurt by someone.
We make an assumption about other people's motives every day. We observe their actions and categorize them on an unconscious level.
Often what happens during this process is we filter people's actions through our own emotional state and that affects our interpretations.
When we are upset with someone we often tend to assume that a person's motives are selfish, disingenuous, or even malicious.
It's a lot easier to give someone the benefit of the doubt when everyone is happy, but that doesn't always happen and it makes a tense situation worse.
It's a vicious cycle
You're mad at them and are more likely to assume that they are doing things just to piss you off. This makes you even madder which means you are even more likely to assume their motivations are malicious. No good will come of this.
It's time to break the cycle!
I have couples come to see me who assume that their spouse is selfish, a jerk, or even a narcissist.
It's hard to reconcile with someone when you assume that their every motivation is selfish and they are actively trying to cause you harm.
Don't mind read
Check your assumptions to see if they are accurate.
It's hard to do when you are upset, but it is crucial if you want to have a happy marriage. Try not to jump to conclusions. You can't read minds so don't assume you know your spouse's intentions.
All you can do is ask.
Make the choice
Making up with your spouse after a misunderstanding often takes a conscious decision.
Couples that do it well are more likely to give each other the benefit of the doubt.
We don't do this naturally when we are angry so it will probably take some effort, but you and your spouse will be happier for it.
Practice makes perfect
Or maybe "Practice Makes Better" might be more accurate.
No one is perfect, but the more you choose to give your spouse the benefit of the doubt, the more it will become second nature and the less likely you are to have misunderstandings in the first place.
That is something I think all of my clients would like in their marriages.
Now, all this is easier said than done, but it is absolutely worth it.
You didn't get married just to be unhappy and fight all the time. No one does! I rarely find that people consciously choose to be hurtful and that is an assumption that I can almost always recommend.
Share this article on
Want to have a happier, healthier marriage?
If you feel disconnected or frustrated about the state of your marriage but want to avoid separation and/or divorce, the marriage.com course meant for married couples is an excellent resource to help you overcome the most challenging aspects of being married.
Learn More On This Topic
You May Also Like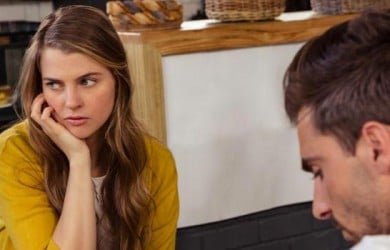 Popular Topics On Married Life