What to Do If Your Teenage Daughter Hates You
When kids grow up and start to see the world with a new set of eyes, some of the issues and frustrations with which they are confronted in the environment around them will sometimes be reflected onto you, more or less.
As children slowly start to grow into their teenage years they feel that it is difficult to see anyone's perspective beyond their own.
A teenage daughter is in the most rebellious part of her life
Hormonal changes start to happen, the brain is in a total frenzy, and while a teenage daughter is in the most rebellious part of her life, the only enemy for her is the authoritative figure, and that's you – the parent.
The time when they were afraid to leave your side has suddenly come to cease. Now it's the opposite way around, and your teenage daughter wants independence, freedom, liberty from the hands that once fed her with a teaspoon and changed her diapers.
There are ways to cope with your daughter's frantic character and negativity towards you by learning how to communicate with her better, how to engage on her level and how to make her to also see your perspective on things.
Never take it personally
Words might spring out of your daughter's heart but never take them personally. Stop saying to yourself – my daughter hates me.
It's not like they actually mean what they say. You might think "How on earth did I raise her to be like this?" but try to understand that the hormonal changes through which she is going through in her teenage years are just bursts of anxiety and insecurity.
When she lashes out at you she's actually probing you to see if you are actually there for her in her time of need. That doesn't mean that you can continue to let her speak to you rudely.
Establish a set of rules, try to say to her "You might be upset, but that doesn't mean you're entitled to talk to me like that.
Do you find yourself saying to yourself – "my daughter hates me"? Be calm.
If you see that you're going nowhere with her with the conversation, just leave. Go and take a walk and meditate how you can better engage her in the future.
Listen more often
If you want your daughter to listen to you, well, you will have to listen to her first.
Even when she's constantly ranting at you or is giving you the opposite silent treatment with short answers like "yes" or "no" try to have patience and to listen to her nonetheless. If you're there for her, you'll let her know more than you care about her and love her.
Admit your wrongs
Sometimes you will have to admit to your own faults because that's only fair.
Teenager girls are very sensible in their adolescent chapter of life, and we, as adults, tend to neglect the grievances that they have against us. If your daughter has an issue and you are indeed the culprit that's causing it, play fair and apologize to her.
Fool around yourself
When things don't play out the way that you want them to with your daughter, lower yourself to the same childish level as hers.
Try to laugh out your own frustrations to her, exteriorize your own emotional baggage out in front of her as she does, more or less, and make her experience with you what you experience with her.
What does she need?
Teenage years are the most confusing years of a human being's life, and I think we can all agree on that as fully grown adults who have now already gone through it.
She will realize that she will always have a pillar of support in you
Even when the daughter lashes out the word "Go away, I hate you!" try to understand why is your teenage daughter feeling like that.
There's no way for you to exactly know what's actually happening in her head, but if you always stare supportive of her, she will eventually open up to you more because she will realize that she will always have a pillar of support in you – her parent.
Instead of punishing her and sending her up to her room after you lecture her for her inappropriate behavior in front of you (don't worry, she's deaf to all of those words), try instead to sit down with her and to explain that the two of you must find a common ground, as parent and child.
Share this article on
Want to have a happier, healthier marriage?
If you feel disconnected or frustrated about the state of your marriage but want to avoid separation and/or divorce, the marriage.com course meant for married couples is an excellent resource to help you overcome the most challenging aspects of being married.
Learn More On This Topic
You May Also Like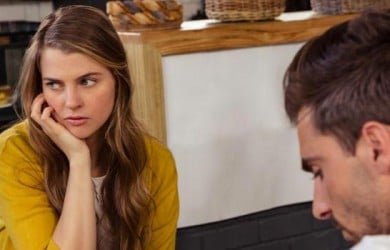 Popular Topics On Married Life