How to Deal With Teenager's Depression
When parents note that their teenage children are getting more irritable, unhappy, and uncommunicative than usual, they label the problem with "adolescence", and dismiss the probability of their problems being teenage depression.
It's true; teenage years are challenging. All kinds of changes happen in your child's life. Their body is going through hormonal chaos, so mood swings are nothing unusual.
However, if you notice that the feeling of unhappiness lasts for too long in your children, or any other symptoms of teenage depression, they need your help to overcome it.
Depression is not something "reserved" for grownups. People have been battling it for their entire lives. It's a terrible condition that makes one feel worthless and hopeless.
Nobody wants their son or daughter in that state, so let's learn how to recognize the signs of teenage depression and how to get out of teenage depression.
Understand teenage depression
Depression is the most common mental illness. The biggest problem is that the people around the depressed person doesn't realize that they are going through a hard time.
According to the information at suicide.org, more than half of Americans don't believe that depression is a health problem. Many people believe that a person can "snap out" of the situation if they simply "tried harder."
If they notice that someone is utterly depressed, they will tell them to watch a cartoon, read a book, hike in nature, or spend more time with their friends. Don't be that kind of a parent.
Don't try to make your teenager happy by getting them a dog or a car. You can do all those things. But, it's important to spend more time with them and try to make things easier.
What's more important is to understand what causes teenage depression, and how they feel about it, and support them through the healing process.
You have to understand that depression is a serious problem and you cannot force your child out of it. Do not contribute to the social stigma and assist them in getting the professional help that they very much need in this case.
No one wants to be sad. No one suffers from depression on purpose. It's a mental illness that needs treatment just like a physical disease.
It's incredibly hard to be around a depressed person. As a parent, you need a lot of patience.
Now is the time to show that unconditional love and support that you swore to give to your child when they were born.
Recognize the symptoms
Before you get to, how to deal with teenage depression, you need to learn to identify the glaring signs and symptoms of teenage depression.
Depression is often labeled as "just sadness" by mere observers. On the other hand, people who have never experienced the depth and despair of depression tend to say "I feel depressed" when they are just having a hard day.
Depression has a few specific symptoms that should alarm every parent.
When you notice any of them, you're the one who needs to snap out of the little bubble and recognize that there's a problem that you have to address.
These are the common signs and symptoms of depression in teenagers:
Your teen is less active than usual. They don't feel like exercising and they skip the practice that they used to love.

They have low self-esteem. They don't like to dress in clothes that draw attention.

You notice that your teenager isn't confident enough to make new friends or approach the person they like.

They often seem sad and hopeless.

You notice that your teenager has trouble focusing when studying. Even if they did well at a particular subject, they find it difficult now.

Your teen shows no interest to do things they once loved (reading, hiking, or walking the dog).

They spend a lot of time alone in their room.

You sense that your teenager is drinking, or smoking weed. Substance abuse is a common "escape" for depressed teenagers.
Watch Also:

How should parents act on teenager depression
The usual treatment options for depression include psychotherapy, medication prescribed by a therapist (for moderate to severe depression), and important lifestyle adjustments.
Support your child through the healing process
As a parent, you have a responsibility to support your child through the healing process.
Once you recognize the symptoms, the first step is to get professional help. There is nothing wrong with getting therapy.
Without proper guidance, this state will profoundly affect a person's entire life. It will have a long-term effect on their social connections, school performance, romantic relationships, and connections with family.
Never ignore their mood swings
Never ignore the mood changes, no matter how convinced you are that they are temporary.
If you notice that your child is sluggish and unmotivated for more than two weeks, it's time to take action. Talk to them.
Ask them how they feel and why they feel that way. Tell them that you're there to support them all the time, no matter what they are facing at the moment. You love them unconditionally.
Seek the help of a therapist
Explain that if they feel hopeless, it's best to see a therapist for a friendly talk.
Everything they say will be in full confidence, and you'll be right there in the waiting room. Tell them that you're also seeing a therapist when you feel bad, and they help a lot.
As a parent, you'll need to talk to the therapist, too. If they have diagnosed teenager depression and prescribed treatment, they will tell you how to support your child.
Spend dedicated time with your child
This situation is a priority. You'll have to find the time to talk to your child every single day. Help them study, talk to them about friends, and try to get them in social situations.
Join a fitness club together, do some yoga, or hike together. Physical activity can speed up the healing process.
Focus on their food
Cook nutritious meals. Make the food enjoyable and interesting, so you'll bring a breath of fresh air in the time you spend together as a family.
Tell them that they can invite friends over whenever they want to. You'll even prepare the snacks for a movie night.
Don't expect this to be an easy process. No matter how much you want your kid to snap out of the teenage depression, you have to be prepared for a slow process that's heavy on your own emotional health.
Be prepared and stay strong!
You're the best support that your teenager has during these moments.
Share this article on
Want to have a happier, healthier marriage?
If you feel disconnected or frustrated about the state of your marriage but want to avoid separation and/or divorce, the marriage.com course meant for married couples is an excellent resource to help you overcome the most challenging aspects of being married.
More On This Topic
You May Also Like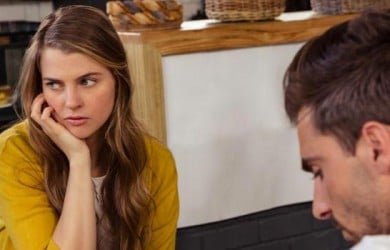 Popular Topics On Married Life