Helicopter Parents: 20 Sure Signs You Are One Of Them
As parents, we want to give our children everything.
If we can, we will do everything for them. Unfortunately, giving too much for our kids can also be bad for them. There is a term for this, and some parents may not be aware that they are already showing signs of helicopter parenting.
What are helicopter parents, and how does this parenting style affect our children?
What is the definition of helicopter parenting?
The helicopter parenting definition is those who pay too much attention to their child's every move. This includes their opinions, studies, friends, extracurricular activities, etc.
Helicopter parents aren't just involved in their child's life; they are like helicopters that hover over their children, causing them to become overprotective and overinvested.
Like a helicopter, they are immediately there when they see or feel that their child needs their help or assistance. You may think, isn't that what parents are for? Don't we all want to protect and guide our kids?
However, the helicopter parenting style might do more damage than good.
How does helicopter parenting works?
When do the signs of helicopter parenting start?
At the time your child begins to explore, you feel anxious, worried, excited, and so much more, but overall you want to protect your child.
You want to be there and watch his every step. You're scared that they might hurt themselves. But what if you continue doing this even if your child is already a kid, teen, or adult?
Most often, helicopter parents are not even aware that they are one.
They just feel that they're invested with their children, and they pride themselves on giving their time and attention. What does a helicopter parent mean?
These are the parents who would oversee their child's school admission interviews and are always in the school office to complain about the things that their child can solve.
As long as they can, helicopter parents will control the world for their children- from scraping their knees to failing grades and even in their job interviews.
No matter how good your intentions are and how much you love your kids, helicopter parenting is not an ideal way to raise them.
What causes parents to become a helicopter parent?
How can a parent's love turn into something unhealthy? Where do we, as parents, cross the line from being supportive to being helicopter mothers and fathers?
It's normal for us to feel anxious and protective towards our children. However, helicopter parents tend to overdo it. As they say, too much of everything is not good.
Helicopter parents want to protect their kids from sadness, disappointments, failure, and danger that can cause them to over-protect their children.
As their children grow up, they still grasp the need to control everything around their children to ensure their well-being while being blind to the helicopter parent's effects.
They do this by exerting too much monitoring and trying to control the world for their kids. There can also be signs of helicopter parenting where the parents show their strong desire to see their children succeed.
What are the examples of helicopter parenting?
We may not be aware of it, but we may already have some characteristics of helicopter parents.
When we have toddlers, it's okay to always be there to guide, teach, and supervise our children in everything they do. However, it becomes helicopter parenting when these actions intensify as the child grows.
Here are some examples of helicopter parenting.
For a child who already goes to elementary school, helicopter parents would often talk to the teacher and tell her what she needs to do, what their child likes, etc. Some helicopter parents can even do the child's tasks to ensure good grades.
If your child is already a teenager, it's just normal for them to be independent, but this doesn't work with helicopter parents. They would even go to great lengths to ensure their child goes to a reputable school to the point of being there when the child gets interviewed.
As the child grows older and their activities and responsibilities get bigger, we should, as parents, start letting go and allowing them to grow up and learn.
Unfortunately, that is the exact opposite with helicopter parents. They would be more invested and hover in their children's lives.
The pros and cons of helicopter parenting
Realizing that you may possess helicopter parent signs may be a hard truth to accept.
After all, you're still a parent. Here are the helicopter parenting pros and cons to ponder on.
• PROS
– When parents are involved in their children's academics, it enhances the child's intellectual and emotional capacity.
– If the parents are invested in their child's learning, this allows the child to focus more on their studies.
– When talking about support, this includes allowing the child to participate in school activities, and often, their financial needs are supported as well.
• CONS
– While it's nice that parents are always there for their children, too much hovering can cause the child to have mental and emotional stress.
– As teens, they will have a hard time facing life outside their home. They will have a hard time with their socialization, independence, and even coping skills.
– Another thing about helicopter parenting is that it can lead to children becoming entitled or narcissistic.
3 types of helicopter parents
Did you know that there are three types of helicopter parents?
They are the Reconnaissance, Low Altitude, and the Guerilla helicopter parents.
Reconnaissance helicopter parents will get ahead of their child's job search. They will go ahead and investigate the company, gather all the application requirements, and even be there when their child gets interviewed.
Low altitude helicopter parenting is when the parents try to intervene with their child's applications. These parents can pretend to be company owners and recommend their children or submit resumes for them.
Guerilla helicopter parents are fiercer when it comes to controlling everything for their children. They are really aggressive to the point that they can directly call hiring managers to ask what happened about the interview. They can also ask why their child hasn't been called yet or can go so far and interfere with the interview process and answer for the child.
20 signs of helicopter parenting
Do you know the signs of a helicopter parent? Or maybe, you are already showing some signs of helicopter parenting. Either way, it's best to understand how helicopter parenting works.
1. You do everything for your child
"Let me do it for you."
A short statement and fit for a toddler. Do you still butter their toast? Do you still choose the clothes they would be wearing? Maybe you still clean their eyeglasses for them.
This is one of the signs of helicopter parenting. Your child may already be 10 or 20, but you still want to do it for them.
2. When they're bigger, you still assist them with everything
"I'll go with you just to make sure the people there are okay."
A helicopter parent would insist on accompanying and assisting them with everything – from enrolling in school, buying school supplies, to even picking out their art projects.
You're afraid that your child might not know what to do or if your child may need you.
Related Reading: 

Taking the Twist out of Parenting Teens
3. You overprotect your kids
"I don't feel good about swimming. Don't go with your cousins."
You're afraid that something might happen or your child might get into an accident. It's normal to fear for your child's safety, but helicopter parents go so far that they wouldn't allow their kids to explore and be kids.
4. You always want everything to be perfect
"Oh, no. Please change that. You need to make sure that all everything is perfect."
Kids are kids. They may write a little messy, but this will get better over time. If you demand perfection early on and continue until they're older, these kids will believe that they aren't enough if they can't do it perfectly.
5. You try to shield them from other kids
"I'll call her mom, and we'll get this fixed. No one makes my child cry like that."
What if your child is sad, and as it turns out, she and her BFF had a misunderstanding. Instead of calming the child, the helicopter parent would call the other child's mother and initiate that the kids fix their issue.
6. You do their homework
"That's easy. Go and rest. I'll take care of this."
It may start with your preschooler's math problems to your teen's art project. You just can't stand seeing your child have a hard time working on their school work, so you step in and do it for them.
Related Reading: 

How Parents Can Help Kids With Homework

​
7. You interfere with their teachers
"My son doesn't like it when you're talking too much. He would rather see pictures and draw. Maybe you can do that next time."
A helicopter parent will interfere with the teacher's methods of teaching. They would even tell the teachers what to do and how to act for their children.
8. You tell their coaches what to do
"I don't appreciate seeing my boy get knee scrapes. He goes home so tired. Maybe be a little gentle on him."
Sport is a part of studying; this means that your child has to experience it. However, a helicopter parent will go to the extent of instructing the coach on what he or he can't do.
9. You scold other kids in children's fight
"Don't you yell or push my princess. Where is your mother? Didn't she teach you how to behave?"
Toddlers and kids will experience fights on playgrounds or in school. It's perfectly normal, and it helps them with their socialization skills. For a helicopter parent, this is already a big issue.
They would not hesitate to fight their child's battle.
Vanessa Van Edwards, the author of the best-selling book Captivate: The Science of Succeeding with People, talks about the 14 social skills that will help you.
10. You try your best to keep them close
"If you're not comfortable just text me, and I'll come and get you."
You have a teen, and she's just sleeping over, yet as a helicopter mother, you can't sleep until you're with your child. You hover and keep close to making sure that your child is safe.
11. You don't give them responsibilities
"Hey, go to the kitchen and get something to eat. I'll clean your room first, okay?"
Sounds sweet? Maybe, but what if your child is already a teen? Doing everything for them and not giving them responsibility is one of the signs of helicopter parenting.
12. You'd wrap them in bubble wrap if possible
"Wear your knee pads, oh, this too, maybe you should wear another set of pants to make sure you don't hurt yourself?"
If your child is just going to ride his bike, yet you worry like he's going somewhere dangerous. Helicopter parenting may start here and can become overbearing as your child grows.
13. You don't allow them to make their own decisions
"No, son, don't choose that, that's not right, choose the other one. Go ahead, that's perfect."
A child will want to explore, and with exploring comes making mistakes. That's how they learn and play. A helicopter parent wouldn't allow that.
They know the answer, so they can skip the making mistakes part.
14. You don't let them socialize or make friends
"They're too loud and look, they're too rough. Don't play with those kids. You might get hurt. Just stay here and play with your gamepad."
You don't want the child to get hurt or learn how to play rough. You may think this is inappropriate, but you're just keeping their leash short.
15. Always correcting your child
"Oh! He likes science. He once did a science project and got an A+."
Teachers would often check on their students and ask them questions to get to know them better. However, helicopter parents would often interfere and will even answer for their kids.
16. You don't allow your child to join activities that you don't like
"Darling, basketball is too tough for you. Just enroll in an art class."
We can already see what our kids want as they grow up. Helicopter parents think that they know what is best for their kids by telling them where to join and what to do.
17. You are always present in school, inspecting
"Wait for me. I'll go to your school today and see how you're doing."
Like a helicopter, a parent using this parenting style would often hover wherever their child is. Even in school, they would inspect, interview, and monitor their child.
18. If they have extra-curricular activities, you're also there
"Until when will you have your final practice for martial arts? I'll have my leave so I can watch you."
A helicopter parent would stay and be present to everything their kid is doing, even when they are just practicing.
19. You always tell your kids to be the best among the rest
"She can't be the top 1 in your class. Remember, you're my number one, so you should make me proud. You can do it."
This may look like you are motivating your child, but it's a sign of a helicopter parenting style. You will slowly make the child believe that they should always be number one.
20. Choosing their friends for them
"Stop going out with those girls. They won't be good for you. Choose this group. They will make you better and can even influence you to change your course."
Sadly, even with choosing their circle of friends is being controlled by their helicopter parent. These kids have no voice, no decisions, and no life of their own.
Also Try: 

Am I a Helicopter Parent Quiz
Is there a way to stop being a helicopter parent?
Is it too late how not to be a helicopter parent?
There are still ways how to avoid helicopter parenting. First, you have to accept that you are hovering over your child's life way too much.
The next step is to realize a few things.

We love our kids, and as much as we want to be around for them, one day, we won't. We don't want them to be lost and not be able to cope without you, right?

Our kids will learn more and be more confident if we let them 'grow.'

Our kids are capable of learning, deciding, and coping on their own. Trust them.
Break free from helicopter parenting and realize that letting your child learn and explore is the real help that they need. If you still have a hard time controlling, you can ask a professional to help.
Conclusion
Helicopter parents have good intentions, but sometimes, not knowing where to draw the line makes it worse.
Helicopter parenting can cause your children to become depressed and have low-self-esteem. They don't know how to socialize and even handle emotions, and so much more.
As early as now, start working on how you can handle your anxiety and urges to hover over your children. If you see some signs of helicopter parenting, then it's time to act.
It may take a while and the help of a professional therapist, but it's not impossible. Letting our children grow up and experience life while supporting them only when needed is the best gift we can give them.
Share this article on
Want to have a happier, healthier marriage?
If you feel disconnected or frustrated about the state of your marriage but want to avoid separation and/or divorce, the marriage.com course meant for married couples is an excellent resource to help you overcome the most challenging aspects of being married.
Learn More On This Topic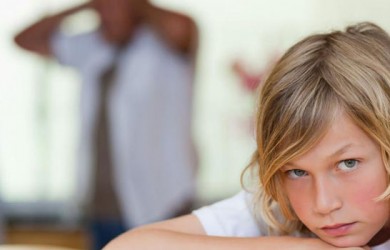 You May Also Like