How to Help With Your Partner's Job Search- 5 Ways
How do you help in your partner's job search if they are struggling to find a job?
Are there mistakes you should avoid when trying to be supportive? When someone is unhappy at work, supporting them can be a delicate balance between being encouraging and being domineering.
5 ways to support your partner if they are struggling to find a job
So, how to motivate your boyfriend, girlfriend, or spouse to get a job?
If your wife or husband lost the job, the following are five steps to bolster your other half when they having trouble with a job search:
1. Affirm your partner's feelings
To begin with the partner's job search, know that looking for a job is stressful and can be anxiety-producing, especially if you are in a toxic work environment. Start by affirming your partner's feelings.
Let them know you are there for them. "Your feelings are valid," and "I am here for you" can go a long way.
Furthermore, strive to always take your partner's side, even if you disagree with their job search strategy or approaches. When someone is struggling, your goal is not to judge them. Instead, take on an "us against the world" mentality.
Related Reading: 

20 Steps to Becoming a Supportive Partner
2. Avoid advice-giving
If you are losing patience with an unemployed husband or wife, it is understandable, but as much as you understand the gravity of the situation, so do they.
While it may be tempting, avoid giving unsolicited advice during your partner's job search when your partner expresses dissatisfaction with the job hunt. Studies have shown that "husbands and wives feel lower marital satisfaction when they are given too much advice from a spouse, as opposed to too little."
The stress of a spouse losing a job can be a lot but allow them to be fully open and share their feelings. Listening without the goal of solving will encourage your partner to continue to be honest and vulnerable with you.
Your role is to empower your partner to find the answers within themselves. Wait until explicitly asked before giving advice or offering solutions. And, when asked for input, consider responding with an open-ended question that puts the ball back in their court where it belongs.
3. Ask open-ended questions
Rather than give advice, you can be most helpful by asking open-ended questions during your partner's job search. Open-ended questions cannot be answered with a "yes" or "no" but instead enable your partner to reflect deeper. The following are some sample questions you can try:
How can I be helpful right now?

What are your options?

Can you tell me more?
While questions that begin with a "why" are open-ended, you typically want to avoid them when supporting your partner, as they can put them on the defensive. Try to stick with "what" and "how" questions.
Related Reading: 

Open or Curious Approach of Communication in a Relationship
4. Remind your partner of their fabulousness
In addition to empowering your partner, your role is to also uplift and motivate them because resentment for an unemployed spouse will not lead the life or relationship anywhere.
During your partner's job search, take time to remind them how fabulous they are. Celebrate all they are doing — both at work and home. Depending on your partner's Love Language®, this may look like writing them a nice note, surprising them with an iced latte, or going on a weekend adventure together.
Check out this video where Lisa and Tom Bilyeu sit down to discuss how you can push your partner into a motivated state, so they start accomplishing their goals and creating the life they want for themselves.
5. Set a decision date
Finally, if your partner is deciding whether they want to quit their current job, empower them to set a "decision date." This is a tentative date in the future when they will decide whether to call it quits. Having this deadline on the calendar can calm stress and anxiety.
Until that date, put off any further discussions of quitting. If your partner brings up giving two weeks' notice before the decision date, gently remind them of their pending decision date. Then, apply the strategies you learned in the previous four steps. You've got this!
Takeaway
Your partner has lost the job, probably they are going through a lot of emotions at once, most of them being negative.
So, be by their side, support them and help them in the search. Understand that financial difficulties won't last forever, and sooner or later, your partner will once again begin supporting you in all ways.
Share this article on
Want to have a happier, healthier marriage?
If you feel disconnected or frustrated about the state of your marriage but want to avoid separation and/or divorce, the marriage.com course meant for married couples is an excellent resource to help you overcome the most challenging aspects of being married.
More On This Topic
You May Also Like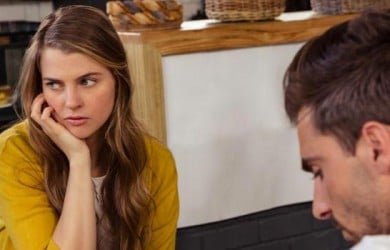 Popular Topics On Married Life