11 Ways to Manage the Post-Wedding Blues
It's been two weeks since my wedding, and I'm still feeling the post-wedding blues. Granted, I'm still in shock that it's all over, and there are no more wedding-related things on my to-do list. But I'm usually someone who likes to stay busy, and my wedding definitely helped me with that!
I've been tired, demotivated, and stressed since the wedding, and I'm pretty sure my partner is sick of hearing about it by now!
I'm hoping these feelings will go away soon, but until then, I thought I'd give a little bit of an update about how I'm feeling and share my tips for dealing with those crazy feelings too.
How I feel:
I wake up feeling like I'm waking up from the best sleep of my life- where did that come from?
Did all of my worries and stress melt away while I was asleep?
Was I dreaming???
But when I returned to work, I was groggy and tired all day.
Usually, I'm back on my feet the next day, and I feel great. But not this time. I guess I'm just having a rough time adjusting to being married and "starting over" again. I know it's only temporary, and I'll feel better eventually, but for now, I don't feel so great!
Weddings have their own highs and lows but they always end the same way… with a day full of happiness and joy!
I'm sure I'm not alone when I say that weddings can also be stressful and expensive. Planning a wedding takes months and can cost you a pretty penny! So, let's discuss why you might be feeling blue after your wedding…
What are post-wedding blues?
Post-wedding blues are a common feeling after a wedding. They can be a combination of sadness, loneliness, and maybe even feeling like you didn't really get to know your spouse-to-be well enough.
Many people experience post-wedding blues at some point after the wedding. But for some people, these feelings can be extreme and last for weeks or months, or even years. Post-wedding blues can happen to anyone and are not limited to newlyweds.
Sometimes when a couple gets married, it can be very different from what they've been dreaming about. Sometimes the marriage is not quite as happy or exciting as they had thought it would be. And sometimes, they may find that their marriage is not what they had hoped it would be. Other times, they may not even love each other anymore.
All of these things can lead to feelings of grief after the wedding is over.
Is post-wedding blues a thing?
Yes, there's definitely a thing called the "post-wedding blues," but it's not an official medical condition. According to the American Psychiatric Association, it's a short-term condition that affects about sixty percent of newlywed couples.
It is normal to have some ups and downs during the weeks after the wedding or for you to feel a little bit sad when you look back on your big day and all the memories you have associated with it.
And it is also perfectly normal for you to start missing your family and friends while you are adjusting to married life. So, you should let those feelings come and go instead of suppressing them.
How can you tell if you've got the post-wedding blues?
It's easy for your wedding to become the center of your universe for weeks or months leading up to the big day. Here are some post-wedding blues symptoms to look out for:
Feeling sad and/or depressed – even a week after the wedding

Feeling exhausted all the time

Not sleeping well or getting enough rest

Having a hard time concentrating at work

Seeing

Stalking your ex every now and then, even though you're supposed to be over them

Other similar symptoms may be excessive crying and/or anxiety
Why do couples experience post-wedding blues?
Many couples experience post-wedding blues after their big day. This feeling is usually caused by several factors, such as the extreme happiness and excitement of the wedding day slowly wearing off or general life changes that occur after the wedding.
Let's look at the causes of post-wedding blues for couples:
The sudden shift to the normal
The intensity of the emotions experienced on your wedding day can be overwhelming and lead to feelings of exhaustion and loneliness.
If you experience intense emotions on your wedding day, you may find it difficult to adjust to your new normal afterward.
You may feel overwhelmed by the magnitude of the event and may even feel lonely when you're no longer surrounded by your loved ones on your special day, and such feelings of loneliness need to be addressed quickly.
Weddings are often an expensive affair, and there are often a lot of expenses that the bride and groom have to deal with not only for the wedding but after it as well. These costs include everything from buying new furniture for your home to planning out a party for your friends to welcome them to your new house.
Planning a wedding can be very exhausting, and if you're feeling overwhelmed by financial stress, it may lead to feelings of anxiety and depression.
A study also shows that women who spent $20,000 or more on their wedding were 3.5 times more likely to divorce than their counterparts who spent less than half that.
Check out this video to understand how you can combine finances after marriage and build a stronger and healthier marriage:
Shifting your focus from relationship
You may start to feel depressed after your wedding due to a shift in your focus away from your relationships and towards other things such as your career.
This is especially true if you used to spend a lot of time with your partner before the wedding but must now focus all your time and energy on your work and other aspects of your life.
Changes in how the relationship will operate post-marriage
Changes to your relationship after your wedding can also lead to feelings of post-wedding depression. You may be unhappy with the change in the dynamic of your relationship after the wedding and feel resentful about the changes in your relationship.
You may also start resenting your partner for focusing more on their work instead of spending quality time with you.
11 ways to manage post-wedding blues
After a wedding, many couples feel the blues. They may feel disconnected from their new spouse and overwhelmed with the changes that have taken place. With these 11 ways to manage your emotions, you can stop wondering how to get over such post-wedding blues:
1. Spend time together
One of the main causes of post-wedding blues is feeling disconnected or bored by your new spouse. Set aside some time alone to enjoy each other's company and do activities that you enjoyed before you were married.
You can also do things together that you may not have time for now that you have added responsibilities.
2. Connect with family
Spending time with your family and friends is also a great way to connect with people you know and love and ease your transition to married life. Invite them over for a BBQ or brunch, or visit them at home or eat out at their favorite restaurant.
3. Make a bucket list
List all of the things that you've always wanted to do but never got around to doing. Maybe you've never traveled abroad or visited a specific city you've always wanted to see.
Create a budget and start crossing things off the list! You'll feel better knowing that you'll be making memories and accomplishing your goals. Even though it may involve expenses, it doesn't have to be done all at once.
4. Focus on self-care
Self-care is one of the best ways to cope with stress after a wedding. Make sure you make time to exercise and eat a healthy, balanced diet. Getting enough sleep is also important for your overall health and emotional well-being.
Try to maintain a relaxing bedtime routine and avoid caffeine, alcohol, and electronic devices before bed.
5. Exercise
Exercise is a great way to relieve stress and manage post-wedding anxiety. It can also help you sleep better and improve your mood. Find a physical activity you enjoy and make it part of your daily routine.
Here are a few ideas to get you started: go for a run, practice yoga, take a class at the gym, or play a sport.
6. Volunteer
Volunteering is a great way to connect with others and share your time and talents with others in your community. It can be very fulfilling, and it's a great way to give back to the community and support worthy causes.
Consider volunteering at a charity that is close to your heart or organizing a fundraiser with friends to raise money for a cause you care about.
7. Journal
Keeping a journal can be a very effective tool for coping with stress and promoting overall wellness. It can also be a lot of fun!
Set aside some time each day to write in your journal or diary. Let your thoughts flow freely, and be sure to include anything that's on your mind. Your journal is a safe space for you to express your feelings without judgment or criticism. Keep it positive and focus on your progress.
Pro tip: Try adding a nice thing about your partner every day in your journal entry. It can be somehting good they did that day or have done in the past or have planned in the future.
8. Talk to your partner
Discuss the post-wedding blues with your partner and let them know what you're going through. Tell them about the things that you're worried about and how they can help.
You should also talk to them about any troubling thoughts or feelings you're having. Sharing your concerns will help your partner understand what's going on and give you the support you need. Be sure to listen to their suggestions and try to be open and honest with each other.
9. Plan a minimoon
A minimoon is a fun and relaxing way to spend some time together after your wedding. It's a great opportunity to get to know your honeymoon destination and explore the city for a few days before you head on your big trip.
It'll also help curb post-wedding blues by reminding you of the exciting things that are coming up in the future.
10. Do cute little things for each other
For the post-wedding blues to vanish, little things need to happen continuously every day. For instance, some compliments, a song for them to listen to, a loving touch from time to time, or even a small surprise can bring light in the days.
This needs to be a routine and not a sporadic activity to make you see happiness in life again.
For example:
Examples are:
Sending them roses for no particular reason

Cooking their favorite dish without any special occasion

Taking the day off from work or school just to spend some quality time together

Texting cute messages daily and making them smile

Bringing them their favorite cup of coffee first thing in the morning when they wake up
11. Discuss couple goals
Sometimes, talking about future life plans can lighten the sadness caused by the recent wedding. Sit down together and discuss your future plans.
Maybe you want to buy a house in a few years, have a family, or simply start living your life to the fullest. Having a goal to work towards is a great way to stay motivated and focused on your life as a couple. If your partner seems overwhelmed with talks of the future then don't look too ahead, just ask them about what they'd like to do a year down the line.
If you feel overwhelmed doing things together, you both can switch back to your old routines a bit. Invite friends over for coffee or dinner and just have a casual conversation to catch up.
Move forward to make fresh memories
So, if you are experiencing these symptoms, don't panic. Just take it one day at a time and take things slowly. And remember that this is just a passing phase and that everything will improve with time.
Even though I had to go through the same emotions when I got married, it strengthened me in the long run. Following these tips helped me get over it a lot faster, and I was able to get back to normal in no time.
So, relax and take it easy.
If you are still having problems after several months have passed, then you might want to talk to a mental health professional to get help dealing with your feelings.
Share this article on
Want to have a happier, healthier marriage?
If you feel disconnected or frustrated about the state of your marriage but want to avoid separation and/or divorce, the marriage.com course meant for married couples is an excellent resource to help you overcome the most challenging aspects of being married.
More On This Topic
You May Also Like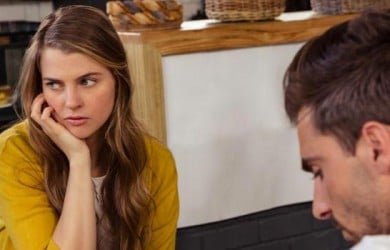 Popular Topics On Married Life