17 Signs He Just Wants to Sleep With You
Navigating relationships requires discerning between emotional connection and physical desire.
Unfortunately, not all relationships are genuine. There are times when a partner may have ulterior motives, seeking only a casual encounter while leaving the other longing for something deeper.
Whether it is okay to be with a guy who just wants to sleep with you depends entirely on your own values, desires, and emotional needs. Every individual has unique preferences and boundaries when it comes to relationships and intimacy.
Some people may be open to casual relationships and are comfortable with physical intimacy without emotional commitments. If both parties are on the same page, openly communicate their intentions, and consent to a casual arrangement, then it can be considered acceptable for them.
However, if you are seeking a deeper emotional connection or a committed relationship, being with someone who is solely interested in a physical relationship might not be fulfilling for you in the long run. In such cases, being with a person who has different relationship goals could lead to emotional distress and unhappiness.
So, do you ever notice signs he just wants to sleep with you?
If you do, then we should know the subtle signs that reveal whether your partner desires a meaningful connection or just wants a physical relationship.
17 signs he just wants to sleep with you
Have you seen some signs a man only wants to sleep with you? If you do, then you have probably asked yourself, "Is he just trying to sleep with me?"
If you have, then maybe it's time to know how to tell if he wants you sexually. Once you understand this, you can decide whether you are comfortable in being in such a relationship or not, as it is not inherently bad to be in such a relationship.
The key is to be honest with yourself about what you want and to communicate your intentions and boundaries clearly with your partner. It's essential to prioritize your emotional well-being and ensure that any relationship you enter aligns with your values and desires.
Don't feel pressured to accept a situation that doesn't feel right for you. It's okay to seek a relationship that fulfills your emotional needs and is in line with what you want in life.
Here are some signs that indicate a person may just want to sleep with you, that can help you understand things better:
1. He doesn't show interest in your personal life
He is all out when he wants to sleep with you but after that? He would show little curiosity about your hobbies, goals, or aspirations beyond the surface level.
Sometimes, you're too excited to tell him about your day, and he deliberately dismisses you.
For example, you may find him staring into space or distracted when you are trying to tell them about your day or something important that happened to you.
2. He focuses on physical appearance
He only wants to hook up if you feel like all he thinks about is how you look and how you present yourself to him.
Chances are, he has many requests about your appearance, but he doesn't care about your attitude, values, or beliefs.
For example, even when you both are talking about something serious, you might find his eyes constantly focusing on your body. And even his compliments to you might be about your physical features.


3. Always contacts you at night
Do you often go out to eat? How about shopping? One of the signs he just wants to sleep with you is when he only has time for you at night.
This is because this is the only time he has to spend with you, which can indicate that they are seeking physical connections.
4. No emotional connection
If you feel like they are avoiding deep conversations or discussing meaningful topics that go beyond the surface level, then that's one of the signs he just wants to sleep with you.
This person doesn't see the need to connect with you on a deeper level because his only aim is to satisfy himself.


5. Limited to no public displays of affection
You don't spend time together, but if you do, they even hesitate to show affection in public.
Oftentimes, he won't hold your hand or won't even open the door for you. You may feel like you are just friends or, at times, just acquaintances.
For example, if you are amongst friends or around acquaintances, he would find ways to not hold your hand or be affectionate towards you. However, in private, he will stay close to you at all times.
6. He flirts with others
That's right. If you see your partner constantly flirting with other people, then they are not invested in your relationship.
This is one sign that is hard to ignore, but also one of the definitive traits of a man if he only wants to hook up.
7. He gives minimal to no effort at all
How to know a guy just wants you sexually?
You'd feel it because they don't put in the effort to understand your values, interests, or background. This person won't even remember your important events and won't even spend celebrations with you.
For example, he will never plan out a date with you. He would say that he prefers staying at home and hanging out with you there.
8. Dodging any plans
Everyone who is in a relationship has plans. Do you feel like you are always the one who makes up the plan, but he doesn't pay attention?
If he often avoids discussing your plans together, then this means they are only looking for a short-term, physical relationship.
For example, has he been dodging every plan that you suggest? You might have believed him initially, but now you suspect that these were all excuses.
9. No emotional support
One of the signs a man only wants to sleep with you is when they can't offer you comfort or support during your difficult times.
A real relationship is all about deeper connections, but if you feel like you're alone most of the time, then you probably are.
For example, even when you express your feelings about a problem that you might be facing, they either seem disinterested or find a way to change the topic.


10. Doesn't value your opinions
Do you feel like you're not being heard? It's when they dismiss or ignore your thoughts and opinions, thus indicating they are more interested in their desires and not your own.
For example, no matter how much you tell them about how you feel about their actions or opinions, they disregard it regularly.
11. He is keeping secrets from you
Does he keep secrets from you, and you feel like they are always on guard? This means they are hiding something, and your relationship is only on the physical level.
Have you caught him lying to you a lot recently? If your gut feeling is trying to tell you something, then you are probably right.


12. Keeping you at a distance
Have you ever felt like your partner maintains a physical distance during non-intimate moments? They would immediately leave after the booty call or wouldn't show excitement when you are together.
Sometimes, this goes to the extent of avoiding emotional closeness with you and your family.
13. Frequent cancellations
Can you recall the last time you went out and bonded?
Have you ever noticed that this person always cancels your plans? He's only present when you're doing the deed, but other than that, they often cancel or reschedule plans last minute.
14. Refusal to meet your friends and family
"Does he only want me sexually and nothing more?"
The answer is yes if they are reluctant or even refuse to meet the important people in your life. Most probably, he'd give you so many reasons not to go with you and meet the important people in your life.
15. He doesn't want to please you
One of the signs he just wants to sleep with you and doesn't love you is when he ignores your needs in bed.
If you feel like his only focus is his own pleasure, then that's a sign to watch out for.
This is often overlooked, but remember that if this person lacks the interest to please you in bed and only thinks of himself, then that's your sign right there.
16. Ignoring emotional intimacy
Aside from ignoring your carnal desires, they would also avoid deep conversations or emotional vulnerability. They refuse to open up to you and wouldn't even listen if you open up with them.
This is because their only focus is your relationship in bed. He may exhibit coldness when you try to become intimate with him on an emotional level.
17. Disinterest in a long-term commitment
How long have you been together? What are your other bonding moments aside from having sex?
If you only spend time together in the room, then it's pretty obvious. You're not making long-term plans, and you're not considered committed to each other.
If these are the only relationship goals that you excel in, then this means they don't have plans on making your relationship long-term.
Dr. Dawn-Elise Snipes, a Licensed Professional Counselor and Qualified Clinical Supervisor, talks about acceptance and commitment therapy skills.
How does this mindfulness affect us and our decisions in life?
How to deal when a guy just wants to sleep with you
When faced with a situation where a guy seems to be interested only in a physical relationship, consider the following ways to handle it:
1. Set clear boundaries
Establishing boundaries is essential to ensure your emotional and physical well-being. Communicate your expectations early on in the relationship. Let him know what you are comfortable with and what you are not willing to engage in.
For example, if you're looking for a committed, emotionally intimate relationship and are not interested in casual hookups, make that clear. Being upfront about your intentions helps avoid misunderstandings later.
2. Be honest with yourself
Take the time to reflect on your own desires and intentions. If you find yourself hoping for a deeper emotional connection while the guy is primarily interested in physical intimacy, it's important to be honest with yourself.
Acknowledge your feelings and consider whether the relationship aligns with your long-term goals and emotional needs.
3. Communicate openly
If you feel a deeper emotional connection and want more than just a casual fling, express your feelings honestly and openly.
It's crucial to communicate your emotions to prevent misunderstandings and ensure both of you are on the same page. However, be prepared for the possibility that he may not feel the same way, and be ready to handle that outcome with grace and self-respect.
4. Don't compromise on your values
It's essential to stand firm on your values and self-respect. While it can be tempting to engage in a physical relationship to keep someone's interest, doing so against your wishes can lead to feelings of regret and emotional distress.
Hold true to your beliefs, and don't feel pressured into anything that doesn't align with your values and desires.
5. Make a decision based on respect
Ultimately, prioritize your well-being and self-esteem. If it becomes evident that he is not interested in the kind of relationship you desire, consider moving on.
Respecting yourself means acknowledging when a situation is not meeting your emotional needs and having the courage to seek a more compatible and fulfilling relationship elsewhere.
Remember, a healthy relationship should be built on mutual respect, understanding, and open communication. Don't settle for less than you deserve, and never be afraid to prioritize your emotional needs and happiness in any relationship.
Some commonly asked questions
Here are the answers to some pressing questions that give you more clarity if you suspect that a guy just wants to sleep with you:
Do men get attached after sex?
Sex itself is a very intimate act.
So, yes. All of us can develop emotional attachments after having sex.
In a way, all of us become vulnerable when we have sex. It's an act that requires us to strip our clothes and expose ourselves to another person.
This means men, too, could get attached to the person they often engage in sex with.
Some people think men are more inclined towards casual encounters and can't develop deeper feelings, but each situation is different.
You can develop attachment depending on several key factors.
A person's emotional disposition, relationship dynamics, and personal values could affect how soon they can build an attachment with their partners.
However, there are also men who have a hard time connecting with other people, thus showing signs he just wants to sleep with you and nothing more.
Do guys lose feelings after sex?
The belief that men lose interest or attraction after sex is not entirely true, as the experience can differ from one person to another regardless of gender.
The truth is the emotional responses to sexual encounters are often influenced by each person's characteristics, personal preferences, and even the nature of the relationship.
Some people may feel a decrease in attraction or emotional connection after sex, but for some, it's the other way around.
Others feel a deeper connection to their partners after sex, and again, it's because of many factors.
It is important to remember that communication, understanding, and mutual respect within a relationship play crucial roles in navigating the complexities of post-sexual emotions.
Final thoughts
"Why does he only want me sexually? Am I not good enough?"
If you're a person noticing signs he just wants to sleep with you, then you can't help but ask this question.
It's understandable. No one wants to be in this kind of relationship.
To realize this is a good sign. Because not all hope is lost.
Sex is often a significant aspect of a relationship, as it is an act that signifies attraction.
What's the best thing to do?
Seeking guidance from a relationship expert or a licensed therapist can help assess the current state of your relationship. This expert could also help both of you navigate toward a deeper relationship.
That being said, being informed about the signs is a good start. From there, analyze if your partner can still change or not.
The most important part is that both of you should be willing to work on the relationship. If he is not keen on helping you, then it's time to think of yourself and let go.
Share this article on
Want to have a happier, healthier marriage?
If you feel disconnected or frustrated about the state of your marriage but want to avoid separation and/or divorce, the marriage.com course meant for married couples is an excellent resource to help you overcome the most challenging aspects of being married.
You May Also Like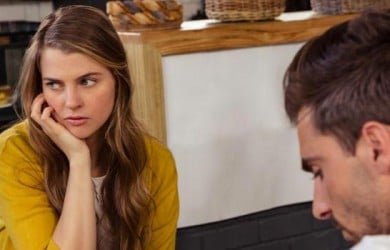 Popular Topics On Married Life