20 Physiological Signs of a Crush to Watch out For
Do you still remember that first time you had a crush on someone?
Yup, if you're smiling, then it means you still remember. Those were the good old days when your friends would tease you when your crush walked by.
Now that we're adults, we still have crushes. In fact, some romantic relationships would start with a crush.
How do you define a crush? Did you know that there are pretty obvious physiological signs of a crush?
That's right. It's not just the 'butterfly in your stomach' feeling that determines it. You may not notice it, but we act differently when we have a crush, and that's what we will uncover.
How can you define having a crush on someone?
When you have a crush on someone, it means you have special feelings for this person. A crush is often unexpressed, and it doesn't mean that you have to be romantically involved with each other.
It's when you have the urge to connect with someone, to get to know them more and to be close with each other.
Even as kids, we already start having crushes. We experience different emotions, sensations, and signs of having a crush.
It's a fun experience, and as we get older, we approach the signs of a crush on someone differently.
Do you know how to tell if you have a crush on someone? Did you know that we have symptoms of having a crush?
Related Reading: Am I in Love? 20 Signs It's More Than Just a Crush
20 physiological signs of a crush

No matter how hard we try to hide it, there are physiological signs of crushing on someone. Aren't you curious if you're showing these signs?
Or maybe, if you know where to look, you'll know if someone has a crush on you.
We're giving you 20 undeniable physiological signs of a crush.
1. You make eye contact
Isn't it when you're not interested, you don't make eye contact.
On the contrary, if you are crushing on someone, you tend to look at this person for a long time.
Of course, when you are talking to someone, it's just right to make eye contact, but with your crush, it's different. As one song describes it, you get lost in this person's eyes.
If you're in a group, you might find yourself looking at your crush all the time. If this person sees you, you'll end up blushing, that's for sure.
Related Reading: 10 Powers of Eye Contact in a Relationship
2. You turn red
You might ask yourself, 'Why do I blush around my crush?"
There's a pretty simple explanation about this.
Blushing is a common reaction of our body that is triggered by emotion. It's one of the most common physiological signs of a crush.
When you see your crush, your glands respond by releasing adrenaline into your body. The rush of adrenaline will cause your capillaries to widen, thus making your cheeks look flushed.
Blushing is hard to hide, but let's face it, it makes us glow.
3. You sweat and even shake
One of the most challenging physiological signs of a crush is when you experience sweating hands. Not to mention shaky feet and hands as well.
Some of us want to hide our feelings, but it turns out our body is trying to give clues. When adrenaline kicks in, our body will react by sweating or shaking.
Don't try to give your crush a glass of water; it'll be pretty obvious.
4. You can't help but have a sweet smile
What are the other signs you have a crush?
You'll know that someone is special when you are happy to see them. In fact, if you notice that you often smile when you are talking with this person or when you're hanging out, then that's it. You have a crush.
There's actually a name for this. It's called the 'Duchenne smile."
It means you're genuinely happy and enjoying this person's company. It's definitely one of the things that make our lives colorful.
5. You experience rapid heart rate
If you're looking for another physiological sign of a crush, then listen to your heart.
Do you feel your heart rate increasing? Let's blame this on our favorite hormone today – adrenaline.
The adrenaline rush causes our brain to send signals to our adrenal gland. This causes it to secrete adrenaline – the extra work will make your heart beat faster.
No wonder your heart beats fast when you see your crush.
6. You feel butterflies in your stomach
We've heard this many times before. It's one of the most common descriptions of a person having a crush.
This is because the neurons in your gut are connected to your nervous system.
When you are crushing on someone, you become so nervous that it causes you to feel those little butterflies flutter inside your tummy.
Related Reading: How to Know if You Love Someone: 30 Signs
7. You stumble with your words
What if your crush approaches you and asks you about how your day was? What if this person smiles at you and asks if you want a cup of coffee?
What will you do? Aside from that obvious smile, you might find yourself struggling with words.
The feeling is like you know in your head what you want to say to your crush, but it comes out totally different.
8. You unconsciously lean closer
Our body language will tell a lot about what we feel.
Just like when you have a crush on someone, unconsciously, your actions towards this person will be different. It's because you want to be closer to the person you like that you move closer to them. You would notice that you're leaning towards their direction.
9. You can be touchy
Touching is one way we show affection towards someone we like or care about.
It's one of the most beautiful signs that you have a crush on someone. Of course, being too touchy isn't good, especially when the other person becomes uncomfortable.
Straightening their tie, removing dirt from their coat – all of these are subtle gestures that you care for this person.
10. You're all ears
Do you have a crush on someone? Then you know that everything about this person is interesting for you, right?
Whether this person talks about past relationships, family problems, work issues, or even a book, you will find yourself attentively listening.
You would probably even ask questions to keep the conversation going.
11. You get that 'hero' instinct
Do you find yourself exerting effort to help and assist your crush? Are you suddenly being protective and alert towards this person?
If so, then you know this is one of the physiological signs of a crush. You become available for this person. If you're walking together, you would rather be on the roadside.
You can be there to get this person water, food, utensils. You can even help with chores; spend time assisting your crush with their projects, and so much more.
Your eagerness to help might even surprise you.
12. You laugh at the silliest things
When it's your crush making funny faces or telling jokes – they are all so funny. You can't help but smile when you're with this person.
It's because you're already happy being with this person that even the silliest jokes would be adorable.
13. You give your undivided attention
If you have a crush on someone, your attention will be focused on them.
Your attention would be focused on this person 100%. In fact, you would love to keep the conversation going so that you can spend more time with this person. You might forget what time it is when you're with this person.
14. Your pupils dilate when you look at this person
When you hear the word dilated pupils, you'd think about substance abuse or a problem with your eyesight, but did you know that it's also one of the signs of crushing on someone?
Physiological responses to seeing someone you like will allow your brain to have a surge of the chemical oxytocin and dopamine. These are also known as the 'love' hormones that affect your pupil size.
15. Your tone of voice changes
When we are attracted to someone, our voice and the way we talk changes. We do this without even knowing.
Men, for example, might deepen their voice for a more masculine effect, while women would either make it high-pitched or soft and low. Even the speed of how you talk will change when you're with your crush.
16. You mirror their behavior
Isn't it amazing that other physiological signs of a crush are developing mirrored mannerisms and behaviors?
It's a way for you and your crush to share a bond, to feel more compatible and aligned with each other. Suddenly, you'll love the taste of their favorite bread or coffee. You might realize that the way you sit is now similar to them.
17. You feel warm
Do you have a crush on someone? Have you ever felt like you have a slight fever when you're with this person?
This has the same explanation as to why you blush when you are near your crush. With your rapid heart rate and an increase in blood flow, your body will start to feel hotter, and you may even begin to sweat.
18. Your actions become flirty
Touch is a powerful tool to be connected with the person you like. It's one of the best ways to be intimate with someone.
When you have a crush on someone, you might find yourself grabbing every opportunity to be closer to this person. A touch, a hug, or even brushing your hand with theirs is among the subtle ways to flirt.
Of course, we need to know the difference between fun and flirty to scary and abusive.
Dr. Diane Langberg is a psychologist whose expertise involves trauma and abuse survivors. Watch her talk about counselling sexually abused victims.
19. You become aware of your posture
When the person you like is near, you suddenly are aware of your posture, your actions, and of course, your looks.
You might find yourself sitting straight, fixing your hair, and even how you walk.
20. You can't think straight when you're with person
"Am I obvious with the signs I have a crush?"
Well, if you can't focus when you're with the person you're attracted to, then you might be.
Your thoughts are scattered. This is because your brain's functions become scattered – leaving you distracted.
Don't even try to finish a project if you're together. Your mind is too busy focusing on your crush.
You're crushing on someone – what's the best thing to do?
When you are crushing on someone, you find yourself with a renewed sense of happiness. It gives you that glow (most probably with all the blood rushing) and that undeniable smile.
Just enjoy the moment of having an inspiration, and who knows, you might even catch this person showing hints that they like you as well.
Someone has a crush on you- What do you do?
But what if you realize that you've seen these physiological signs of a crush? What if someone has a crush on you?
What happens when you realize that a close friend, a co-worker, or someone close to you has a crush on you?
This may depend on the situation that you're in. If you've seen the obvious signs, and you're both single, there's no harm in asking first.
This person might be waiting for the right time.
However, if the situation is more complicated, then that's where you need to analyze what to do.
Crushing on someone is harmless and won't even cause any trouble. It can even give way to a blooming romantic relationship, but if not, being close friends is totally awesome too.
Conclusion
Having crushes can make life colorful. You go to work full of inspiration, and you start feeling those butterflies again.
Being familiar with the physiological signs of a crush can help you determine if you have one or if someone has a crush on you.
From there, you can analyze the situation, and you can either ask or just be happy with this type of setup at the moment.
Just remember, a crush can make your world colorful, and enjoy each moment that you feel those butterflies inside your stomach.
Share this article on
Want to have a happier, healthier marriage?
If you feel disconnected or frustrated about the state of your marriage but want to avoid separation and/or divorce, the marriage.com course meant for married couples is an excellent resource to help you overcome the most challenging aspects of being married.
More On This Topic
You May Also Like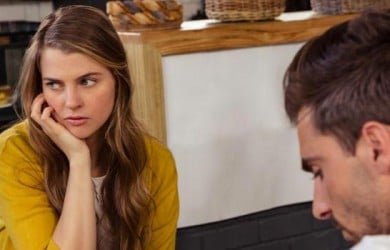 Popular Topics On Married Life