5 Things to Do if You Are Feeling Worthless in Your Relationship
When someone feels worthless, they think they are not good enough and may not be worthy of who and what they have around them. If you often ask yourself, "Why do I feel worthless," it is important to know the root cause of these feelings so that you can tackle them head-on.
In this article, you will learn possible reasons why people feel worthless. Also, you will learn what to do when you feel worthless in your relationship.
Five reasons why you might be feeling worthless
If you have asked yourself, "Why do I feel worthless," there are some reasons that you might be unaware of. When you recognize these feelings, it may become easier for you to tackle this issue. Here are some reasons why you might be feeling worthless.
1. Comparison
When it comes to the popular inquiry, why do I feel worthless? It might be that the individual has repeatedly compared themselves to others. Some people could make the mistake of looking at other people's progress and using it to rate themselves if they are doing well or not.
It is also likely to happen in relationships, where someone might feel dejected because their partner seems to be faring better than them. When you compare yourself to others, it may not be easy to see the rate at which you're advancing.
Therefore, you will likely lose track of your growth process because of the distraction that comes with comparison.
Related Reading: 

10 Reasons You Should Never Compare Relationships or Your Partner
2. Negative statements from people
It is also possible to feel put down when someone tells you something that affects your confidence or self-esteem. If you don't notice these negative words from people, you might keep asking yourself "Why do I feel worthless?"
When someone makes you feel worthless with negative remarks, you may begin to accept that you're not good at anything.
It may be normal to care about what other people think about us, especially our loved ones, co-workers, employers, etc. The same applies in relationships, where partners speak ill of each other.
This can make them develop low self-esteem and reduced confidence levels.
Watch this video on how to deal with negative people:
3. When you don't believe in yourself
If you have asked yourself, "Why I am so worthless," you may consider the words you've been telling yourself. People who give themselves degrading comments may have grown up listening to negative things about themselves.
Therefore, speaking down on themselves might be second nature to them because they are used to it.
If you feel worthless, you need to start paying attention to your words and what you think about yourself. It would help to read out words of affirmation to yourself and stay around positively-minded people.
4. Childhood trauma
People who experienced a rough childhood might ask, "Why do I feel worthless?" Most of the activities that happen during our childhood experience are likely to enhance or degrade our self-image.
Therefore, if you experienced abuse, parental abandonment, poverty, maltreatment, etc., you may wonder why you feel worthless. Some people who experience these feelings of worthlessness may carry them into adulthood, which could affect their relationships with lovers and friends.
5. You give up quite easily
Understandably, not everyone would have the same grit and resilience level due to varying reasons. You may start feeling a sense of worthlessness when you give up easily. If you discover that someone doing something similar succeeds at it, you might feel dejected.
You may need to figure out why you lack resilience and take some steps to be better at not giving up. Sometimes, we give up on things we want because resilience isn't in the picture. You can always get better and achieve more when you try not to give up.
To understand worthlessness, this research study by Roland Zahn and other authors is a must-read. The study is titled The role of self-blame and worthlessness in the psychopathology of major depressive disorder.
How can someone make their partner feel worthless without even trying
In relationships, some partners can feel worthless based on how their spouses treat them, and it can make some of them ask why do I feel worthless.
One of the ways that someone can make their partner feel worthless is when they don't practice mindfulness in their relationships. A good example is when a partner does not try to initiate romantic affection, or end up resisting it.
If you don't show your partner physical intimacy signs, they may start to feel worthless. Alternatively, if they show some romantic gestures, and you don't reciprocate as expected, it could make them unimportant.
Another way people can make their partners feel worthless is when they don't communicate openly.
This means they might make plans without involving their partners at the initial stage, only to inform them much later.
Some partners may find this painful because they will feel that their partner does not probably consider them important to involve them in their plans.
You can learn more about worthlessness in this research titled The Psychopathology of Worthlessness in Depression. This study, written by Phillippa Harrison and other authors, helps you understand how feelings of worthlessness and depression can creep in.
Five things you can do if you feel worthless in your relationship
When you ask questions like "Why do I feel worthless," it could mean that you don't feel valued or appreciated. If you are feeling worthless in a relationship, there are some things to do that will make you feel better in the long run.
1. Celebrate your little wins
If you usually ask, "Why do I feel worthless and unwanted," it might be that you're not celebrating your little achievements.
In a relationship where one person is doing better than their spouse, the partner who feels worthless may think they are not successful. If you are in this position and need to stop feeling worthless, you must focus on your wins.
Learn to celebrate the little milestones you've conquered, and look forward to more wins. If you find it hard to smash big goals, you can break them down into little ones to make them easier to achieve. Additionally, you should take a record of your wins so that you can go through them when you feel less of yourself.
Related Reading: 

15 Relationship Milestones That Are Worth Celebrating
2. Open up to your partner
If you are in a relationship and are thinking about why they make me feel worthless, you may be comparing yourself instead of collaborating with them. When care is not taken, you might find yourself getting jealous because you're not achieving up to their standards.
You can open up to your partner about how you feel so that they can help you get better. People with understanding partners might be lucky because they will be there for them to eliminate every feeling of worthlessness.
3. Learn to love yourself
You must learn to love yourself to overcome feeling worthless in your relationship. Sometimes, when things don't go our way, we will likely be gloomy, sad, and not full of life. Hence, we might begin to doubt ourselves and become insecure about our identity.
Loving yourself is one of the suitable ways to reposition yourself to stop feeling worthless. Every human is special in their ways, and you need to realize that you may be doing better than you've noticed.
If you learn to love yourself, your partner may love and treat you with optimum respect to make you feel special.
4. Get better at what you do
Sometimes, people who ask, "Why do I feel worthless?" are not too good at what they do. Therefore, it might be advisable to improve and get better at your relationship, job, or draft.
For instance, if you've been getting complaints from your partner about your role execution in the relationship, take an honest look to see where you can improve.
If you don't have the resources needed to make a change, you can always seek help from trusted people. If you put in more effort, you may start noticing improvements in your performance which will boost your confidence and self-esteem.
5. See a counselor/therapist
To avoid being worthless, especially in your relationship, you can consider seeing a counselor or therapist for help. When you go for counseling or therapy to address an issue, the professional conducts an in-depth evaluation to uncover the root cause of the problem.
If you are feeling worthless in your romantic union, seeing a counselor or therapist will go a long way in helping you understand the situation. After getting a good perspective of the situation, the counselor helps outline solutions peculiar to your case to erase the feelings of worthlessness.
This book by Desiree Leigh Thompson is a good read to learn more about healing from worthlessness. The book is titled Healing Worthlessness, which contains an inspiring story on overcoming the worthlessness trauma and recovery.
The takeaway
People feel worthless from time to time, so it might be common to ask why I feel worthless. However, irrespective of the source of this feeling, it is often difficult to contend with. It would help if you first found out the root cause of this feeling before looking for a solution.
With the tips mentioned in this article, you can take a bold step to increase your positivity and boost your self-image. If you feel it might be overwhelming to handle this alone, you can seek the help of a professional counselor.
Share this article on
Want to have a happier, healthier marriage?
If you feel disconnected or frustrated about the state of your marriage but want to avoid separation and/or divorce, the marriage.com course meant for married couples is an excellent resource to help you overcome the most challenging aspects of being married.
Learn More On This Topic
You May Also Like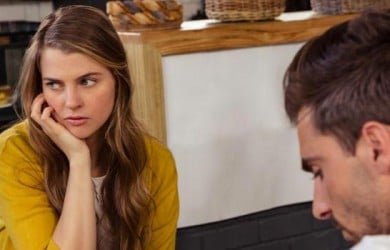 Popular Topics On Married Life