What It's Like to Date an Addict?
Just about everyone has heard that oft-repeated definition of insanity—that is, "Doing the same thing over and over again and expecting different results."
Well, I guess I could have been diagnosed as certifiable during certain times in my romantic life, because over and over again, I've been a magnet for addicts of one kind or another, and each time I thought the outcome would be different.
Here's how addiction destroys relationships
Mr. Grass
The most significant failure was the guy I was engaged to when we were both in our late 30s.
On our second date, he invited me over for dinner, and when I got to his apartment, there were a couple of shifty-looking dudes (it was Southern California, so they were definitely "dudes") nervously stuffing bags of something in their denim jackets.
My ex, whom I'll call Mr. Grass, didn't even introduce me to these guys, and when they left, I jokingly asked, "Are you the local pot dealer or something?" He casually laughed, saying, "No, I'm not, but I do smoke, and I was just socializing with friends."
And then he proceeded to offer me a hit of a joint. I politely declined, but I remember having an uneasy feeling in my stomach about this entire interaction.
Since I had smoked pot back in college, I kept telling myself that Mr. Grass's indulgence didn't really bother me, so I chose to simply avoid the big red flag that was waving at me furiously every time we got together.
But as I came to spend more and more time with him, I realized that although he never smoked when he was working, he would light up as soon as he got home, throughout weekend, and also encouraged me to join him (I rarely did, which seemed to disappoint him).
Also, he only wanted to hang out with "cool" people—for him, being cool meant smoking weed, which I thought was ridiculous and immature, and I started to feel that our whole relationship revolves around this issue.
He also couldn't make love, go to a movie, eat out, or engage in any type of activity without getting stoned first, because "What fun is that?"
I came to see that I didn't really know who the real Mr. Grass was, because since he was stoned more often than not and had been smoking for 20 years, what was the nature of his true personality? Did he even know?
When I tried to reason with him and say things like, "If you meditated every day for 20 years, do you think that would have a long-term effect on you?" he would respond, "Of course." And then, "Well, if you eat junk food every day for 20 years, do you think that would have a long-term effect on you?"
And he would respond, with annoyance, "Of course!" So then I would try to make the point, "Well since you've been smoking pot every day for 20 years, don't you think that is having a long-term effect on you?" And he would nonchalantly reply, "Nope." And this was an intelligent man, not a dummy!
So you may be thinking, Well, who was the dummy who got engaged to him? And I would have to raise my hand and admit, "Me, me, me!" Almost 40, I had that irrational but not uncommon fear that I would never find anyone else, so I pushed aside all my doubts and accepted his proposal.
But naturally it didn't take. A few months after he gave me the ring, I gave him "the ultimatum": "It's me or the weed. I can't take it anymore. I don't want to smell it, hear about it, sit around with your pot-smoking friends, or discuss the merits of different varieties."
You can probably guess what happened next. To my dismay (but not shock), he chose his pot paramour over me.
Our engagement ended, and we broke up. The ways substance abuse can affect your relationship is astounding!
It was painful, so painful, because even though there was a major deal breaker between us that couldn't be fixed (he refused to go to therapy or couples counseling), there was also great love there, and the parting was not-very-sweet sorrow. But I had no choice but to say a tearful "G'bye" to Mr. Grass.
Mr. Weed
Okay, so fast-forward several years.
Still single, I met a guy (whom I'll call Mr. Weed) on a dating website and met him for coffee. As soon as I laid eyes on him, I thought, Wow, I could kiss this guy, which is always my initial determinant for my level of interest, and we hit it off immediately.
He was 49, very intelligent, well read, and handsome. We decided to go for a walk on a nearby beach, and one of the first questions he asked me was whether I'd ever been married (he had not). I said I hadn't either but that I'd been engaged once, and he asked me why we'd broken up. I peered into his large-pupiled eyes and pointedly said, "He was a pot addict, and he chose the pot over me."
Mr. Weed sheepishly replied, "Well, I smoke a little." And I naively responded, "Well, I don't mind if someone smokes a little, as long as it's just every now and then."
Can you tell where this story is going? Mr. Grass had been a toking teetotaler compared to Mr. Weed, who smoked more than any human being I'd ever met in my entire life.
He managed to hide the extent of his addiction for about a month, but then I happened upon the pot plants growing in a dark closet in his house, the stashes hidden in every room, and the paraphernalia tucked away in drawers.
I came to realize that he was vaping about every 30 minutes throughout the day (he worked at home) and was mellow when he was smoking; but if for some reason he couldn't partake for several hours, he would be very irritated and fidgety, and at times exhibit a frightening and irrational temper.
When I confronted him about his "problem," he just laughed it off and said, "Hey, I like weed; it relaxes me." I accused him of lying to me when we'd met, when he'd said he only smoked "a little," and he responded by saying that it was going to be legal soon, so who cares?
Once again, my fear of being alone forever kicked in, so I set aside my feelings of betrayal and discomfort and tried to just focus on the good parts of the relationship: Mr. Weed's smart; our physical chemistry; and our mutual love of books, film, and good restaurants.
But an addict is an addict is an addict, and a relationship with one simply cannot work, which was quite evident one evening when I set up a dinner at a local café. I was going to introduce Mr. Weed to a number of my friends—all of whom knew, because I'd told them, that he smoked a lot of pot.
Mr. Weed was supposed to meet us at the restaurant, and not only did he show up half an hour late, which made me quietly livid, but then he got up every 20 minutes to ostensibly make a phone call or go to the men's room or get something out of his car. I was mortified, because I, and everyone else at that table, knew he was leaving to take a hit.
We had a huge fight that night, and reminiscent of what had happened with Mr. Grass, Mr. Weed said that I had known who he was from the beginning (not entirely true!), and that he wasn't giving up the pot.
Again, I had to decide whether to stay with him and the relationship problems due to weed, or go. And so I left.
More pain, more shame. Similar to my experience with Mr. Grass, I felt like a big dummy once more, so for the first time in my life, I decided to go to a therapist to figure out why I kept attracting addicts (in the past, I'd let in my fair share of alcoholics, and a soupçon of gamblers and overeaters as well).
The entire process was mind-blowing and eye-opening.
I found out that I was a "fixer" who thought I could change people. (Which never works, right?) And, of course, it all stemmed from issues in my childhood, my parents' relationship, and so much more. But therapy helped immensely, and I felt somewhat healed after about six months.
So, at this juncture, I'm still dating and still hoping for the best, but I'm realistic enough to know that in the future, if I meet someone who overindulges in any substance or activity, legal or not, aware or not of long-term effects of drug addiction or any addiction – it's not my job to remedy the situation, and I need to just turn around and walk away.
The definition of sanity, according to Webster's, is: "soundness or health of mind." I think I'm almost there.
Share this article on
Want to have a happier, healthier marriage?
If you feel disconnected or frustrated about the state of your marriage but want to avoid separation and/or divorce, the marriage.com course meant for married couples is an excellent resource to help you overcome the most challenging aspects of being married.
More On This Topic
You May Also Like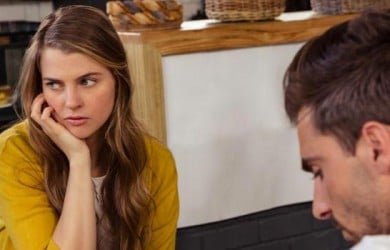 Popular Topics On Married Life