What Is Wedding Insurance & How to Get It
Your wedding day is one of the most special events in our lifetime. We would save up for it and give our attention, time, and effort to ensure everything goes perfectly.
Unfortunately, no matter how much we try, unforeseen events could lead to your wedding's cancellation.
Natural disasters could happen, and there could also be a problem with the gown or the reception venue.
These are just some examples of what could happen. Therefore, experts highly recommend getting wedding insurance.
If this is the first time you've heard about it and you're already planning your wedding, then here is everything you need to know about this amazing insurance.
What is wedding insurance?
Is this your first time hearing about wedding event insurance? If yes, and you're a person who knows the value of security, then you can learn everything you can about wedding planning insurance.
Wedding insurance is also known as special event insurance since it only covers your wedding. This insurance covers you and your wedding before and during the ceremony.
Your wedding is not just important; consider it a big investment because it is.
No matter how much you've spent on your wedding, you're still spending your hard-earned money, and without marriage insurance, you might lose this investment.
Wedding insurance protects your investments when something happens that is out of your control and reimburses you for your expenses.
What does wedding insurance cover?
Like many other insurances, we want to know what wedding insurance covers before considering it.
Wedding event insurances can help you and your partner if you suddenly encounter wedding problems.
These problems, such as issues with the reception site, wedding venue, injury, and other unforeseen events that could happen, will be tackled.
Of course, before we purchase any wedding insurance, we want to know its coverage. Aside from that, it's important to know that there is usually a specific or limited to a maximum amount that you can claim.
All these important notes will be presented to you by the insurance company and written in print.
An event insurance wedding can cover many things, and here are most of them:
1. Reception site
One of the most important insurance for a wedding is that it covers the cost; in any event, the site or venue won't be available on the exact wedding date.
For example, if after the wedding, the wedding party couldn't proceed with the reception because the venue caught fire or there was a power interruption, and they couldn't provide the services promised.
Related Reading: 

50 + Best Date Ideas for Married Couples
2. Weather
If everything has been set, and the couple has spent all their savings on this wedding day, but then something happens.
This insurance will cover certain situations, like any weather condition preventing the couple, their respective families, and the guests from attending the wedding.
The coverage usually includes rescheduling the wedding and all the important parts, like the bridal car, tent, flowers, and even the cake.
3. No show vendor
A no vendor no show is a nightmare for a couple to be wed. What if you don't have insurance and this happens?
Imagine what happens if those important to the wedding don't show up. Most of the time, this would apply when the caterer doesn't show up and prepare for the reception on the wedding day. This is included in most wedding insurance policies.
4. Injury or sickness
Sometimes the officiant would even give notice or suddenly get ill and won't attend the event. One of the family members or anyone vital to the event may get sick or injured, which may cause the wedding cancellation.
This is where wedding liability insurance comes in. The policy usually covers when a wedding has been canceled or postponed at a later event for such reasons.
Related Reading: 

How to Support Your Spouse Through Sickness
5. Military responsibilities
Sometimes those who belong to the military get a late notice. It's when everything is set to happen and they will be required to go to work or be assigned elsewhere.
Can you imagine what happens when there's no wedding insurance? If your wedding gets postponed, then your policy could cover the costs.
A note:
Please read each policy carefully because not all wedding insurances can cover these or may have different rules. It's important to read and understand each of the policy coverage.
What doesn't wedding insurance (typically) cover?
Before deciding to purchase any insurance, we all know we need to know about it first.
If you are looking for wedding insurance, you must know what it covers and doesn't.
Here are the top three things that most wedding insurances don't cover:
1. Cancellation due to a changed heart
Couples, before saying their vows, are required to attend premarital counseling. Here, many things are discussed, one of which is when one reconsiders.
In the same concept, most wedding insurance companies would also clarify that their policies will not cover a change of heart.
There are, however, some wedding insurances that cover this, but they should typically purchase it more than a year in advance.
Relationship experts and real-life couple Harville Hendrix and Helen LaKelly Hunt share their best marriage counseling advice for couples experiencing relationship problems.
2. Jewelry
We all know that every wedding is special. That is why the bride and the guests often wear their most-priced jewelry.
Remember that your wedding insurance will not cover this jewelry, including semi-precious stones or valuables. Though, you can purchase another insurance or coverage for this.
3. Engagement rings
Now, some wedding insurance policies will cover wedding rings. However, this will exclude your engagement ring.
There are, however, different insurance that covers this, along with the other items not typically covered in wedding insurance.
Again, read through every paragraph of your policy to understand the coverage.
Related Reading: 

6 Golden Rules to Buying an Engagement Ring
5 reasons you shouldn't skip out on wedding insurance coverage
Let's face it. We can't control the future. No matter how much we try to make everything flawless, things will be out of our control.
Some people think that wedding insurance is just an added cost but have yet to realize the many benefits it could give you and your whole family.
These are just some reasons you should not skip wedding insurance:
1. It protects your investments
Yes. Your wedding is your investment. You've worked hard for this day and if anything goes wrong, with no insurance, everything will go down the drain.
We wouldn't want that to happen. Wedding insurance will cover unforeseen events that could lead to cancellation or even postponement of your wedding.
Related Reading: 

How Do You Protect Yourself Financially during Separation
2. You'll have peace of mind
Who doesn't want peace of mind? You plan your wedding, invest in it, and know that if something unexpected happens, your investment is safe and secured.
3. You will enjoy your wedding journey
When you know your investment is secured, you can enjoy planning your wedding, making changes, and preparing for the big day.
You don't have to stress over the things you can't control. Let your wedding insurance handle that.
4. Makes you more responsible
Getting insurance for your wedding means you're a responsible couple.
It's easy to spend and invest, but securing the money you've spent means you're responsible.
5. Makes you understand the importance of insurance
Many still need to understand the importance of insurance. For most people, insurance is an added expense, but once you understand how important it is to have one, you'll understand why people do their best to get wedding insurance.
Related Reading: 

Should You Get Your Life Insurance Before or After Marriage?
Wedding insurance worth it?
"Wedding insurance looks so expensive. Is it worth it?"
This is another common misconception about wedding insurance. Many think that wedding insurance is just another added expense, but it's more than that.
Is wedding insurance worth it?
If you can get wedding insurance with a wide coverage and an easy claim process, then yes! Wedding insurance is really worth it.
How to get wedding insurance?
Getting wedding insurance is an amazing decision, but you must first understand how to get insurance before you can feel at ease about your wedding investments.
Here are some steps to remember on how to get wedding insurance:
1. Know the different wedding insurance
Did you know that there are two basic wedding insurances? They called the first "Event Liability & Property Damage Insurance" or "Wedding Liability Insurance."
This insurance will cover your expenses if there's property damage, injury, or even alcohol-related accidents arise.
The second type of wedding insurance is the "Event Cancellation/Postponement Insurance" or "Wedding Cancellation Insurance."
Here, your insurance will cover you for all the non-refundable expenses incurred when your wedding gets postponed or canceled.
This may happen when an unexpected illness happens, during military obligations, or because of extreme weather changes.
Related Reading: 

A Perfect Guide to Help You Get Started with Your Wedding Planning
2. Get a list of vendors
Once you know which insurance you want, search for the best wedding insurance company available in your area. Many will offer but choose the one with the highest rating.
3. Get a quotation
List your top 5 or top 3 and then you can proceed with emailing them for a quotation. Ask for everything you want included in the quotation, so you will have enough time to read and understand which one gives you the best coverage.
4. Know the best time to get wedding insurance
Along with understanding the coverage, you must know when to get your wedding insurance.
Here is an example:
Ian and Grace paid their videographer six months before the wedding date; however, they dropped out just three weeks before the big day.
However, you bought the coverage a few days after the videographer backed out. It makes sense that the policy won't cover the said claim.
5. Ask for a meeting and evaluate
Once you've understood each policy's basics and chosen your top 3 or 2 insurance companies, ask for a meeting about everything you want, including the wedding insurance cost.
Some may want to opt for the cheapest wedding insurance, but this may also compromise the coverage that they offer.
Choose one that will be most beneficial for you and your wedding.
Related Reading: 

What Happens When You Meet Your Soulmate: 15 Amazing Facts
Some common questions
Wedding insurance might seem complicated and confusing to anyone exploring this option for the first time. Here are the answers to some questions that might cross your mind.
Who is the best wedding insurance company?
There are many factors to consider in which wedding insurance provider is the best. Location, coverage, and how to process claims are just among the many factors you need to consider before you can choose.
According to a survey by Forbes, here's a list of the top wedding insurance companies this 2023.
Does wedding insurance cover cancellation?
Depending on the reason for cancellation, your wedding insurance may or may not cover it.
What do we mean by this?
It might be covered if your wedding gets canceled because of extreme weather conditions, injury, illness, or military obligations.
If your wedding gets canceled because you have a change of heart and the like, then no, this won't be covered.
In a nutshell
Wedding insurance may be new for some people, but it has always been offered by many. This is because your wedding is your investment, and no matter how hard we try, we can't control everything.
Weather, military call, injury, and other unforeseen events could lead to the postponement or cancellation of your wedding, which would be devastating when you don't have insurance.
Most likely, the money you've spent will be gone forever.
This is why it's a must for us to get wedding insurance the moment you start planning your wedding. Insurance is a wise and responsible decision that could make a huge difference.
Know the best insurance company, their policies, what they cover, and even how to make a claim. Be informed, and choose the best one that works for you.
This way, you can plan and proceed with your wedding worry-free.
Share this article on
Want to have a happier, healthier marriage?
If you feel disconnected or frustrated about the state of your marriage but want to avoid separation and/or divorce, the marriage.com course meant for married couples is an excellent resource to help you overcome the most challenging aspects of being married.
More On This Topic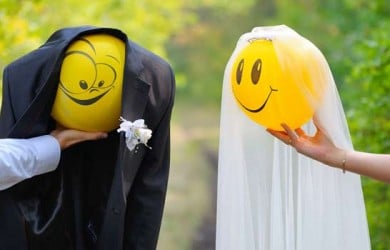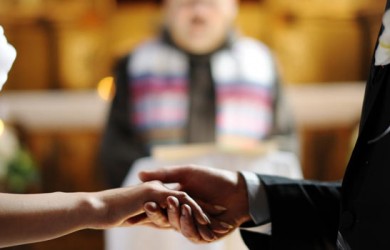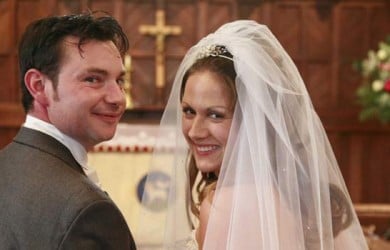 You May Also Like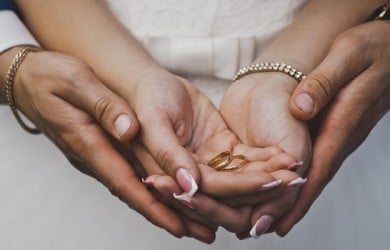 Popular Topics On Getting Married