How to Parent a Child With Autism and Keep You Marriage Strong
Parenting a child affected by autism can be extremely challenging. It takes a physical as well as emotional toll on you and your relationship with your partner. Julie Hornok and her husband have an autistic daughter, Lizzie. She answers some questions on the highs and lows that she has been through in her journey of parenting.
1. What is one of the biggest challenges you've faced in your marriage while raising a child with autism?
The pressure of an autism diagnosis hits families mentally, physically and financially, and we were no exception. Within a year after our daughter, Lizzie's, diagnosis, we went from living comfortably in my dream home my father built for us to moving to a better school district and spending every penny on a thirty-hour-a-week therapy program. We were physically tired and emotionally spent. We had heated discussions about the best schools, therapies and other treatments for Lizzie. We were both so exhausted that we didn't have the energy to take care of each other in addition to the demands of autism. I think we both often felt we were in this alone.
2. As parents of a child with autism, how do you and your husband make time for each other?
We have been blessed in that, my parents have always volunteered to take the kids, so we can get away regularly. Sometimes we go out for a date night to a restaurant or the movies. At least once a year, we go somewhere for a few nights. I don't always feel like leaving the kids, but it takes leaving the pressures of the kids at home to relax and remember why I fell in love with him.
3. Tell us what has been most helpful in your marriage during times of high stress?
I don't think I did this well when my kids were young, but now I try to focus on what he is doing instead of what he isn't doing. I now recognize that we all deal with stress in different ways, and it is important to give each other space and grace when needed.
4. How have you strengthened your marriage while walking through challenges together?
I can now look back at our most stressful times and clearly see how he was always there for me, supporting me, and looking out for the best interest of our family. It didn't always feel like that in the moment because I was only thinking from my perspective, but in hindsight, I can see he never wavered from doing the right thing for me and the kids. This has given me a deeper love and appreciation for him and the history that only we share.
5. What has autism taught you and your husband about life in general?
Autism has opened our eyes to the struggles of others. We have more compassion and desire to help others as they go through their own tough times. It has also taught us to let go of the idea of perfection and allowed us to truly celebrate all the little steps of progress along the way.
6. What positive and joyful aspects have come from your journey?
We now have a bigger picture perspective and before stressing out about something, we ask ourselves, "Is this forever or will it pass?" This allows us to let go of the things that don't really matter and focus on the important things in life…our family, friends and helping others.
I have also loved engaging in conversation with all different kinds of people from all over the world who I wouldn't have otherwise known or had anything in common with if it wasn't for autism. When you go through something tough, there is a pre-existing bond that you have with others that have experienced the same thing. The quality of people I have met and the immediate depth of conversion we are able to have is a great source of joy.
7. For couples who have received an autism diagnosis, what would you tell them to remember and be prepared for?
You are not alone. You are not alone in your struggles with your child or with your marriage. Find other parents online, or even better, in your own community to compare notes with. These parents will be your lifeline.
Remember to take a marathon mindset with the therapy. Unfortunately, this autism thing rarely goes away, so it is important to also care for yourself, your spouse and your other children.
Never stop fighting for your child's future, but remember to take joy in who your child is right now. You can't always control your path, so find a way to be at peace within the unexpected twists and turns. Allow yourself to laugh at the ridiculousness of your life. Like the time you pulled her out of the fountain at the shopping mall….naked. Or the time she danced in front of the stage at a concert and then bowed thinking the applause was for her. Toss aside the judgement of others and allow yourself to be okay with what your family has become. Because of autism, the normal parenting rules no longer apply to you…permission granted to have a little fun with it.
Share this article on
Want to have a happier, healthier marriage?
If you feel disconnected or frustrated about the state of your marriage but want to avoid separation and/or divorce, the marriage.com course meant for married couples is an excellent resource to help you overcome the most challenging aspects of being married.
More On This Topic
You May Also Like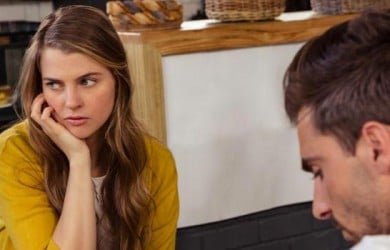 Popular Topics On Married Life