4 Things First-Time Parents Should Keep in Mind About Their Newborn Baby
Throughout our lives, we enter new phases and experiences that test our adaptability and patience. But few things challenge us like raising and taking care of a newborn child.
Parenthood is a lesson in contrast, full of highs and lows that test the most patient, loving, and dedicated among us.
Becoming a parent and parenting a newborn is about connection, relationships, love, and family. But it's also filled with surprising amounts of self-discovery and doubt.
At the same time, we learn we're capable of new levels of love; we're also confronted with our own weaknesses — selfishness, impatience, anger. Parenthood is boundless joy and affection populated with moments of unimaginable frustration.
But don't feel alone in your self-doubt and ignorance. Even the best parents feel adrift at times. They second-guess themselves about the best way to feed, clothe, and care for this new person in their lives.
So, doubt and anxiety are a part of it. But knowledge and understanding help parents relieve their self-doubt, letting them navigate their new worlds in relative confidence.
Here are 4 newborn baby things to know that every first-time parent should keep in mind about how to take care of a newborn bundle of joy that will help them along the way.
Also watch: Easy parenting hacks
1. You affect your newborn's brain growth
The infant's brain is a natural wonder. Your newborn baby begins his or her life with about 100 billion brain cells. Early on, these cells grow into a complex neural network that fuels their cognitive and emotional growth.
During newborn baby care after birth, what you do as a parent impacts this natural process, either helping or hindering it. So, while you are tending to their physical needs, make sure you also help grow your newborn baby's brain.
As your newborn's five senses develop, there are specific cognitive experiences he or she needs from their surroundings. Stimuli like skin-on-skin contact, hearing your voice and seeing your face are basic ones.
So, many of these experiences come through normal newborn infant care activities. But others aren't so intuitive. For example, your newborn baby prefers high-contrast images and patterns that resemble the human face.
These help your baby identify objects in their environment. Even "tummy time" is important for your infant's cognitive growth. To help grow your newborn's brain, make these critical stimuli available to them at the right times.
2. Your baby doesn't need much "stuff."
For new parents, it's tempting to load up on the latest night lights, binky sanitizers, and other baby gadgets. But it's easy to go overboard. Odds are, you probably don't need as much baby stuff as you think. Caring for an infant, while difficult in practice, is a simple concept.
Newborns need to eat, sleep, and poop. And cluttering up your home with bags of impractical items will only make it harder to tend to these basic needs.
That carload of baby shower gifts you so proudly hauled home can quickly become a scourge of objects to clean, pickup, and organize. Not to mention, too much clutter will increase your stress.
So, start small and add things as you need them. Some supplies like diapers, formula, and wet wipes are a no brainer — the more, the merrier. Plus, they're easier to store in bulk, and you can always donate any unused supplies to local women's shelters.
And read product reviews before committing to buying even the smallest gadgets. Keep a minimalist attitude, and you'll simplify the baby-rearing process.
3. Newborns don't have routines
Humans like routines, even the most impulsive among us. And this goes for babies too. But your newborn will have no routine for the first month or two. At that age, they're physically incapable of following a regular pattern.
One reason for this is that their biological clock (i.e., circadian rhythm) hasn't developed yet. They can't distinguish the difference between night and day. Also, their sleeping and eating "schedule" is unpredictable and driven by the urge to (surprise) sleep and eat.
So, when and why they decide to do anything is up for grabs. Of course, this chaos will run contrary to your routine. And any attempt to impose your own eating/sleeping schedule on a newborn is ill-advised and ineffective.
Instead, follow your newborn's lead. Adjust your schedule to their as best you can for the first 4 to 6 weeks. The inevitable sleep deprivation and frustration will follow, but your flexibility will help your newborn adapt to a regular routine faster.
Slowly start introducing routines like nighttime baths with dim lighting or morning sunlight exposure to help your baby build their circadian rhythm. Then, as they begin to adapt your routine, begin keeping track of their eating and sleeping habits.
A pattern of "best times" for activities will emerge, and you can use it to adapt your baby faster to your daily routine.
4. It's okay to let your baby cry it out
Crying is how your baby communicates to you. And there are many reasons why they need to have a "talk." Your baby may be hungry, sleepy, wet, lonely, or some combination of these.
New parents often find it difficult to let their babies cry for even the shortest duration, running to the crib at the slightest sign of a whimper. It's normal for new parents coming home from the hospital to be hypersensitive to their crying infant.
But as your baby grows, your need to immediately comfort and extinguish all crying should fade. Don't worry; you'll get better as you learn to "read" different cries — to distinguish between the "I'm wet" wail and the "I'm sleepy" sob.
Letting your baby "cry it out" actually helps them learn to self-sooth. That doesn't mean let them cry for an hour. But, if you've tried everything you know to calm them, it's okay to put your baby in a safe place and walk away for a few minutes.
Compose yourself, make a cup of coffee, and de-stress. Nothing bad will happen. Self-soothing is especially important at night.
Sleep deprivation is a big problem for new parents. And those who let their babies cry a few minutes before getting out of bed tend to receive a better night's sleep and have lower stress levels.
The technique is called "graduated extinction," and it helps babies learn to fall asleep faster. Don't worry, letting your baby cry for a bit won't affect them emotionally or hurt your parent-child bond. In fact, it will improve everything.
You can also lookup modern parenting techniques to keep up with your child changing needs.
Share this article on
Want to have a happier, healthier marriage?
If you feel disconnected or frustrated about the state of your marriage but want to avoid separation and/or divorce, the marriage.com course meant for married couples is an excellent resource to help you overcome the most challenging aspects of being married.
More On This Topic
You May Also Like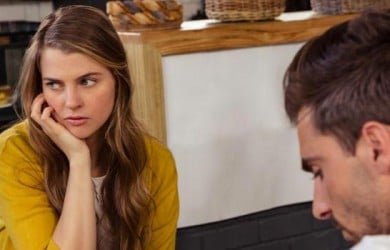 Popular Topics On Married Life