How to Differentiate Between Love and Convenient Relationship
Being with someone who you are in love with is very different than being in a relationship with someone just because it seems convenient. For many people, being in a convenient relationship is perfectly okay for the state they are in. They believe that having a companion is easier than having emotional and deep attachments with someone.
There is nothing wrong with being in a relationship with someone for convenience, and with the world we live in, this kind of relationship is very common. So how can it become a problem?
Problem with a relationship of convenience
This kind of relationship is problematic when you are no longer happy. When you start searching for a deeper and more meaningful connection, this relationship will no longer work for you. Couples who are in love have completely different actions from the couples who are in their relationship for convenience or need for one another.
These differences are so obvious that they can be seen very clearly if only one is aware of what and how to look. Sometimes couples enter a relationship in a very excited state of mind and down the line, as years pass by they feel no longer excited.
They start questioning whether they are in love or not. However, there are some major differences between a relationship of love and a relationship based on convenience; keep on reading to find out!
1. Couples in love are present when together
Couples who are fulfilled, happy and genuinely in love are always present mentally and emotionally when they are in each other's arms. They focus on paying attention to the tiniest details. Couples who love hard respond to bids for attention from one another.
You may wonder what is a bid; a bid is as simple as a lovely text exchange. A partner in love will reply right away and in the kindest way possible.
Couples who are in love tend to stay as engaged with one another as they can.
2. A couple in love remember all the important dates
Couples in love tend to remember all the important days to celebrate such as anniversaries, holidays and birthdays. When you are in love, you make it your aim to make your partner happy, and this becomes your number one priority.
Couples of convenience may acknowledge the special days, but they do not make a big deal out of it.
3. Love couples envision a future together
If you are really in love with your significant other, you will openly discuss your future together whether it involves getting hitched or not. Couples in love are happy with the state they are in, but they also have mutual goals and dreams for the future.
Figuring out your relationship is of convenience can hit you at once after figuring out what you want from the future.
You can look at the deeper issue of your relationship and ask yourself questions as to why you both are together.
4. Love couples look forward to being together
When in love you want to be with your partner 24/7; no matter how busy your schedule is or how crazy your life can get.
They can tolerate being apart, but at the end of the day, the excitement they get from being together is how it is a relationship of love.
On the other hand, couples in it for convenience live parallel lives; the time they spend together is not joyful and may not be a mutual experience. When they are apart, they feel relieved, and they rarely think about their significant other.
5. Make decisions together
Couples in love make it a point to consult one another about the major decisions in their life. They think of the other person when deciding because their relationship is a "we" and not a "me."
Couples in love tend to think of their partners feeling as equal as their own, and they respect one another more than just companions and roommates.
6. Couples in love tend to stay connected
Whether it is a mental connection, physical or an emotional one; couples in love want to stay connected all the time.
In this kind of relation no partner feels "used" and if something bothers the other partner both aim on fixing this issue.
Couples of convenience, however, tend to voice their problems to their friends and coworkers instead of they're significant other. The reason behind this is they do not feel any emotional connection there.
Relationships of convenience can be infused with love!
If you are stuck in a relationship of convenience you can always add in some love; keep in mind that small and even the tiniest gestures go a long way. Make sure to appreciate one another and bring back the lost spark.
Share this article on
Want to have a happier, healthier marriage?
If you feel disconnected or frustrated about the state of your marriage but want to avoid separation and/or divorce, the marriage.com course meant for married couples is an excellent resource to help you overcome the most challenging aspects of being married.
Learn More On This Topic
You May Also Like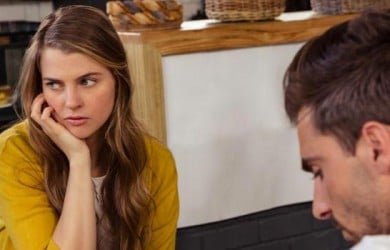 Popular Topics On Married Life