15 Different Morals in a Relationship With Examples
Is it okay to have different morals in a relationship? Not exactly.
Your ethics and morals will decide how you treat your partner. Your ethics are your moral principles. Examples of good ethics include being loyal and trustworthy partner.
Displaying examples of good ethics will help your relationship grow. You can form a strong bond with your partner and boost your trust and emotional intimacy.
When you lack ethics and morals, you often lack compassion and empathy for your spouse. This may result in disrespectful and unjust treatment that will quickly turn your love sour.
What are ethics and morals examples? Keep reading to get some clear answers and examples of morals that will strengthen your relationship.
Why are ethics important in relationships?
The relationship between ethics and morals is clear. Your ethics are motivations based on ideas of right and wrong. If your ethics are vastly different from your partners, you two will run into some hurtful issues in the future.
An example of morals getting you into might be:
Your morals can guide you to believe that intimately dancing with someone other than your partner is completely fine, whereas your spouse's morals can make them perceive such behavior as a form of infidelity
As a result, your partner's feelings would be hurt, and their trust in you damaged.
How do ethics impact relationships
The connection between ethics and morality is sometimes confusing. To simplify: ethics are a system of principles governing morality. It is a consensus of acceptable conduct in society.
Your morals are more personal. Examples of ethics and morals being different are that ethics may be technically acceptable, but they may still bother your conscience.
Your morals are part of your inner compass. They will decide how you treat your spouse.
If you and your partner don't see eye to eye on ethics vs. morals examples, it could negatively impact your relationship.
15 relationship ethics and morality with examples
A couple with different morals in a relationship may find it difficult to adjust to each other's ways. But being aware of these differences can give you a chance to understand each other and adjust your expectations accordingly.
Here are some key morals and ethics that are important in a relationship. By understanding the differences in your views regarding these, you can avoid wasting your time on unproductive arguments.
1. Honesty
When you have different morals in a relationship, things can get tricky, especially regarding your stance on honesty.
Honesty can make relationships grow. Being honest about yourself, your desires, and your past can build an unshakable bond of trust with your spouse.
Examples of good ethics in a relationship regarding honesty include being upfront with someone you are dating about past relationship experiences that may affect your current love life.
Another example of morals is being honest about what you are looking for in a relationship (not to waste anyone's time) or telling your current spouse about a past sexually transmitted infection you are carrying.
Related Reading: 

How to Be Honest in a Relationship: 10 Practical Ways
2. Consistency
One of the best examples of good ethics is to be consistent.
When you are a constant with your partner, it means that you are free from radical changes. They know you are dependable and will always do what you say.
One example of morals regarding constancy is following through when you promise to call or text.
Being consistent with your spouse shows them that you can be relied on. When you say you'll be there to pick your spouse up from work, they do not doubt that you'll be there. When you make a promise, they trust you completely.
Related Reading: 

Consistency in Relationships: What It Means, and Why It's Important
3. Being a loyal partner
One area where having different morals in a relationship can lead to heartache is when it comes to infidelity.
Be upfront with your spouse about what you consider cheating.
Does emotional infidelity bother you?
Are you upset at the thought of your partner visiting adult chat rooms or viewing pornography?
Give your partner examples of ethics and morals that clearly outline what behavior will hurt your feelings.
On the other hand, you need to uphold those same standards by being loyal to your partner and giving them dignity and respect as your spouse, even when no one is watching.
Related Reading: 

What is Loyalty & Its Importance in a Relationship?
4. Having compassion
One of the most significant moral examples in a relationship is having compassion and empathy for your spouse.
Compassion is when you have concern for your partner's misfortunes.
An example of ethics and morals in this regard would be showing your partner sympathy if they lost a loved one in death, lost their job, or are generally feeling down.
Compassion is more than saying "I'm so sorry" when your spouse is dealing with something difficult. It's putting yourself in their shoes and showing genuine empathy for their feelings. It's doing whatever you can to make them smile and help them feel loved and safe.
Watch this video to learn more about how compassion can save your relationships:
Related Reading: 

How to Practice Self Compassion for a Satisfying Relationship
5. Being reasonable
Having different morals in a relationship is especially difficult regarding being reasonable.
Being reasonable is a precious commodity in a relationship because it helps you avoid misunderstandings and promotes peace.
Ethics and morals examples regarding reasonableness:
Your spouse arrives home late from work. They never called to let you know they would be working overtime.
Instead of jumping to conclusions about them having an affair or being dishonest in some way, you allow them to explain themselves.
It turns out their phone died at work, and the deadline for the project they'd been working on got moved to the end of the workday.
They are tired and stressed and are grateful for your good and compassionate welcome home.
Instead of attacking them and making things worse, you were reasonable and gained their appreciation.
6. Giving love
There is a clear connection between ethics and morality regarding giving love.
One of the moral examples of this would be protecting your partner's figurative heart.
When you say you love someone, you will do whatever you can to avoid hurting their feelings or breaking their heart. This would include staying loyal, keeping their secrets, and regularly expressing affection.
7. Being trustworthy
Matters of truth should be cleared up, especially when you have different morals in a relationship regarding trust.
Research has repeatedly shown that trust is crucial to a healthy, well-functioning relationship.
Examples of good ethics regarding trustworthiness include:
Keeping your partner's vulnerabilities to yourself

Being someone your spouse can confide in without worrying that you are sharing information with your friends

Never lie about your whereabouts or who you are spending time with

Being transparent in your personal life
Ethics vs. morals examples, in this case, would be:
Ethics: Honestly telling a partner their new haircut does not work for them. This answer is true but unkind.
Morals: Flirtatiously tell your partner they are beautiful to you, no matter what they do with their hair. This answer is also true (hopefully!) and dodges a direct and hurtful answer with tact.
8. Having patience
Patience is a beautiful virtue that will be a breath of fresh air in your relationship. Moral examples of patience include:
Not running scared when you and your partner aren't seeing eye to eye. Instead, you patiently work on communication until your relationship is repaired.
Not jumping ship/having an affair when you are feeling bored with your relationship. Instead, you patiently attend counseling or take an online marriage course to strengthen your bond.
9. Showing humility
It's hard to be in a relationship with someone who lacks humility.
Humility is an appealing disposition. It's not about feeling bad about yourself or thinking you're worthless; it's being modest – not arrogant or prideful.
Examples of ethics and morals regarding humility include not thinking you are more intelligent than your spouse because you went to university and they did not.
Another example would be not thinking you are better than your partner just because you make more money than they do.
10. Being just
There are many different morals in a relationship, but the art of understanding is one to keep an eye on.
Being just means that you are free from favoritism and self-interest. It means that your decisions are fair to both you and your spouse.
Ethics and morals examples regarding justice would be being willing to compromise with your partner. You're content not to get your way all of the time. You are happy to compromise and meet your spouse in the middle so that you both leave the conversation happy.
11. Giving respect
Respect is one of the most important qualities of a healthy relationship. Moral examples of respect include:
Not crossing your partner's boundaries

Listening to your spouse without interrupting them

Not pushing or guilting your spouse into something

Speaking kindly to each other

Supporting their hobbies/interests/friendships

Validating their needs and feelings
12. Communicating
There are different morals in a relationship regarding communication. Some people feel fine "playing dirty" and using communication as a battleground for winning an argument.
Moral examples of communication would be striving to understand where your partner is coming from, avoiding a negative tone, speaking without judgment, and coming together to solve a problem.
13. Being peaceable
The connection between ethics and morality is sometimes hard to see, but it is there. Being peaceable with your spouse, even when you aren't receiving the same courtesy, is one example of being peaceable.
Wanting to be a peacemaker in your relationship does not give your partner permission to abuse your giving attitude.
Moral examples of being a peacemaker include:
Not making a fuss when your spouse is in a bad mood or demanding they cheer up

Letting go of the little things, and

Actively choosing to see the good in your spouse.
14. Willingness to forgive
When you are with someone long enough, odds are they will eventually do something that will hurt your feelings. Whether it is a perceived slight or a heartbreaking action, forgiveness will go a long way toward healing.
Moral examples of forgiveness include forgiving someone without making them jump through hoops.

Not saying "I forgive you" until you mean it.

Refusing to bring up past mistakes that have been forgiven when you are arguing.
When you show a willingness to forgive, you give your relationship a new chance at strong and lasting love.
15. Showing self-control
Self-control prevents you from doing something impulsive that could damage your relationship, such as impulsively yelling at your spouse when they do something that bothers you.
Examples of ethics and morals in showing self-control would be:
Ethics: You and your spouse took a temporary break from your relationship. Even though you know you are getting back together, you are within your rights to kiss someone new.
Morals: Even though you are within your rights, you are morally against doing something that would hurt your spouse so that you can feel momentary excitement.
Final thoughts
Having different morals in a relationship doesn't mean what you have with your current partner isn't going to work out. Many learn to balance morals and values in a relationship in a way that works for them.
Some examples of ethics and morals in a romantic relationship are honesty, loyalty, consistency, compassion, and self-control.
We hope you can approach your next (or current) relationship with a new love and respect for your partner by learning from these moral examples.
Share this article on
Want to have a happier, healthier marriage?
If you feel disconnected or frustrated about the state of your marriage but want to avoid separation and/or divorce, the marriage.com course meant for married couples is an excellent resource to help you overcome the most challenging aspects of being married.
More On This Topic
You May Also Like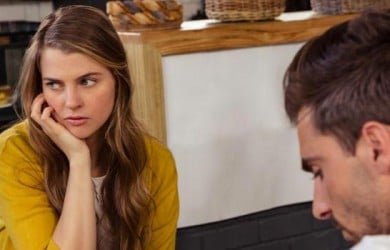 Popular Topics On Married Life