If You Think Your Spouse Will Meet Your Every Need … Think Again!
One of the most common reasons couples argue according to experts is disappointment because of unmet expectations. It isn't that you shouldn't have expectations, but they need to be realistic and flexible. For instance, a good marriage will most likely help you to thrive but it's never going to be like Romeo and Juliet because we all have flaws and stumble at times.
One of the most common unrealistic expectations that I've seen as a marriage counselor is that your spouse will fix everything, and be there for you through thick and thin.
For instance, Sydney, 35, sought couples counseling because she had a lot of resentment toward Evan,34, stemming from him not being present at her grandmother's funeral.
He had just started a new job and was sent to a mandatory training. Sydney also complained that Evan could have been more supportive of her while she was mourning the loss of her favorite grandma.
Sydney put it like this: "I know Evan had to be away for work but maybe his boss would have understood if he'd make more of an effort to explain. He doesn't really get it that my grandma helped raise me and we were very close. He acts like I should just get over her sudden death quickly."
Evan responded: "I'm sorry that I wasn't there for you when her grandma died. I love you and want to make it up to you. I was under a lot of pressure to go to a training out-of-state and learn new skills but I should have at least requested time off. There's a lot riding on this job and the stress of it clouded my vision. I'm so sorry that I wasn't there for you when you needed me."
After listening to Evan's apology, Sydney forgave him for not attending her grandmother's funeral. She also listened to his side of the story and came to understand that his reasons for not coming were legitimate and based on fear of losing income and security from his new job.
In this example, Sydney's belief that Evan's going on a work trip had been an attempt to abandon her led her to have negative beliefs and expectations.
She accused and assumed the worst of him instead of giving him the benefit of doubt.
Psychologist Howard J. Markman explains: "Studies show that expectations not only affect what we perceive but can influence the actual behavior of those around us."
For instance, if we believe someone is trustworthy, we might "pull" behavior consistent with our expectations and focus on the times when they follow through rather than let us down.
Our partner, in turn, might start acting more reliable because they feel more emotionally fulfilled and valued by us.
In Sydney's case, her expectations of Evan's being inconsistent on several occasions in the past, caused her to have a negative outlook toward him when he failed to attend her grandmother's funeral.
How you think and what you expect from your partner can contribute to either harmony or unmet emotional needs in your marriage.
In fact, studies in psychology have demonstrated that we tend to see what we expect to see in others. This concept, a self-fulfilling prophecy, has been widely researched by psychologists, and it often predicts future behavior.
The self-fulfilling prophecy is a statement that alters actions and therefore comes true.
For instance, saying, "I'm probably going to have an awful week because my co-worker will be on vacation," might alter your actions so any small negative thing that happens is blown out of proportion.
This may be an unconscious gesture. Indeed, you might espouse a self-fulfilling prophecy in a positive way "I'm going to have a good week and will get a lot done since I'll be working alone" and act in ways that will actually make this prediction come true.
Most of us enter into marriage with one or more unrealistic expectations that can predispose us to unhappiness or emotional needs not being met in a relationship, if we don't tackle them head-on.
A strong marriage (or remarriage) is one where you and your partner discuss expectations, compromise, and understand that conflict and differences of opinion come with the territory.
Each of the following expectations can be turned into a realistic one:
1. Emotional support
Unrealistic expectations: My partner should be totally supportive of all of my emotional needs in a relationship regardless of what's going on in his or her life.
Realistic expectations: While you should attempt to support and validate your partner's feelings and , meeting emotional needs in a relationship is not always possible. Even close friends and family disappoint each other at times.
Consider his or her intentions and remember that we all have flaws. Most of all, give your partner the benefit of the doubt and try to see things from their perspective.
Such actions can help a couple impart emotional satisfaction in an unsatisfied marriage.
2. Resolve arguments
Unrealistic expectations: We should be able to resolve any and all arguments if we love each other.
Realistic expectations: According to relationship expert and psychologist, John Gottman, 69% of conflicts go unresolved and couples can learn to agree to disagree and compromise on their emotional needs in a relationship.
Having conflicts is not so much the problem, it's learning to repair after an argument that can set the stage for a successful marriage.
If you're able to focus on being happy rather than trying to prove you're right, you'll grow and learn about each other through managing conflict.
3. Managing your anger
Unrealistic expectations:

My spouse and I should never go to bed angry.
Realistic expectations: In an intimate relationship, you will have times when you're flooded with too many emotions, confused, upset, or completely exhausted.
It's perfectly fine to go to bed angry if you're too tired to process an argument or difference of opinion. It's amazing what a decent night's sleep can do to restore your energy and give you a more positive outlook.
4. Love and acceptance
Unrealistic expectations: My partner should accept everything I do and love me unconditionally.
Realistic expectations: It's important to respect your spouse and love and honor them.
On the other hand, we all have annoying habits, and it's okay to ask your spouse to sleep in the quest room if they snore loudly sometimes, or to wipe their work boots off so they don't track mud onto your shiny hardwood floors.
You can't have intimacy without vulnerability so you should feel free to share your needs – as long as you aren't expecting your partner to be perfect.
Unrealistic expectations: We should share all of the same interests and activities.
Realistic Expectation: While it's nice to enjoy each other's company and share one or more of the same hobbies or interests, it's not a requirement of a happy marriage. As long as you discuss your expectations this doesn't have to be a deal breaker.
The magic formula for most couples is to spend about five to ten hours a week doing things together which can include cooking, eating meals, watching TV shows or movies, going for walks, or going out for a meal or activity.
Most of all, you and your partner will probably benefit from fairly ritualized activities that are somewhat predictable and allow you to connect emotionally, physically, and sexually on a regular basis.
Taking responsibility for your mindset or perspective is one of the most powerful ways to maintain and restore positive feelings toward your partner.
Don't let the blame monster invade your home, and stop pointing out each other's imperfections as it can put more strain on an already unfulfilling marriage.
When problems arise, seek understanding first. Then, you must begin responding to your partner's bids for connection and intimacy by practicing effective communication, showing love, and understanding each other's emotional needs in a relationship.
Share this article on
Want to have a happier, healthier marriage?
If you feel disconnected or frustrated about the state of your marriage but want to avoid separation and/or divorce, the marriage.com course meant for married couples is an excellent resource to help you overcome the most challenging aspects of being married.
More On This Topic
You May Also Like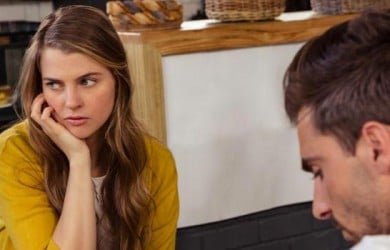 Popular Topics On Married Life