Asymmetric Relationship: Challenges & Ways to Thrive
Relationships are an integral part of human existence, shaping our emotional well-being, social connections, and personal growth. While most relationships are built on a foundation of equality and reciprocity, there are instances where imbalances occur, leading to what is known as asymmetric relationships.
An asymmetric relationship refers to a dynamic where one party possesses more power, resources, or influence compared to the other. Such relationships can present various challenges that demand delicate navigation.
Let's further understand the meaning of asymmetric relationships, know the challenges they pose, and ways to thrive in such situations., asymmetrical examples and the possibilities of transitioning from asymmetric to symmetric relationships.
What is an asymmetrical relationship?
An asymmetric relationship refers to an unbalanced or unequal connection between two entities, typically in terms of power, influence, or contributions. In such relationships, one party holds significantly more control, authority, or resources than the other, leading to an inherent lack of reciprocity.
This inequality can manifest in various forms, such as in personal relationships, business partnerships, or international dynamics.
The dominant party may make decisions without genuine consultation or disregard the needs and perspectives of the less influential counterpart. Recognizing and addressing these imbalances is essential for fostering healthier and more equitable connections in any context.
Challenges in asymmetric relationships
Asymmetric relationships can be fraught with numerous challenges that stem from the inherent power imbalances between the involved parties. These challenges can significantly impact the dynamics of the relationship and require thoughtful navigation to maintain a healthy and functional bond.
One of the primary challenges in asymmetric relationships is the power imbalance itself. The party with greater power may wield authority over decision-making, leading to a lack of autonomy and agency for the less dominant individual. This can result in feelings of disempowerment, resentment, and a skewed distribution of responsibilities.
Effective communication is essential in any relationship, but in asymmetric dynamics, it can be particularly challenging. The less dominant party may feel hesitant to express their thoughts, feelings, and concerns for fear of judgment or dismissal by the more powerful party.
This breakdown in communication can hinder understanding and lead to misunderstandings and conflicts.
Emotional toll is another significant challenge in asymmetric relationships. The less powerful individual may experience feelings of inadequacy, self-doubt, and emotional strain due to constantly navigating the power dynamics.
Additionally, the dominant party may inadvertently exploit the vulnerable position of the other, causing emotional harm and distress.
Furthermore, the lack of reciprocity in an asymmetric relationship can create a sense of unfairness. The less dominant party may perceive that they contribute more to the relationship than they receive, leading to feelings of being taken for granted or undervalued.
The challenges in asymmetric relationships revolve around power imbalances, communication barriers, emotional strain, and the lack of reciprocity. Successfully addressing these challenges requires mutual understanding, empathy, and a commitment to fostering a more balanced and respectful dynamic.
5 ways to thrive in asymmetric relationships
Thriving in asymmetric relationships requires a proactive approach and a willingness to address the challenges that come with power imbalances. While these relationships may present unique hurdles, there are five effective ways for a one-up, one-down relationship:
1. Open and honest communication
Communication is the cornerstone of any successful relationship, and in an uneven relationship, it becomes even more crucial. Both parties must be willing to engage in open and honest conversations about their feelings, needs, and concerns.
The dominant individual should actively listen to the less powerful party's perspectives and validate their emotions without judgment.
Encouraging open communication creates a safe space where both individuals can express themselves freely and authentically, fostering trust and understanding.

2. Setting boundaries
Establishing clear and mutually respected boundaries is essential for maintaining a healthy asymmetric relationship. Both parties should openly communicate their limits and expectations, ensuring that their needs and comfort levels are acknowledged and honored.
The less dominant individual should feel empowered to assert their boundaries without fear of repercussions, and the dominant party should respect these boundaries and avoid exploiting their position of power.


3. Empowering the less dominant party
In an asymmetric relationship, the dominant party can play a pivotal role in empowering the less powerful individual. This can be achieved by actively supporting their personal goals, encouraging their individual growth, and recognizing and appreciating their contributions to the relationship.
By nurturing the other person's strengths and fostering a sense of self-worth, the dominant party can create a more equitable and balanced dynamic.
4. Practicing empathy and
Empathy is crucial in any relationship, and in asymmetric relations, it becomes especially important. The dominant party must endeavor to understand and empathize with the emotions and experiences of the less powerful individual.
Demonstrating compassion and support can help bridge the gap between power imbalances and create an atmosphere of mutual care and consideration.
This video talks about how to be empathic and emotionally resilient at the same time:
5. Seeking professional help
In certain instances, the challenges in an asymmetric relationship may be too complex to navigate without professional assistance. Engaging the services of a therapist, counselor, or mediator can be highly beneficial.
A neutral third party can facilitate constructive conversations, provide insights into power dynamics, and offer guidance on fostering a healthier relationship. This process can be empowering for both parties, as it allows them to explore their roles and work towards mutual growth and understanding.
In conclusion, thriving in an asymmetric relationship necessitates a concerted effort from both parties to promote open communication, set boundaries, empower the less dominant individual, practice empathy, and consider seeking professional support when needed.
By actively addressing the challenges posed by power imbalances, individuals can foster a relationship built on respect, trust, and equality.
Embracing these five ways to thrive in asymmetric relationships can lead to personal growth, emotional fulfillment, and a deeper connection with one another.
Transitioning from asymmetric to symmetric relationships
Transitioning from asymmetric to symmetric relationships requires mutual effort and a commitment to address power imbalances. Both parties must recognize the existing disparities and be willing to work towards a more equitable dynamic.
Symmetrical relationship definition and examples involve open communication, equalizing decision-making, empowering the less dominant individual, cultivating mutual respect, and a commitment to personal growth.
By developing a sense of equality, trust, and understanding, the relationship can gradually evolve into a more balanced and harmonious connection where both partners feel valued, respected, and empowered in their interactions with each other.
Common questions
Discover the ins and outs of asymmetric relationships in this FAQ guide. Know the challenges they pose and valuable strategies to not just survive but thrive in such dynamics.
What is an example of an asymmetric relationship?
An example of an asymmetric relationship is a doctor-patient dynamic. In this context, the doctor possesses specialized knowledge, expertise, and authority over the patient's healthcare.
The doctor assumes the role of the expert and decision-maker, while the patient relies on the doctor's advice and expertise for medical diagnosis and treatment.
The patient may feel vulnerable and dependent on the doctor's expertise, while the doctor is expected to act in the best interest of the patient's health and well-being. This relationship showcases a significant power imbalance, with the doctor holding more influence and control over the patient's medical care.
What is an asymmetric conflict relationship?
An asymmetric conflict relationship refers to a situation where there is a significant power disparity between the parties involved in a conflict. This kind of conflict occurs when one side possesses far greater resources, military strength, or influence compared to its opponent.
Asymmetric conflicts can take place in various contexts, such as international disputes, civil wars, or conflicts between state and non-state actors.
The side with more power typically relies on conventional military strategies and advanced weaponry, while the weaker side adopts unconventional tactics, such as guerrilla warfare, terrorism, or cyber-attacks, to challenge and offset the power imbalance and achieve their objectives.
How do you prove an asymmetric relation?
To prove an asymmetric relation between two elements (A and B) in mathematics, one must demonstrate that if (A, B) exists in the relation, then (B, A) does not.
In other words, if there is a pair (A, B) in the relation where A is related to B, then there should not be a pair (B, A) where B is related to A.
This shows that the relationship is one-sided and lacks reciprocity. By providing a counterexample that violates this condition, one can disprove an asymmetric relation. However, if the condition holds true for all pairs in the relation, the relation is indeed asymmetric.
What is an example of an asymmetrical conflict?
An example of an asymmetrical conflict is the insurgency in Afghanistan against the coalition forces led by the United States. In this conflict, the coalition forces, equipped with advanced military technology and superior firepower, represented the stronger and more dominant party.
On the other hand, the insurgent groups, such as the Taliban, operated as the weaker and less conventional side. The insurgents employed tactics like guerrilla warfare, improvised explosive devices (IEDs), and suicide bombings to challenge the coalition's control and undermine their strategic advantages.
This conflict exemplifies the power asymmetry and the use of unconventional methods by the weaker side to contest the dominant forces.
Seeking symmetry in life & relationships
In conclusion, asymmetric relationships pose unique challenges due to power imbalances, but they can be navigated successfully with open communication, empathy, and mutual respect. By setting boundaries and empowering the less dominant party, such relationships can thrive and foster personal growth.
Additionally, transitioning from asymmetric to symmetric relationships requires a commitment to address disparities and promote equality. In other contexts, asymmetric conflict relationships manifest in situations where one side possesses significantly more power, leading to unconventional tactics by the weaker party.
Understanding and managing these dynamics is crucial to achieving harmonious and fulfilling connections in various aspects of life.
Share this article on
Want to have a happier, healthier marriage?
If you feel disconnected or frustrated about the state of your marriage but want to avoid separation and/or divorce, the marriage.com course meant for married couples is an excellent resource to help you overcome the most challenging aspects of being married.
You May Also Like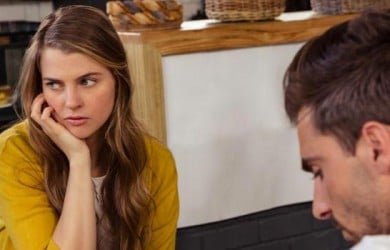 Popular Topics On Married Life