50+ Unique and Memorable Wedding Favors
Weddings are joyous times for newlyweds. They're also great for your friends and family to get together and make new connections. You never know who will meet their future spouse at your wedding. So, make it an even more memorable day with wedding favors.
What is a wedding favor?
As this article on the history of wedding favors written by a historic music center in Scotland explains, wedding favors ideas traditionally come from an old tradition. The French aristocracy, many centuries ago, would give their guests small porcelain or crystal boxes filled with sugar.
Sugar was rare in those days and signified wealth and good fortune. These days, we still appreciate sugar, but favors are now small, creative gifts that come in all forms.
Anyone who has been married knows how much preparation goes into a wedding. They also know that weddings are full of emotions and stress.
As this counselor's article on why getting married is stressful explains, we often try to make too many people happy and feel torn. It's perfectly normal, and the key is to keep talking about your feelings and concerns with your partner.
There's also always couples therapy to support you as you transition into this new phase of life. After all, being married changes the dynamics of a relationship, and sometimes having a counselor by your side can ease the transition and teach you new skills.
50+ memorable wedding favors for a lasting impression
There are many wedding favor ideas to choose from. Your challenge is to balance your budget with creativity. Nevertheless, regardless of the gift's size, people are always happy with the thought.
1. Initialed candles
Some of the most popular wedding favors are candles. They can be engraved with initials or shaped into hearts, stars, or whatever you want.
2. Coasters
Useful wedding favors include coasters because people don't always buy them for themselves. These can be engraved and come in many shapes and materials, from cork to slate and glass.
3. Mini glasses
Whether you inscribe your initials and the date on some shot glasses or mini tumblers, everyone appreciates special glasses. You can then enjoy them when you visit your friends.
4. Exotic chocolates
Everyone loves chocolate and you can package them in a variety of ways. Include your names along with some swirls of color or special fillings and you'll make all your guests happy.
5. Mini jams
Those cute little jam jars in luxury hotels always surprise and delight people. Then, fill them with sweet flavors like strawberry or unique ones like quince and cranberry that go perfectly with cheese.
6. Special bottle openers
You can have so much fun choosing your design for bottle openers. They can be metal shaped into an angel or heart, for example. Alternatively, you can have leather handles or other shapes that represent you.
7. Letter openers
Similarly, with letter openers. They're smart things that no one thinks to buy for themselves, but they add a lovely touch to any work desk.
8. Mini-bar bottles
Those tiny bottles of alcohol in hotels are also a fun gift for your wedding guests. Ultimately, most cultures include alcohol at weddings to bring people together, so now your friends can do the same.
9. Mini champagne bottles
Champagne represents prestige and status. What better way to make your special day even more special than giving people mini champagne bottles?
10. Champagne truffles
Truffles filled with champagne also work and offer a slightly different angle to champagne bottles. Don't forget that you can also customize them with your names and the date of the big day.
11. 'Thank you' jars of dead sea salt
You can get some tiny glass jars or even test tubes of sea salt for a little more zing. Few people think of sea salt, but it does wonders for the skin and will be a pleasant surprise for your guests.
12. Heart-shaped biscuits
Get creative with flavors and shapes to give everyone your memorable biscuits.
13. String bags of spices
Spices wake up the senses and are fun to try out on various foods. You can't go wrong with this one.
14. Customized lip balm
Even men appreciate flavored lip balm. You can also add both your names and initials on the pots to mark the day.
15. Herbal tea
With so many exotic teas to choose from, you can create a beautiful gift easily and cheaply.
16. Columbian coffee pots
Coffee also offers a huge range of choices. Perhaps mix it up so half your guests get coffee and the other half get tea. They can then have fun swapping gifts depending on their brew of choice.
17. Tea lights
Candles are magical. Moreover, engraved tea lights will make your guests remember your big day forever.
18. Miniature tea cups
Similarly, with tea cups. They are a fun decorative addition to spruce up any bookshelf at home.
19. Unique photo album
The best wedding favors are personalized. So, can you create a small album with photos of you as a couple and with your friends dotted throughout?
20. Perfume bottles
Mini scent bottles always make people feel special. You can also have a mix of types for the men at your wedding and then for the women.
21. Mini incense kit
Some more unusual wedding favors for guests include giving out incense. This might come from other cultures, but trying is always exciting for people.
22. Party poppers
Why not simply include something to increase the fun at your party? Give people disposable cameras alongside party poppers and let them enjoy the moment.
23. Lavender string bags
Wedding gifts for guests also include any combination of potpourri sachets.
24. Good luck charms
Some of the best ideas for wedding favors are good luck charms. They pique your curiosity and make you feel loved.
25. Decorative healing stones
Slightly different wedding favor ideas for guests include energy stones. You can also find decorative stone-like materials that have been melted around good luck charms.
26. Thank you lollipops
If you want to keep it simple, get lollipops with the words thank you inside them.
27. Mini yo-yos
To further connect your guests to their childhood, go for customized yo-yos. They're playful and unique wedding favor ideas.
28. Customized slinkies
Small mini slinkies are a great conversation starter at the table for those who might not know each other.
29. Popcorn favors
Other favors for a wedding include popcorn. Who doesn't love colored popcorn in decorative cartons?
30. Traditional mints
You can't go wrong with mints. You can also spruce them up with decorative and customized packaging.
31. Retro candy
Some of the best wedding favors take your guests down memory lane. And a bagful of retro candy does that perfectly. You'll have everyone sharing childhood stories in no time.
32. Exotic sauce jars
Wedding guest favors are often about food. So, introduce your favorite sauces to your guests and they'll think of you every time they eat them.
33. Personal collage book
Wedding guests come to your big day to support you because they love you. If you give them a personal collage book of your journey that took you to this day, they'll discover a little more about you.
34. A small deck of customized playing cards
Gifts are about bringing joy and playfulness to people. Your guests might even start playing at the dinner table.
35. Paperweight
Useful favors for a wedding that people again might not necessarily buy are paperweights. Choose your design and they'll think of you every time they work.
36. Bottle stopper
Some of the more popular wedding favors are anything to do with bottles and alcohol. You can then choose your quirky design for bottle stoppers.
37. Personalized key ring
More wedding guest favors include key rings. They're personal and used every day, so your guests will always think of you.
38. Cork bottle stops
Again, choose an interesting figurine to sit on top of the cork bottle stops that means something to you and your guests.
39. Initialed sunglasses
These wedding gifts for guests will be adored if it's a hot and sunny summer's day.
40. Bonsai tree
More unique wedding favors are bonsais. Moreover, they can outlive us all, so your big day stays in memory for multiple decades throughout the generations.
41. Cactus plant
More great wedding guest favor ideas include plants. You don't need to do much to take care of cacti and they're such an original gift that your guests will talk about it for years.
42. Hand sanitizer spray
These days, you can never go wrong with personalized hand sanitizer spray that fits into pockets and handbags.
43. Mini photo frames
As mentioned, the wedding favor ideas for guests are personal. So, include an array of photos in mini frames for your friends and family to enjoy.
44. Placeholders
It's always exciting to see your gifts in someone's house when you visit. Furthermore, placeholders are both chic and prestigious.
45. Customized fridge magnets
No one wants to live in a museum for a home, so help them liven things up with personalized fridge magnets. They might not list in the useful wedding favors category but magnets add a personal touch to every home.
46. Personalized notebook
Notebooks are always useful, and now you can add a special photo or phrases throughout the notebooks to be remembered.
47. Heart-shaped tea infuser
Hearts, stars, animals, or whatever takes your fancy works well for tea infusers.
48. Mini hand cream
Again, wedding guest favor ideas are about making people feel special. And nothing does that quite like scented hand cream.
49. "Freshen up water" spray
For those weddings during hot summers, it's so wonderful to have some fresh water to spray on your face. A fine mist won't ruin makeup but it alleviates the heat.
50. Unique computer stickers
Some of the more special ideas for wedding favors include personalized stickers. They make laptops, mirrors, car dashboards and any surface more interesting.
51. Special pepper and salt shakers
There are many unique wedding favors for the home, including salt and pepper shakers in various shapes or animals.
52. Mini snow globes
More unique wedding favor ideas include strange and wonderful toys. Plus, there's something magical and fascinating about snow globes.
Watch this video to learn how to make your own snow globes:
Some commonly asked questions
Here are some commonly asked questions that can clear your pressing doubts about wedding favors:
What are some traditional wedding favors?
As mentioned, traditional wedding favor ideas usually involve something sweet because it was so rare centuries ago. As this beautiful winery wedding venue further explains in their article on why almonds are given at weddings, almonds were also a traditional gift.
According to the article, almonds were the gift of choice by the Ancient Romans, although the Italians and Greeks also took up the custom. It seems that the bittersweet taste of almonds represents the ups and downs of life.
These almonds are often sugar-coated to soothe the almonds' bitterness and to wish goodness and sweetness to the couple.
How do you make an affordable wedding favor?
As you can imagine, there is a wide range of wedding favors ideas to choose from with very different budgets. Most couples like to keep the overall budget to around $2 to $5 per person, but of course, it depends on you and which country you're in.
The point is that you can find affordable wedding favors. Simply make sure you give yourself enough time to do the research and even order from afar to keep your costs down.
As you can imagine, wedding budgets can be a huge source of stress which is often tied to the wedding list. You generally can't invite every single person you remotely know but how do you make the final list?
Interestingly, a recent survey detailed in this Huffpost article on "wedding planning is more stressful for men" shows that 23% of men found their wedding to be their most stressful life event. This compares to only 16% of women.
If you're finding yourself so stressed you can't sleep or function at work, consider reaching out to couples therapy. We all need help sometimes and even more so during life's major events.
Do you give wedding favors to each guest?
Only you can choose wedding favors for guests and who gets what. Essentially, there's no rule and you can do what you want. Then again, it is nice to be able to include everyone unless you're opting for something expensive for the bridal party.
Final thoughts
The idea behind these favors is to give your friends and family a memento of the day. Moreover, it isn't about how much you spend but about showing your appreciation that they are in your life.
So, keep things simple and remember that it's the intention that counts. Then, have fun with it and most importantly, make a point of pausing at some point during your wedding day.
If you don't take a moment to appreciate that everyone is there for you, the day will be gone before you know it. But now you can hold onto that moment and cherish it forever.
Share this article on
Want to have a happier, healthier marriage?
If you feel disconnected or frustrated about the state of your marriage but want to avoid separation and/or divorce, the marriage.com course meant for married couples is an excellent resource to help you overcome the most challenging aspects of being married.
Learn More On This Topic
You May Also Like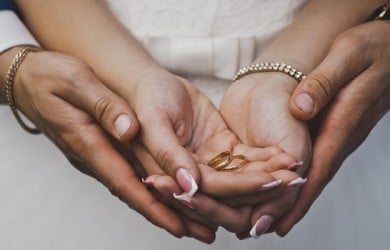 Popular Topics On Getting Married