6 Ways Moms Can Establish Boundaries
No doubt, the most challenging thing about being a mom is finding the time to get away from the kids and focus on more important and pressing matters for a change. Even if children are not that young, having teenagers in the household is still taxing all on its own.
Kids usually have an innate propensity to run wild without any regard for their actions and how much they affect other members of the family.
Most especially, moms are left to pick up the remnants after the calm of the storm: clean the house, pick up the toys and skateboards, do the laundry, and do the dishes, among other things.
It does not have to be that way, however. To call for respect, discipline, responsibility, and independence means establishing boundaries in the household. Setting boundaries is synonymous to setting rules.
Having a few solid rules in place could be the key to keeping the household in order, and making sure that everyone's private spaces are respected, especially for moms.
This article would shed light on why should you be setting boundaries with toddlers and kids, and how to set healthy boundaries with your child.
Why establishing boundaries is good
Before getting into the specifics of teaching kids boundaries or setting up boundaries in the house, it is particularly helpful to know why boundaries are good in the first place, or at least, to remind yourself why they are necessary.
So here is a quick rundown of some of the reasons why a good and peaceful home relies on the use of rules.
Unlike a home free from rules, boundaries create a system hinged on routine, structure, and consistency, which then limits behavior in the long run. It is especially good to know that children respond well to a system of organization as opposed to having none, to begin with.

The

idea of personal space

and time becomes a practice when boundaries are established.

A home with rules gets accustomed to running itself, which is especially ideal for busy moms who do not always have the time to be ever-present in the house.

Most importantly, boundaries create a sense of discipline, and thus independence where children are concerned.
Ways of creating boundaries
When it comes down to establishing those rules, it is good to keep a couple of things in mind if the intention is to make those boundaries have an enduring impact on the household. Therefore, on a strictly need-to-know basis, here are 6 crucial pointers.
1. Be trustworthy
When working towards uniformity and conformity within a group, and success is the goal in mind, letting everyone else know that they can place their trust in you goes a long way.
In retrospect, a mom who shows that she is trustworthy gains trust and loyalty in return. Children are especially quite responsive to trust in actuality. When their mother lives up to the promises she makes, they are bound to respond in kind.
Therefore, in the process of making long-lasting boundaries, it helps to stick to your word; and the children will stick to theirs.
2. There is an essence in being practical
The household is every bit a physical system like everything else. That means practical and realistic rules apply to a seamlessly-run home, rather than those rules that are merely abstract.
This especially comes in handy in the process of defining your boundaries as a mother, and later, when making the set expectations known. It is all about striking that perfect balance; the midpoint between being too soft and too strict.
In other words, the essence of being practical means knowing exactly where your responsibility ends, and your children can pick up beyond your boundary limits.
3. Less is more, but precision matters
Since establishing boundaries entails airing expectations as a mom, and in just the same capacity, setting rules to govern those boundaries, the measure of whether those boundaries stick depends on the number of rules set.
Ideally, having a few of those rules that are easy to follow is better than having too many. Having too many can lead to confusion, therefore, aim for a few key rules, but those that are precise for easier integration.
4. Communicate openly
For boundaries to be successfully in effect, communication cannot be ruled out. For moms, that means getting the kids to be involved in the ongoing discussion regarding the expected radical changes in the household.
However, it is not about moms issuing ultimatums, and the consequences that can be expected upon non-compliance. Instead, it is about holding a neutral discussion, which involves having the kids also contributing to that discussion.
Enduring boundaries are those that take into account the equal contribution of the members involved. Communicating openly not only highlights the limits but also takes into account all the members' choices.
5. Consistency is key
Even if boundaries are clearly defined, and the limits are known to all the members of the household, that alone is no guarantee that things are on track.
It certainly is a step in the right direction, but in actual sense, the practice needs to be perfected. The only way to make that practice perfect is through consistency. Through consistency, a mom's role as a leader who upholds the set boundaries is under scrutiny.
It, therefore, means not having to compromise on any of the rules set, and strictly keeping to the code. Through consistency, rules and boundaries become a lifestyle.
6. Have the rules posted in an open area
The human mind easily forgets. It prioritizes the important stuff from those that are not. It means that rules and boundaries can be broken when one member of the household breaches the set terms due to forgetfulness.
To avoid that, have a copy of the rules written down, and placed at a common house area, like the fridge. That way, anyone who comes in that direction will instantly be reminded of the rules and boundaries in effect. This particular method actually helps in the aspect of consistency in the long run.
The intrinsic need, and thus extreme importance of boundary setting is now well-established. It is not for the sake of it, but boundaries and rules could mean the difference between an unorganized, messy home, and that which the members are peacefully living with each other, and readily acknowledge that each of them has a unique role to play.
Share this article on
Want to have a happier, healthier marriage?
If you feel disconnected or frustrated about the state of your marriage but want to avoid separation and/or divorce, the marriage.com course meant for married couples is an excellent resource to help you overcome the most challenging aspects of being married.
More On This Topic
You May Also Like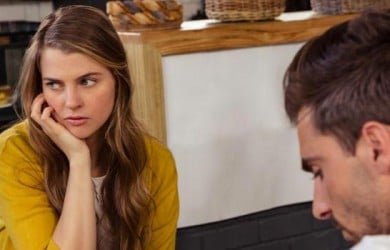 Popular Topics On Married Life