How Does the Relationship With Your Spouse Impact Your Kids?
It has often been said that we live what we learn. That is true to a certain degree. But I also believe that when we know and want better, we can get improved results. Many have grown up using their childhood as an excuse to justify ill behavior. The sad thing is that they're surrounded by individuals who condone it rather than correct it. How often have we witnessed parents being argumentative with school officials rather than listening to them speak about areas in which their child needs improvement? There are now parents who will drink/smoke/party with their child like it's the norm. This type of behavior eliminates the boundary between being a parent vs a friend. There should always be a level of respect maintained where the child knows what not to do/say in their parent's presence as well as in the presence of other adults. We are failing in setting the example for our young.
The glitch in inculcating values in children
The youth are criticized nowadays for their actions, but my question is who raised them? Weren't they our responsibility? Did we drop the ball? Or were we too consumed with living our own lives that we neglected to put their needs ahead of our wants? Whatever the reason behind the madness, it needs to be corrected, fast. Our future generation is filled with so much anger/hurt/resentment and hostility. They walk into schools with a negative mindset primarily due to issues that stem from home.
Children exposed to the bad blood between their parents
Oftentimes, the relationship between mother/father, whether married or not, sets the tone for all other encounters the child will have. So many households are the result of failed unions. Too often, marriage is viewed through temporary lenses and does not consist of permanence. Through many generations, we witness the demise, disrespect, emotional and sometimes physical abuse. Never does anyone stop to think of the trauma this imposes upon the child(ren). What once provided stability and comfort for them is now fueled with anger, tension, and disruption. They are left to feel as though they must choose between loving their mother or father as if it's a competition. Simply because the parents can't seem to co-exist. Imagine living in such a hostile environment than being expected to go to school and maintain a calm demeanor while pretending that all is well.
Why children grow up to become damaged adults
Many grow up under the pretense that "whatever happens in this home stays here". The primary reason why so many kids grow up to be damaged adults. If a parents' primary responsibility is to provide the nurturing needed to shape the youth into productive citizens, why does that take a back seat? We now live in a society that's quick to replace yet slow to repair. If marriages face problems, rather than attempt to work through the issues and come to a resolution, it's always easier to remove yourself from the situation at hand.
The need to regain the old-fashioned sense of family
In a family, everyone works together to obtain the best outcome which benefits everybody. There is no one above the other. With the cost of living so expensive, it takes two parents working to fulfill all needs. This, unfortunately, leads to other problems like a dearth of time with other family members and children caring for themselves.
Why it's important to make children your top priority
A lack of time always leaves room for the uncertainty. It is rarely possible for the father to work and provide and the mother to care for the home. Which makes it even worse for those single parent homes. In many of these instances, the children fall victim to the streets: gangs, drugs, etc.… Ultimately, we need to take a stand and regain control of our homes, communities, and neighborhoods. The children must be a top priority or our future will be doomed to failure due to lack of effort on our part.
Share this article on
Want to have a happier, healthier marriage?
If you feel disconnected or frustrated about the state of your marriage but want to avoid separation and/or divorce, the marriage.com course meant for married couples is an excellent resource to help you overcome the most challenging aspects of being married.
More On This Topic
You May Also Like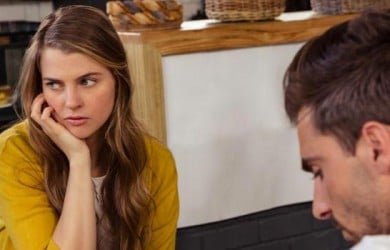 Popular Topics On Married Life