5 Good Parenting Skills You Should Have
Did you ever wonder if there was a school or a university somewhere you could take a Masters course in Parenting and ace your parenting skills? Life would be so much easier when you are equipped with good parenting skills, wouldn't it? Going by the good parenting definition, you are responsible to support your child's emotional, mental, physical and intellectual growth and development from the stage of infancy to adulthood.
Most of us have aspired to be the best parent out there – the cool one, the mentor, a friend, and a role model to kind and ambitious children. Our parents never had to take such a course to learn about good parenting skills and we know they have done the best they could. That, in its very essence, is the gist of parenting – doing the best we can.
Of course, in this age of information and the internet, we are exposed to a lot more styles of parenting and different parenting skills.
With a little research, we find ourselves surrounded by more and more information on developing parenting skills. So how do we know what is the best way to parent a child? In a nutshell, we don't. As long as your child is healthy, happy and inspired to be the best version of themselves, you have got it covered. However, we want to highlight five good parenting skills you might want to strengthen.
Strengthen your relationship with your partner
Conflict disturbs a child's mind. Research proves that children are happier and more successful in the long run when they come from a low-conflict home.
Divorce and conflict can manifest itself in your children in many negative ways, especially through anxiety, anger, shock, and disbelief.
One of the most loved TV personalities, Dr. Phil, talks about children suffering in a high-conflict home. He says, repeatedly, on his show that he has two rules on raising children. One, do not burden them with situations they cannot control and two, do not ask them to deal with adult issues. He says this to parents who constantly involve their children in their conflicts. One of the qualities of good parents is to keep their children in a healthy and happy headspace.
The minds of our children are more vulnerable and are constantly molded by the people they surround themselves with. It is important that as parents, you do your best to create a loving, caring environment.
Gestures of kindness, politeness, emotional support to each other is not just healthy for your relationship, your child is learning from you too. One of the signs of good parenting skills is to extend affection, warmth and kindness to your spouse, so your kids can also model their behavior by watching their parents.
Imprint discipline at home
Simple chores at home eventually help your children to better perform at collaborated team activities as an adult.
Simply having a disciple of doing chores at their homes can transform diligent children to successful and happy adults. Every member of the family has to take up the responsibility of chores in the house and ensure everyone adheres to completing it.
This not only strengthens your bond as a family but you are also raising your children to be responsible, independent human beings.
Julie Lythcott-Haims, the author of How to Raise an Adult, says "If kids aren't doing the dishes, it means someone else is doing that for them. And so they're absolved of not only the work, but of learning that work has to be done and that each one of us must contribute for the betterment of the whole."
It can be a hard thing to watch your child wash their own plates or set the table for dinner. However, your child is not a delicate flower but a strong sapling waiting to grow into a tree. Teaching them accountability and responsibility at a young age prepares them for a life as an adult.
Battling your own stress with ease
Life will always be throwing curve balls at you.
As a parent, it is your duty to deal with them head-on and set an example for your child. Stressors could vary from health, your work, children's education, financial, or just unresolved conflicts at home. Parenting itself is quite stressful. If stress is not handled carefully, it will not only affect your mental stability but your children's as well.
It is important to give ourselves a clear frame of mind by taking proactive steps toward stress filtering.
One way to do that is to tune out of negative triggers for a while. This could be the news, rude people, noisy places, pollution and so on. It also means cutting yourself some slack. Often you are your own worst critic.
By working on short deadlines and taking on more than you can handle, you are setting yourself up for failure. These kinds of behaviours increase your stress levels and impact not only you but your child as well.
Underrated importance of sleep
Talking about imbibing discipline through chores and battling stress, one cannot simply avoid talking about the importance of sleep in one's life.
As adults, we know the difference a good sleep can make in your productivity the next day. But amidst all the stress, deadlines, school projects, mess at home, are we taking the time out to establish the purity of sleep in our lives, especially children's? Sleep Deprivation can cause a lot of damage, not only to physical health but also to the mental health of children.
Sleep deprivation can be caused by a variety of factors and therefore, it is critical as parents to take an active role in monitoring your child's sleeping behaviour. Some causes of sleep deprivation are sleep disorders, stress, an uncomfortable mattress, too much screen time, depression and so on.
It can even be little issues like bad sleep schedule. Parents can use tools like Nectar's Sleep Calculator to create consistent sleep schedules for themselves and their children.
Celebrating independence
As parents, it is natural to closely monitor the activities of your child. If need be, you wouldn't mind doing everything for them just to make life easier. This concept is called helicopter parenting.
It is when parents not only become overbearing but a ginormous cushion, where children become more and more trapped in a comfort zone artificially created by you.
Helicopter parenting can hinder this growth in their child, making them less social hampering their overall well-being. Letting your children make age-appropriate choices, letting them fail, letting them deal with consequences of their choices only make you a better parent and them more responsible and independent beings.
Sometimes, letting go is a better parenting skills than smothering.
Share this article on
Want to have a happier, healthier marriage?
If you feel disconnected or frustrated about the state of your marriage but want to avoid separation and/or divorce, the marriage.com course meant for married couples is an excellent resource to help you overcome the most challenging aspects of being married.
More On This Topic
You May Also Like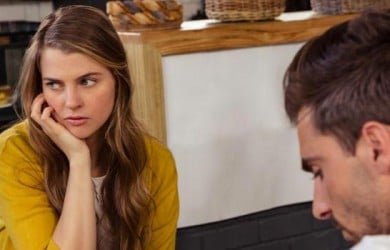 Popular Topics On Married Life