7 Tips to Prepare Your Daughter for Her Own Family
Starting a family can be super rewarding – and in fact, if you're preparing your child for starting a family then you're no stranger to the process yourself. At the same time though, it's a bad idea to go in blind, which is why it falls to you as a parent to help them to prepare for this important next step.
To a certain extent, it's important to allow your children to make their own mistakes so that they can learn from them. At the same time though, you also need to know when to step back and to allow them to make their own decisions, even if it feels counterproductive or if it hurts.
The good news is that you don't have to figure it out on your own because we've done the research for you to identify just a few of the best tips there are to prepare your daughter to start her own family and how to raise a successful and happy child. Let's get started.
One of the best ways to help to prepare your daughter is to share your own experiences of when you gave birth to her.
Relating the advice you share back to your own personal experiences can help to make it seem more relevant, and you'll also be engaging her on a subject that she's automatically interested in because we're all inherently interested in ourselves and our own life stories.
2. Teach them basic life skills
Running a family requires everything from financial and time planning skills to the ability to carry out housework tasks and to manage and pay bills.
We tend to pick up these life skills as we go, but you can give your kids a boost by specifically teaching them basic life skills, even if that's by having them shadow you as you go around the house and learning from what you do.
3. Encourage them to provide for themselves
When we're watching our kids go out into the big, wide world, there's a tendency to want to help them out as much as possible.
In many instances, this means sending them money or otherwise providing for them, and while it's only natural to do this when you need to, it's a bad idea to allow them to rely on it.
Instead, you need to push them to fend for and provide for themselves.
Parents who do everything for their child may not be truly assisting in growing.
4. Develop their confidence
Confidence is vital if we want to be successful in life. It helps us to make a good impression at job interviews, to ask people out and to try new things.
As a parent, your job has always been to help to develop your children's confidence, but it becomes even more important when they're starting a family because they'll be facing more challenges than ever, often for the first time.
When you prepare your child for life you must inculcate this value. Don't let their confidence turn into narcissism.
5. Encourage humility
Confidence is one thing, but overconfidence and cockiness are quite another. That's why as well as encouraging self-confidence, you should also teach humility.
Humility is like empathy and other natural emotions in that if you don't develop a healthy sense of it, people will notice and they'll spot that something's not quite right about you.
6. Communicate
Communication is key for any type of relationship, but it's arguably even more important for parent-daughter relationships. You need to make sure that your daughter feels as though no topic is off limits and that she can chat to you about anything.
A big part of communication is knowing when to listen, so don't be afraid to sit back and to listen instead of trying to constantly provide suggestions.
7. Teach them about nutrition
They say that you are what you eat, and while it might sound cheesy, it's also true. By teaching your kids about nutrition – or even better, by leading by example, you can increase the chances of them living long and healthy lives.
It becomes even more important if they have children of their own because all of a sudden they're feeding multiple generations.
Conclusion
Now that you know you have prepared your daughter for how to start her own family and how to raise successful adults, the next step is for you to put some of these tips and tricks into practice. If you haven't already, carve out some time to sit down with your daughter and to talk to her to establish the flow of communication. Consider sharing this article with her while you're at it.
Remember that at the end of the day, all you can do is provide advice, and it's up to your daughter whether she decides to follow it or not. She has her own life to live and while you can do your best to help her to live it, you can't make decisions for her.
Still, if you follow the tips in this article then you'll be off to a good start, and really that's all you can do. You need to provide a supportive platform so that your daughter knows that if she ever needs help, she can turn to you. Good luck
Share this article on
Want to have a happier, healthier marriage?
If you feel disconnected or frustrated about the state of your marriage but want to avoid separation and/or divorce, the marriage.com course meant for married couples is an excellent resource to help you overcome the most challenging aspects of being married.
More On This Topic
You May Also Like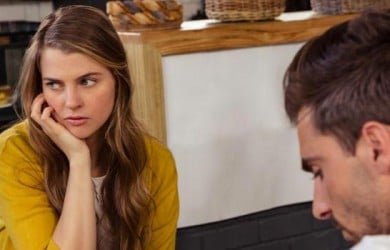 Popular Topics On Married Life