Pros And Cons Of Gay Marriage
Since gay marriage is such a polarizing subject, there must be some pros and cons to the topic itself. If there weren't any gay marriages, then everyone would probably agree to be for it or go against it. As with any divisive topic of conversation, it's important to consider all sides of the debate.
There are several big pieces of this debate that generally draw the line in the sand of which side you stand on. Let's take a look at what these points are and take a look at the issue from both sides of that line in the sand.
1. Parenthood
Pro
There's no research that shows that gay men and women would be any better or worse in parenthood than their heterosexual friends. A parent's job is to love, guide, and protect their children as they grow up, and it's unfair to think that same-sex couples wouldn't be able to do this effectively. One could argue that they think gay people wouldn't be good parents because it's a foreign concept, and the little knowledge about the circumstance makes them hesitant to be supportive. But gay men and women have been raising children for years in and out of wedlock. The planet hasn't been any better or worse because of it. Same-sex couples can and will continue to do just fine as parents.
Con
There is something to say about the masculine and feminine dynamics of a traditional, heterosexual co-parenting situation. It's important that a child sees both sexes and experiences the yin and yang of their complementary approaches to parenting. This is not to say that same-sex couples wouldn't be able to provide that; they could bring in a person of the opposite sex (a friend or family member) to play that role for their kid. It's just that a heterosexual couple has the male and female structure already embedded in their relationship.
2. Procreation
Now, I know that procreation seems pretty well aligned to parenthood, but I feel that it's a separate topic for this particular issue.
Pro
When gay couples have a baby, whether it is through adoption or insemination, that child is wanted beyond belief. Those parents are going to be committed as parents and fully prepared to bring that baby into this world. There won't be any "mistakes" that fall through the cracks as the parents won't compromise on the upbringing of the child. Each and every child that is parented by a gay couple is going to be given more love than he'll probably be able to handle.
Con
Same-sex couples can't naturally procreate, so they are left to the devices of adoption and science. This isn't a huge problem since they, at the very least, have these options.
3. Equality
Pro
By legalizing gay marriage, the United States Government showed that they truly believe in equality for it's citizens. True equality may not come due to the slow moving course of public opinion, but the equality is in writing. We have seen how African-Americans, women, and other minorities of the population have legally been granted rights, but are still shunned socially. The law being passed is certainly a good step towards equality, but we'll see how it actually plays out over time.
Con
Some argue that if we allow same-sex couples their right to marry, this will open the door for other types of relationships that exist outside of the norm to get married as well. These people fear that it would be a slippery slope, allowing polygamous, incestual, or beastial relationships to eventually be granted their marriage rights. This is ridiculous, but hey, I said I'd play it from both sides.
4. Health Benefits
Pro
There is research that suggests that married individuals lead longer, healthier, and happier lives. Now that gay people can get married, they can enjoy this benefit of longevity and health. It's not as if marriage has an equal effect to diet and exercise, but the common bond between two people for a lifetime can reap more intangible benefits. Now these benefits are not closed off to those that are in same-sex relationships.
Con
None to speak of. No one will die directly because of a gay person getting married.
5. Religion
Pro
When the United States legalized gay marriage, they again solidified that the words written on the papers that started this country still ring true. Our founding fathers hoped for a separation of church and state so that the way of life and liberty doesn't get reflected by the God they believed in. There are religious institutions that speak loudly about their disagreement with gay marriage, and the government chose to decide in favor of their original separation.
Con
As stated before, there are religious institutions that don't believe in gay marriage; Christianity being the major religion opposed in the United States. With an easy majority of U.S. citizens identifying as Christians, this ruling went against what more than half of the country believes in. This is why the court of public opinion has been so slow to accept the legitimacy of same-sex marriage, even though there are laws written in black and white. This could also be the reason why the opposition to gay marriage stood for so long. With so many people in positions of power identified as Christians, it was hard to make a case for this ruling when those in charge didn't believe it was right. In the end, though, the government chose to rule in favor of what it had originally fought for: The separation of church and state.
As divisive as this topic is, the court of public opinion is slowly coming around. With more people being open and honest about their sexual orientation, the gay culture has been humanized. A few decades ago it was somewhat rare to know a gay man or woman because they kept to themselves. They didn't want any negative attention. But since the tides have turned and gay marriage has been legalized, more people are being open and honest about who and what they love. Once people begin to see that gay people aren't unlike anyone else, they will begin to understand why their right to marry is just as important as everyone else around them.
Share this article on
Want to have a happier, healthier marriage?
If you feel disconnected or frustrated about the state of your marriage but want to avoid separation and/or divorce, the marriage.com course meant for married couples is an excellent resource to help you overcome the most challenging aspects of being married.
More On This Topic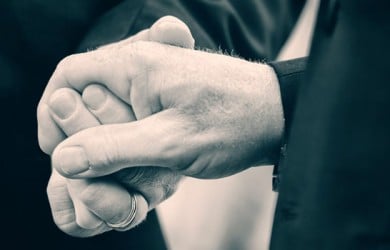 You May Also Like