All You Need to About the Sexual Orientation – Demisexuality
In today's world, there are many people who frequently jump between relationships. They are able to get out of one and get into a new one in no time.
Whereas, there are some people who take some time before getting into a relationship. For them, there are certain stages of relationship, which starts with by knowing each other and ends in a relationship.
A lot of new sexualities have emerged in the recent few decades, one of them is demisexuality. Let's understand what is it and how it is different from other sexualities.
What is demisexuality?
There are all sorts of people. Some are sexually active whereas some don't find anyone sexually attractive. Some find physical body attractive whereas there are others who find intellectuality sexual.
Demisexual definition states " it is a sexual orientation characterized by only experiencing sexual attraction after making a strong emotional connection with a specific person. A demisexual identity is a useful indicator for where a person might fall on the asexual spectrum."
Today, different sexualities have a unique flag that expresses their desire and sexual orientation. Like homosexual's flag is of rainbow colors, demisexual flag is made out of asexual colors just arranged differently.
The flag consists of black triangle coming out from the left side, a thick gray line at the bottom and a thick white line at the top, and a thin purple line in the middle.
Colors in this flag also have certain meaning. The color black represents asexuality whereas purple is for the community. The gray depicts 'Gray-ace' and white means the sexuality. The colors are similar to what's used in the asexual flag, only the arrangement differs.
Now, as you're clear with what does demisexual mean, let's look two major types.
Panromantic demisexual

:
Panromantic means those can develop romantic relationship with someone irrespective of the gender. They don't care if their partner is straight, gay, bisexual, transsexual or identify themselves differently.
Biromantic Demisexual
Biromantic people are those who are attracted to two or more gender. People falling under this category would like to romantically get involved with people from different gender only once they've established an emotional connect.
Some people often confuse this sexuality with other sexualities like pansexual or graysexual. The reason is these fall under similar category.
Let' have a look at the difference
Demisexual vs Pansexual

:
Let's understand the meaning of Pansexuality to understand the difference between the two. Pansexual people are those who find people attractive regardless of their gender. They can be attracted to an individual who is male, female, intersex, transgender, third gender, queer, or anything they identify themselves with.
However, this doesn't imply that they are ready to get involved with everyone.
They would like to get involved with someone whom they find attractive and interesting, but just won't care much about their gender.
Graysexual vs Demisexual

:
Gray sexuality is a spectrum between asexualityand sexuality. Graysexual people will occasionally experience the sexual attraction. Demisexuality falls in this category and was coined in 2008.
Demisexual Test: Signs you're one
It's okay to be confused. So, here are some signs that will help you clarify your doubts. Let's have a look at them.
1. Friendship –
They start their relationship by knowing a person. They are not comfortable getting sexual with someone without being emotionally attached to them.
So, the best way to identify this is to look at your past relationships or liking. If you think your past relationship started off with friendship or someone with whom you had an emotional connect, than you fall into this group.
2. First date pressure –
People from other group are okay with their first date but when it comes to people belonging to this sexuality they find themselves buried under an immense pressure on their first date.
This is because your entire focus is how to take things forward post the date. You might even end up taking a lot of advice from your peers.
3. No physical intimacy –
Whilst most people might think of getting physical on dates, you're concentrated on having a nice conversation. You would like to know a person well, connect with them through common liking and interest.
Physical intimacy is not at all your priority while dating someone.
4. No checking out –
It's quite common to check out people. Whilst others might find someone physically hot and beautiful, you are not interested in their physical presence at all. In fact, you're far more interested about someone's personality than physical self.
5. A passing thought of sex –
You do feel sexual towards someone but it's just a passing thought. You may find someone attractive for a few seconds but then suddenly would find yourself out of that thought.
For you, emotional intimacy is far important than physical attraction.
6. Don't flirt –
Flirting with a total stranger is not your thing. You don't find this idea satisfying. You may connect with strangers and exchange a few words but you're not the flirting type.
6. Sex isn't everything –
Whilst most people around you might feel the urge to have sex regularly, you're one of those exceptions who find it unnecessary. For you, sex is secondary. Primary is emotional connect.
By now you must have understood the meaning of demisexuality and how to identify if you're one of them. It is ok to be one. Don't be upset if you're not feeling like your peers. You're absolutely normal. Cherish this!
Share this article on
Want to have a happier, healthier marriage?
If you feel disconnected or frustrated about the state of your marriage but want to avoid separation and/or divorce, the marriage.com course meant for married couples is an excellent resource to help you overcome the most challenging aspects of being married.
More On This Topic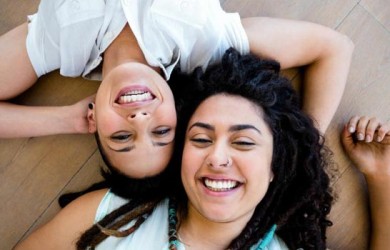 You May Also Like