Life Planning: What Do You Get When You Fall in Love
Love and the dynamics of falling in love have captured the imagination of history's best artists, philosophers, and creatives. Pretty much anyone with half a brain has thought deeply about love. And, all of them have wondered what do you get when you fall in love.
Here's the clincher for you, the reader.
There are so many variations of romantic love that there's really no way to describe it accurately. That is why even if the best creative minds of all time wrote something about it, we are still baffled about it today, as they were in their days.
But since you are already here, and this is marriage.com, let us give it a try. What do you get when you fall in love?
When you fall In love
The important question here is when you fall in love or how soon do you fall in love.
The funny thing about love is that you don't get to choose who you fall in love with. It can be that handsome playboy that's been known to kiss and tell or the queen bitch that treats all men like dirt.
And, you can never say how fast can you be in love – It can happen instantaneously or can years to build up.
The next thing in line to consider is what's it like to fall in love.
The answer differs from person to person. Some will move forward and give it everything they have for their affection reciprocated. Others will feel weak and embarrassed, while a few others will simply be content admiring a person from afar.
So know thyself.
What happens to you when you like someone? What do you get when you fall in love? Do you act normal around them, or is something different about you? Ask yourself and your close friends.
There are times when others see things in you that you don't see yourself, especially if you are naturally dense or just bat-shit crazy when in love.
The problem is we are unsure about the difference existing between love, lust, and infatuation. There's a funny way of doing it.
If you fall in love, you care about the entire person and their future. If you masturbate thinking about the worst thing concerning that person, or if you feel you want them more after orgasm, that means your either infatuated or in love.
It could also mean that you're an obsessed stalker weirdo, so it's not really foolproof.
There is only one real proof if you're truly in love. You won't know it until you are in a relationship with the person.
True love happens not under stars, or the sunset, or the mistletoe. It happens when shit hits the fan.
When things are so bad, you want to die, but you can't leave your partner alone. Only then can you step over the line of infatuation/attraction and true love.
Can I fall in love?
It's a legitimate question. Especially if you're a worthless bastard who spent your life taking advantage of other people. However, the short answer is yes. Anyone can fall in love. It can happen anytime with to person.
In case you are wondering, how does one fall in love? It just happens. Yeah, life is like that. You can look for it and not find it, or you can do nothing, and it will come to you. It sucks, so don't bother putting up an effort to find love.
When you find love, that doesn't mean the other person feels the same. That's another problem with the love question – what do you get when you fall in love?
The person you fall in love with can be your relative, already married, or the same gender. It happens, it's up to you if you wish to pursue your passion or leave it be.
What to do when you fall in love
If we return to the original question on what do you get when you fall in love, the answer depends on what you do with it. It doesn't matter how do you fall in love, with whom, and why.
You can either get nothing, crushing pain, a complicated development, or a blissful life. The first part is you. Are you old enough to be in a relationship? Are you currently in a commitment? Is your life stable? Or, what do you get when you fall in love?
Falling in love can happen to anyone at any time, but if you can't even take care of yourself, all your doing is creating trouble for you and the person you like.
Half the story of every endeavor, such as business, war, and love, relies on the protagonist. Your capabilities and personality will determine everything. If you are interested in Megan Fox, you have to be Brian Austin Green.
Bossy CEO stories do not happen in real life.
What do you get when you fall in love? What you deserve. You may be a dashing beautiful woman that loves your man deeply, but you can be a total idiot when it comes to relationships, and you might end up in codependency.
If you are a total asshole that looks like a bullfrog, but you have a fat wallet, then it's possible to get a hot young woman (or more than one) with no other redeeming qualities.
But who are we to judge? There is no rhyme or reason why two people fall in love and end up together.
Staying together is always a harder challenge, even among compatible mates.
How do I get the partner of my dreams
If you're interested in catching the biggest fish in the sea, you have to be the best fisherman in the ocean. It's that simple.
Love is a two-way street. The attraction is based on desirable traits. The more attractive you are to the opposite sex, the more likely they will be captivated by you.
Love comes later.
Being in love is not a matter of choice. Some researchers believe love is an illusion created by the brain for the survival of the species.
You may think you are already in love, but it's easy to believe it when everything is going well. But love isn't about admiring the good traits and tolerating the bad, it's about putting the other person on a pedestal above blood and grime.
Once you are in love, you will know the true meaning of sacrifice. So, to answer your question; what do you get when you fall in love, you are ready to slice your throat and be happy about it.
Share this article on
Want to have a happier, healthier marriage?
If you feel disconnected or frustrated about the state of your marriage but want to avoid separation and/or divorce, the marriage.com course meant for married couples is an excellent resource to help you overcome the most challenging aspects of being married.
More On This Topic
You May Also Like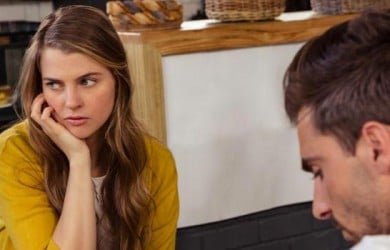 Popular Topics On Married Life