8 Interesting Strategies To Make Your Marriage Stronger
Marriages and long-term relationships are as unique and wonderful as each individual who has ever enjoyed a long-term relationship. However, it's not always easy to maintain a strong marriage – it requires work, constantly.
But if you can pay attention to maintaining a strong marriage, and you are willing to put in the work then you are going to have a wonderful life and reap the rewards continuously for your efforts.
Here are some ideas on how to make your marriage stronger (also useful for long-term relationships, Husbands and anybody who is about to get married).
1. Make maintaining a strong marriage your top priority
Make sure you pay attention to your marriage every single day – yes every single day. That way you'll never drift apart because you don't allow life to cause you to forget to work on making your marriage stronger every single day.
2. Maintain a daily dose of love and respect for each other
Practice kindness, and forgiveness too. If you are both expressing your love, compassion, and respect for each other and you are kind to each other, you'll never be able to do anything but be loving, respectful and kind. And that's pretty special. To use this strategy to make your marriage stronger, make sure you remind yourself to do this daily. Even when the chips are down.
3. Never forget why you married in the first place
Remind yourself daily why you married your husband or wife, remember why you love their little idiosyncrasies – even if they are driving you crazy right now. Remembering to remember these things, especially when you are in a loving state makes it impossible to drift apart from anybody (especially if both parties are practicing this strategy).
Be grateful for your love and relationship and hang onto that. Doing so every day will make your marriage stronger every day – even if you didn't think you could make it any stronger.
4. Take care of your 'self' work on yourself, address your need
We don't just mean physically, but also emotionally, and mentally. But that doesn't mean that you should look to your Husband or Wife to fulfil these needs. Instead, look at yourself and seek to understand why you need those things.
You might find you don't need some of them anymore, after closer inspection. And you will be able to understand why you need the things that you do need. Making it easier to explain to your Husband or Wife why you need them too. So that you can help your partner to understand what is really important to you and why.
Sometimes, when we want something, but cannot have it, we may project this sense of lack onto those closest to us and blame them for letting us down. Such as having a dream of a 'happy family life', realising that the reality of a 'happy family life' isn't anywhere near the fairytales we imagined and then blaming our husband, or wife for letting us down and not stepping up.
Or, spending too much time away from the family home, because you think your Husband or Wife is stifling us and you need space. When really, you have a personal issue with sharing your space that you need to reconcile.
We don't mean to project these issues out onto those close to us, it's just a natural phenomenon. Being mindful about it, and aware when it happens, particularly when it comes to managing your desires and expectations, will help to make your marriage stronger because you'll avoid the conflict that is likely to ensue as a result of this type of projection.
5. Respect each other's needs
If you're are in a loving marriage, and your partners, in their attempts to make your marriage stronger has worked on their self-development and has expressed that there are some things that they need. Even if you don't understand fully 'why', give them the space to do what they need (as long as it fits in with your relationship boundaries – discussed later). If you find that you are feeling a sense of lack somehow because your partner is distracted, see points 1-4! And get to work on yourself.
6. Set clear relationship boundaries
Discuss what aspects of life is a deal breaker for you, in advance. Agree to a set of boundaries around your 'deal breakers', so that you both understand where the lines are.
This will make your marriage stronger because you won't unconsciously walk into a problem, and similarly, each partner won't use the excuse that they didn't know that something was a problem (creating personal responsibility). This makes discussing any breaches of the relationship boundaries, and the implications of any breach a little clearer and easier to understand what they need to do for each other. Hint! Ideally, you don't want to breach the boundaries! Especially if you want to maintain a strong relationship.
7. Invest in your relationship with your partners family
And respect each other's need for time away from the relationship with friends and family.
8. Make time for each other
Enjoy a date night, take out some family time, go for walks, meals and develop strategies for what to do when the conversation might run dry.
Bottom line
Keep investing in your relationship, even when you have children. You are a family, but you are also a couple within that family having a different relationship than the one you have as a family. Understanding the differences and working on both will keep you both tight as a couple and strengthen your marriage.
Share this article on
Want to have a happier, healthier marriage?
If you feel disconnected or frustrated about the state of your marriage but want to avoid separation and/or divorce, the marriage.com course meant for married couples is an excellent resource to help you overcome the most challenging aspects of being married.
More On This Topic
You May Also Like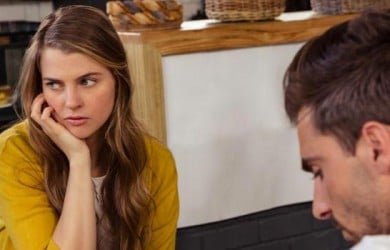 Popular Topics On Married Life