5 Essential Tips to Stay Connected With Your Partner During the Coronavirus Lockdown
How are you and your partner holding up during such crazy times we're living in now? Are you able to stay connected with your partner, or are you having tough times in your relationship?
Perhaps you might be getting tired of even hearing them breathe!
Is the coronavirus lockdown making you notice certain traits in your partner that you didn't see before? You are so tired of them now to the point that you want to separate?
Well, now, you're not alone. In China, once everyone returned to their daily routines from the quarantine, a rising trend in divorce rates was observed.
And by the looks of it, United States divorce rates are right behind them. To make things worse domestic violence rates are rising in the U.S.
People are struggling with social isolation and being around their partners 24/7. Also, you might not be liking your partner as much as before this shutdown happened.
But, if you love your partner and want to stay with them, how do you both stop getting on each other's nerves? How can you stay connected with your partner amid all this chaos?
If you are worrying that this coronavirus lockdown is putting a strain on your relationship connection, try these five tips to stay connected with your partner. These tips can help you strengthen your marriage.
1.Spend quality time together
Yes, you're around each other more, but are you spending quality time together? There is a difference between being around someone and spending time.
Spending time as a couple vs. forced to be around each other.
Spending time with your partner-
Both partners are happy

You do more than just sex

There is a connection

Communication improves

The chemistry seems magical
Forced to be around-
You are only around them because there is no other way out

There is no communication, or only one person does the talking

You become annoyed if you have to be around each other for longer than 15 minutes. You do nothing creative or constructive together, and everything is about sex.

There's no real relationship connection
How to spend quality time
So, how to connect with your partner on a deeper level? How to get through tough times in a relationship?
Plan your day and try to spend at least 30 minutes of alone time with your partner.
Figure out what you're going to do, or you can even choose to be spontaneous. Try to come up with more than just watching a boring old movie.
Here are a few activities to connect with your partner.
Play board games

Play card games (

tip: a

dult board and card games are better)

Take a walk outside

Go on a drive together

Spend time together in the backyard staring at the stars

Cook together or have a cooking contest

Leave love notes around the house

Compliment their appearance, personality, or accomplishments

Ask them questions about themselves

Play video games (put in something)
Remember to open up and communicate about your day, or even something that happens on the news in order to stay connected with your partner.
2. Find time to be more intimate
All couples need alone time, and there is nothing wrong with wanting so. This is how you keep your connection strong and growing.
Having kids and being around kids all the time may seem as though it is designated to ruin your sex life, but it's not so. You just have to schedule it into your free time.
There are plenty of quick and fun ways to stay connected with your partner and boost intimacy between the two of you.
You can stay up late or wake up earlier to have some intimate time together. Fight the sleep for a little fun.

Be creative- there may be times when you have to get a quickie in when your kids are still awake as long as they are safe and busy.

Don't be ashamed and feel as though you're a terrible parent. If you must get a 10-minute quickie in at the kitchen while the babies are napping, then by all means go for it!

When you are away or merely in different rooms, you can text each other. You can be boring and send a regular 'I love you' text, or you can indulge in some

naughty sexting

.

Also, don't be shy or afraid to ask for sex. You can choose to drop hints that you want it.

You can choose to go to bed wearing a nightgown with no panties. Your partner will love the surprise of rubbing up against your legs, noticing what you forgot to put on.

Tease your partner- Just because you are married or been together for a while, it doesn't mean you have to stop playing cat and mouse.

Tease your partner throughout the day by randomly kissing them on the neck or rubbing their shoulders.

Give your partner a massage

– Everyone loves a good rub down. It'll help them relax and save energy for the fun part of intimacy.

Also, it doesn't always have to be about sex when initiating intimacy. There are ways to stay connected with your partner without having sex.

Simply hold hands and look into each other's eyes.

Hold a good conversation

Gently touch each other in places that often go ignored.

Pretend to be a new couple and make-out.

Again adult board games are perfect for couples to play when trying to form a connection. It helps you have fun together and release stress.
3. Be kind to your partner
Are you talking to your partner in a more rude tone since the coronavirus lockdown? You may be coming off meaner than before and not realizing it.
Take the time to be kind to your partner. Here are some ways:
Give them more privacy and alone time.

If there are specific tasks that they do all the time, try doing it for them sometimes. Such as cooking, cleaning, or even walking the dogs.

Listen to them

when they are talking to you.

Try not to snap at them when you are already upset.

Show affection.

Create a love language between the two of you.

Kiss them on the cheek, rub his shoulders, or simply hug him.

Learn to disagree the right way.

Pay attention to their dreams and support them.
4. Exercise together
Have you ever tried working out with your partner? This is one of the best ways to stay connected with your partner.
Some of them are as follows.
Relieving stress together

Spending quality time together

Having a motivation buddy
Now, here are some exercise ideas for couples.
Go on a long walk, or jogging in a park(sounds cheesy but it's better than being in the house)

Try couples yoga

Play a sport- basketball is great for couples to play together!

Create an active

date night

.
Watch this video to get inspired by some interesting couple's workout routine ideas:
5. Value alone time
Of course, spending too much time together can have a downside.
And, this is the time to emphasize on your alone time. Find the time to do what is enjoyable and let your partner find time for themselves as well.
This will allow both of you to miss each other. Even with both of you in the same household 24/7, this is still possible.
At the end of the day…
Being stuck at home with your partner during the coronavirus lockdown doesn't have to be a distressing experience. You can stay connected with your partner and have a good time if you look at it with a positive mindset.
This is an excellent time for you and your partner to take a break from your otherwise busy life and enjoy being with each other. So, take this unique opportunity to stay connected with your partner!
Share this article on
Want to have a happier, healthier marriage?
If you feel disconnected or frustrated about the state of your marriage but want to avoid separation and/or divorce, the marriage.com course meant for married couples is an excellent resource to help you overcome the most challenging aspects of being married.
More On This Topic
You May Also Like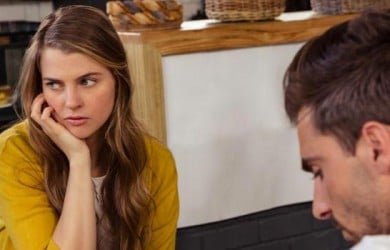 Popular Topics On Married Life