Pros and Cons of Married Couples Working Together
The modern-day couples always complain about how they do not have enough time left to spend with each other. Sometimes different work shifts, and if not that, there's always post-work exhaustion. The only time they're left with is the weekend, that always seems to fly by in a jiffy.
These problems lead to the classical (and somewhat cliched) issue of maintaining the right work-life balance. And most couples, much as they try, never seem to hit that sweet spot between work and life. The one solution to this modern-day crisis in romance is working with your spouse. Whether it is opening a business together, or finding a job in the same company, spouses working together have more time to spend with each other.
Of course, the roles in the workplace are different than that inside the home, but you still have that added advantage of spending time with your better half in some way or another. However, just like everything else, this too has its pros and cons.
Point to note: there are more pros than there are cons, so read along!
Better communication
The best part about working in the same office as your spouse is the commute to work. What otherwise would be a long, mundane ride now becomes a ride full of conversations. You will be able to discuss everything that you need to as a couple. From sharing countless ideas with each other about outer space and politics to discuss the new maid or renovation work that has to be done in the bedroom, communicating while commuting is just the best thing that could happen to you.
After the work hours, you can discuss how the day went and what were the challenges that you faced. You can vent out all the frustration that might be accumulating in you due to the work pressure. Just the assurance that you have someone who'll listen to you, and share your problems is a great consolation in the face of adversities. After you let out your frustration in the car, you can go home in a more relaxed state of mind to play with your kids/dogs/cats/or each other.
Your spouse can relate to all your problems
This is kind of an extension to the first point. Earlier, if you two had a good rapport and smooth conversation, you will still only relate to each other's personal problems. After you start working together, your lives truly merge together. Now you can understand each other's problems in a better light. You will know the kind of professional problems your spouse is facing, and they'll know about you. Similarly, you can give them a more informed professional and personal advice, which you couldn't have if you weren't working together.
You will at least have one person who'll always be there for you
Let's admit it: offices can become a difficult environment after a point. With all the office politics and competition going on, you need someone to be at your side at all times. And who better than your spouse for this situation? Amid all the politics around, you at least have one loyal companion, which is a huge boost considering how everyone is there only for themselves, competing alone. You, however, are a tag-team!
Planning vacations together
Not being able to take good vacations is a huge setback when couples work in different offices. Somehow, the holidays never seem to match. When you are free, your spouse has to work and likewise in their case. You end up postponing your travel plans, till they never materialize. When you start working together, the vacations become almost a guarantee. You can plan your dates better (even if you have different job roles,), and ask for holidays at the same time — your bosses will also understand why you want the same dates.
Not just vacations, planning any kind of outing becomes better when couples work together; whether it is a cousin's wedding, or a Friday night shopping spree.
Better overall understanding
In the bottom line, couples who work together have a better understanding than couples who don't. It's as simple as that. You're literally spending all your time together. Even with the fights and arguments, you will end up understanding your spouse's mental state better than when you didn't know what they were up to half the time when you worked in different offices.
Cons:
No personal space
Obvious, isn't it? Well, it is one of the first cons that come with the territory. You just won't have any personal space. It is as self-explanatory as it gets. If you're one of those who needs their warm, personal space, working with your couple is not the best idea for you.
You will take your work home
Suppose you have an argument in your office premise regarding work. If you were mere colleagues, the argument would cease to exist outside the office premise. But since you are a couple, you'll invariably take the conflict home. This can disrupt the positive energy in your home. Since the lines between work and home become so blurred, it gets almost impossible to separate the two.
The brutal truth about couples working in the same office is that other people kind of ostracise them. They just don't know how to react. Befriending a married couple, both at the same time is very difficult. You cease to be a single entity. They look at you as a couple. They talk with you as a couple. And there is a lot of self-censoring that goes on in their minds. It makes it very difficult for them to interact with you. This results in the lack of a social life, which is an active part of the corporate culture.
Possibility of being bored with your partner
I'm not saying this WILL happen, but it most definitely can. Think about it: you're with this same person all throughout the day, every day. How much can you possibly talk? How interesting will it remain after a point? However, not a major one, it still is a pretty valid demerit.
Conclusion
Finally, the pros of married couples working together far outweigh the cons. Of course you'd have to make some sacrifices and adjustments, but in the end, it will be all worth it.
Share this article on
Want to have a happier, healthier marriage?
If you feel disconnected or frustrated about the state of your marriage but want to avoid separation and/or divorce, the marriage.com course meant for married couples is an excellent resource to help you overcome the most challenging aspects of being married.
More On This Topic
You May Also Like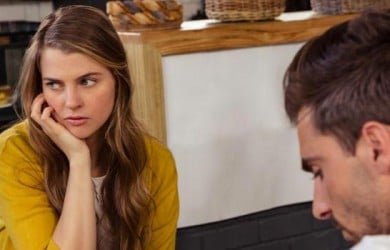 Popular Topics On Married Life