How To Make Your Spouse Your Best Friend: 10 Ways
We are all looking for good friends who can last us a lifetime and be our partners in crime in whatever we do.
Sometimes, we are fortunate enough to find them, and other times the search is still on. We all need a friend who can share our deepest secrets, thoughts, and desires and won't judge or undermine us. This friend is your go-to person when times are rough or when things are exciting, or when you need crucial advice on a subject close to your heart.
Can you zero in on a person who can be all of the above and the one you can trust completely?
Related Reading: 

The Importance of Friends After Marriage
How to make your spouse your best friend: 10 ways
Have you ever thought that your spouse could be that special friend in your life? Your answer should be yes! And if not, let's figure out how to make your spouse your best friend. Remember, it's a two-way street, and you need to invest in this relationship to get desired results.
1. Spend quality time together
Go out for events or just outings like you would go with friends. Make memories, and spend carefree moments regardless of anything else. Both of you should return home with a mutual feeling of contentment and oozing happiness from that time spent together.
Related Reading: 

15 Reasons Why Quality Time Is So Important in a Relationship
2. Find common hobbies
As one of the tips for how to make your spouse your best friend, you need to develop some interests that both of you enjoy indulging in. You may have to adjust yourself to liking such an activity, but it will be worth the effort.
t will help you learn more about other sides of your partner that you never knew, just like it is with friendships. Doing a shared activity helps form bonds.
A 2015 study on joint attention, shared goals and social bonding conducted by the University of Oxford has shown that people can form bonding if they perform certain activities together, even with minimal interaction.
3. Be gentle and kind with each other
Conflicts will happen and should happen. Take them as an opportunity to know each other and yourself better. In all such situations and anything else, remember to be kind and gentle with each other and make your partner your best friend. Always remember to reciprocate the sentiment that you would want for yourself.
Marriage researcher Terri Orbuch, the author of 5 Simple Steps to Take Your Marriage From Good to Great, conducted a study with 373 couples for over 28 years. The results of this study pointed out that frequent small acts of kindness rather than rare grand gestures create more happiness in a relationship.
We may have conflicts with friends, but we are gentle with each other because we value their friendship at the end of the day. Why should it be any different for your spouse?
4. Follow some daily habits together
So, how to be your partner's best friend?
Meeting up with friends daily and following any ritual consistently helps you grow close. Similarly, make it a point to set up a habit that both of you can follow religiously day after day, so much so that a day without this habit looks incomplete and uneventful.
Some examples of these include:
Checking in with each other at least once throughout the day

Having morning and night rituals to greet your spouse

Having moments where you spoil your partner

Sharing funny texts, videos, or links with your partner

Expressing love in your partner's love language
5. Don't undermine the value of communication
While it is important to know when to draw a line and limit some things in life, it is generally advisable to communicate freely to rule out any chances of discord or discontent.
For any genuine friendship to blossom, it is important to be able to talk about anything under the sun without any apprehensions. Effective communication also ensures that both of you are honest and trust each other completely.
In the video below, Jimmy Evans lays out great principles for good communication skills in marriage. He says communication is the most obvious way of building meaningful relationships. He discloses 5 standards we set in our marriage for effective communication:
6. Show you care
It is perhaps most important to show you care. The unsaid isn't always understood, in fact, it is in the best interest that you let your spouse know their absolute importance in your life.
Many relationships fizzle out before their time just because the parties involved never realized each other's worth. Such small gestures go a long way in forming bonds that rise above common, menial issues of life.
7. Listen more
One of the simplest things you can do to make your spouse feel appreciated is listen more. Whether you're talking about the weather, their day, or anything else that comes up, give your spouse your full attention and let them know that you are genuinely interested in what they have to say.
In this video, you're going to learn 4 listening skills that will not only make you a better listener, but a better lover. Check it out:
8. Take an interest in their interests
If you want your spouse to be your best friend, you should make an effort to learn more about the things that interest them. For example, if your spouse loves sports, ask them about their favorite teams and players and try to keep up with the latest news and scores. Asking questions like these is a great way to show interest in your spouse's hobbies and interests and make them feel special.
9. Help out around the house
Spending time together is important in any relationship, but it is especially important in marriage. Making an effort to help out around the house from time to time will help make your spouse feel more loved and appreciated.
Related Reading: 

20 Steps to Becoming a Supportive Partner
10. Have date nights
Spending some time alone together is important for a marriage to grow strong. Having regular date nights is an important part of this process and should be a priority for you and your spouse. Try to set aside one night a week to reconnect with each other and enjoy an activity or meal together.
Can your spouse be your best friend?
So, should your spouse be your best friend? For many couples, the answer is yes. When your spouse becomes a close friend, they offer support and understanding during times of difficulty.
The bond between partners can be incredibly beneficial, providing emotional support that goes beyond simply being there for each other. This can make it easier to navigate difficult times together..
Your partner should be your best friend. However, it is important to ensure that the friendship in marriage does not interfere with your intimacy with your spouse. The key to making this work is to have a clear understanding of what you expect from your friendship and to be mindful of how you treat each other.
Related Reading: 

5 Secrets to Becoming Your Spouse's Best Friend
Can marriage survive without friendship?
We all know that marriage is a difficult commitment. You pledge to love and support each other through thick and thin, for better or worse. But what happens when one of you falls out of love? What if your friendship fades away over time?
According to 1 Corinthians 13:4-8,
"Love is patient, love is kind. It does not envy, it does not boast, it is not proud. It is not rude, it is not self-seeking, it is not easily angered, it keeps no record of wrongs. Love does not delight in evil but rejoices with the truth. It always protects, always trusts, always hopes, always perseveres."
Marriage without friendship is not possible! However, it is possible for your relationship to survive without friendship. Friendship will sustain your marriage through the good and bad times.
Know more about it here: 

Can Marriage Survive Without Friendship?
Final thoughts
Best friends are rare to find but so are partners for a lifetime. If you are willing to invest time, patience, love, and trust in the bond you share with your spouse, you could be lucky enough to make your spouse your best friend.
Share this article on
Want to have a happier, healthier marriage?
If you feel disconnected or frustrated about the state of your marriage but want to avoid separation and/or divorce, the marriage.com course meant for married couples is an excellent resource to help you overcome the most challenging aspects of being married.
More On This Topic
You May Also Like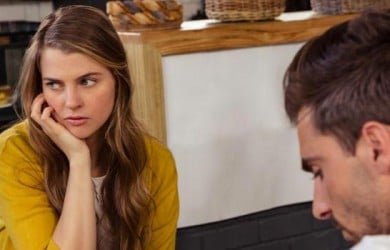 Popular Topics On Married Life