Signing a Prenuptial Agreement: Everything You Need to Know
No one plans their wedding day to include time to sign a contract to be used if they get divorced in the future, but maybe they should. Because practically, the future is uncertain. Do prenups make divorce easier? Yes, I found this out the hard way after eight years of marriage ended in an expensive and volatile divorce.
A prenuptial agreement is one of the most effective ways to provide you both with protection if things didn't work out. Why should you sign a prenup? While they're most commonly used during divorces, signing a prenup before marriage is useful for a variety of other family or personal issues that could occur during the marriage such as estate planning or inheritance money.
What is a Prenuptial Agreement in Marriage?
A premarital or prenuptial agreement is a legally binding contract that provides specific instructions during divorce proceedings at any time in the future. A prenup records all of the assets, debts, and finances brought into the marriage by each person and states how they would be divided up in a separation.
These agreements can also be used during the course of your marriage for a range of other issues that may come up.
Many people believe that prenuptial agreements are an indication that one person is not really committed, which ultimately dooms the relationship. But in reality, a prenup puts all the cards down onto the table, which opens up communication to discuss issues and clarify any uncertainties.
This is the type of honesty that would be likely to strengthen a relationship. Prenuptial agreements can be created at any time before or during marriages or de facto relationships and should be discussed and considered by all couples who decide to commit to each other.
What does a Prenuptial Agreement cover?
There are no one-size-fits-all prenuptial agreements. Prenups are individually tailored to suit specific circumstances, taking into consideration the social and financial situation of each person in the marriage. If you wonder what is the purpose of a prenup, it is important as it can protect most assets like money, superannuation, investments, real estate, pension entitlements, and future inheritances.
Signing a prenup covers any obligations regarding liabilities such as unpaid debts.
Such agreements include standard divorce terms outlining how assets would be split, but they can also dictate who would keep a family pet. Due to each relationship's evolving nature, it is also important to consider any future possibilities such as asset purchases as well as any children.
In today's online and smartphone world, some couples have even included some specific provisions which prevent the use of social media to post derogatory remarks or share intimate details during the divorce proceedings.
Does it cover child custody or support?
Section 90E of the Australian Family Law Act of 1975 does state that prenuptial agreements can be used to provide child support legally, but there are some conditions. The child must already have been born, given a name, and the exact amount of money required for maintenance must be included in the agreement.
It should also be noted that the judge can override terms for any financial agreement, including prenups. This is because the courts always have the final say in family law matters regarding children based on the child's needs as well as what's in their best interest. While many factors might come in to play, such agreements do not have the power to overrule any decision of the court, so judges would be very unlikely to use a prenup to help them make their decision.
Why do you need a family law specialist?
The Family Court can overturn prenuptial agreements if they don't meet the strict criteria required for them to be legally binding. The contracts must have been signed by both parties to indicate that they have both had some independent legal advice. There also needs to be a statement from a legal practitioner pointing out the rights of each party, including the prenuptial agreement cost, advantages & disadvantages, whether or not the agreement was necessary, as well as whether all of the agreement's provisions are both just and equitable.
Such agreements have the added benefit of still being used as a legally binding document which survives after your death, allowing for the protection of any assets for the sole benefit of any children or heirs. This is also governed by section 90H of the Family Law Act of 1975 which makes them binding upon legal personal representatives of the estate.
What happens if you get divorced?
Prenup agreements are legally binding during a divorce in Australia, no matter what state the proceedings occur. As long as both parties have been advised independently regarding the consequences and there's been no duress or fraud used when creating it, these contracts generally hold up in court. That being said, there are some specific occasions when a prenup may be ignored completely by the judge.
Prenups are one of the most useful legal tools available for couples who are getting married. A legally binding prenup benefits you, your partner, and your marriage as a whole.
In this video, Vikki Ziegler, a divorce attorney, explains why everyone should consider a prenuptial agreement.
So, take it from someone who got married without once and lost almost everything less than a decade later. It doesn't matter how much you're in love or how certain you are that your marriage is going to last; you should consider the benefits of getting a prenuptial agreement.
Share this article on
Planning to get married?
Just engaged or contemplating marriage? Discover how to transition smoothly into the next phase of your relationship with Marriage.com's Pre-Marriage Course. Begin your incredible journey with this guide designed by experts and lay a strong foundation for your path of togetherness - forever!
More On This Topic
Recent Articles
You May Also Like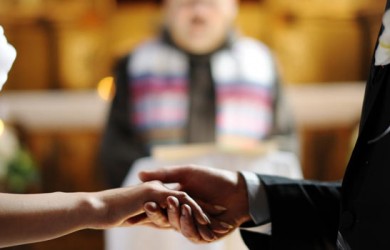 Popular Topics On Getting Married