Facing Problems in Getting an Orgasm? Here's What to Do
Do you ever wonder if you're the only woman left on this planet who will die before she has an orgasm? Well, first of all, you're not alone in wondering this, so you are definitely not the only woman on the planet who has not had an orgasm. Many women suffer from orgasmic dysfunction.
But that answer probably doesn't help you feel any less frustrated or feel any better about your situation of orgasmic dysfunction, now does it?
For most women who have not yet experienced one, they commonly ask themselves two questions about getting an orgasm.
How do you know if I ever will have one?

Is there anything I can do to help myself have one?
These are the two questions I will be discussing below, so please read along
Related Reading: Living With Sexual Arousal Disorder

Will you ever have one?
The honest answer to the question of getting an orgasm, which I know you don't want to hear is: I don't know.
I don't know because there could be so many reasons why you have not had one yet. For instance, I do not know how many times you have had opportunities to have an orgasm.
If you tell me you have had sexual intercourse one time in your life and it lasted a whole 5 minutes, then that is a very different situation from if you tell me you have had over 100 sexual encounters with your partner of over 5 years that, on average, lasted 45 minutes and despite enjoying being with him every time, you have just never had one.
Related Reading: 30 Ways on How to Initiate Sex With Your Partner

Understanding your sexual history is key to look at and understand
The more "sexual opportunities", a woman has had to experience an orgasm where she did not have one, the more frustrated and disappointing it becomes. This can really start to become problematic for two reasons:
She may start to believe a faulty "story" about herself that she is just someone who cannot orgasm. This faulty belief alone can be powerful enough to actually be what is getting in her way of having one. In psychology, we call this a self-fulfilling prophecy.
She starts wanting one so much that sex becomes a stressful event focused on all about having one. So, she cannot relax enough during sex to enjoy it and actually have one.
This leads into how a woman's mindset and what she tells yourself affects her ability to have an orgasm or not. If a woman is having sex and her mind is on other things like the stressful day she had at work or how she wishes she were in better shape and worried about if her partner finds her attractive, then she is definitely not in the moment, connected to her partner.
Her ability to be turned on sexually if she is in this state of mind is severely compromised. For help in getting an orgasm, a woman has to be sexually aroused or turned on first.
Likewise, having an understanding and awareness of a woman's overall lifestyle and stress level is key to help her in getting an orgasm. If she is constantly stressed to the point that she cannot quiet her mind during sex, this needs to be addressed first.
She needs to be able to concentrate on the moment for getting an orgasm.
It is also important to look at any other psychological or social "blocks" that may be impacting a woman's ability to have an orgasm.
Does she have any history of sexual trauma or abuse? If so, and this is something that she has not healed from or ever talked about, this may be something to consider.
Did she grow up to believe sex was "dirty" or "wrong"? Finding out about anything like strict religious teachings or if parents said anything in particular about sex that she now still holds onto could help her to understand why she is struggling to allow herself to enjoy sex and have an orgasm.
Bad relationships. Yep. Finding out if all she has had is abusive or unhealthy relationships could also be the answer to her inability to getting an orgasm. It would be hard for anyone to feel connected enough to someone to have an orgasm if they feel disrespected or unloved by them.
Is there anything I can do to help myself have one?
Well, yes. For starters, looking at everything discussed above and seeing if there is anything that could be impacting you. If so, I strongly suggest trying to work on those things and see if they make a difference.
In getting an orgasm, you have to know how and where you like to be touched. Many women actually don't know this. Whether it is because they have been with partners who were unskilled lovers who did not take the time to figure out how to pleasure their bodies and get them to orgasm or they, themselves have not done that through masturbation.
So, if you have a sexual partner with whom you trust and feel is open to working on this with you, you can have an open discussion with them about this. Tell them you want to find out how and where your body finds pleasure.
Ask them if they are willing to take the time
This does require a level of vulnerability on your part, the willingness of your partner, and the assumption that your partner has good sexual techniques that can actually give you pleasure.
If you don't have a partner or are not willing or wanting to go that route with them, you can always masturbate. This is known to help women understand how and where their bodies like to be touched.
Related Reading: 10 Tips to Become More Vulnerable in Your Relationship


There is a lot of hope
You get to figure out how much pressure or speed you need in which areas of your body feel good. When you are touched in the places in just the right way that gives you sexual pleasure, you increase the chance of getting an orgasm.
Once you know this, you will have more of a sexual awareness of your body and be better able to show or communicate with a partner how and where to touch you to help in getting an orgasm.
So, all is not doomed here if you are trying to navigate unknown avenues of getting an orgasm. There are plenty of things to consider and things you can do so you, too, can experience the pleasure of an orgasm. And, you do deserve to have that!
If this continues, you don't need to keep struggling for getting an orgasm. There is nothing wrong or embarrassing with seeking the help of a therapist to get past this and move on with your life.
Looking for help for couples who can't climax?
Don't hesitate to seek a sexologist's help to understand all about orgasmic dysfunction, factors affecting orgasm in women, reasons why many women might not have orgasms and what can cause orgasm problems in women.
Remember, orgasmic dysfunction doesn't need to become a norm in your married sex life. Seek help to enhance intimacy and enjoy a thriving sex life with your partner.
Share this article on
Want to have a happier, healthier marriage?
If you feel disconnected or frustrated about the state of your marriage but want to avoid separation and/or divorce, the marriage.com course meant for married couples is an excellent resource to help you overcome the most challenging aspects of being married.
More On This Topic
You May Also Like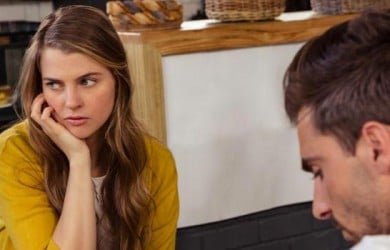 Popular Topics On Married Life