Top 15 Most Common Sexual Myths and Facts to Debunk Them
Sexual health is a subject that can be scary, mysterious, filled with common sex myths, half-truths, and downright misinformation, fake news as it were in today's parlance.
There exists so much in the way of mythology regarding sexual health, that we have gotten together a group of experts to figure out what is true, what is speculation, and what is downright wrong.
The truth about sex
There's no denying that sex is one of those topics that will always entice the general interest. However, it doesn't hurt to mention that talking about sex was considered taboo in many countries and cultures only several decades ago.
Consequently, it gave birth to various misconceptions that are still alive and kicking.
Surprisingly enough, not only are these myths common for virgins and inexperienced individuals, but also for full-blown adults and older single people who've decided to give senior dating another chance.
Related Reading: 

Making Sex a Priority in Your Marriage
15 common sexual myths and facts
We've decided to list the top 15 sexual myths and debunk them. So, we suggest you keep reading these common misconceptions about sex if you want to find out more.
1. The size and shape are crucial factors
This sexual myth, without a shadow of a doubt, the most common misconception about sex, and, ironically, men are the ones who are keeping it alive.
Most guys think that bigger or longer is always better, but it's not. First, a long penis is not something a woman necessarily wants to see. Second, experienced ladies and women who know a thing or two about sexual pleasure are more into shorter and thicker penises.
In fact, a survey published in the Journal of Sexual Health reported that 56.5% of women were successful in achieving orgasm irrespective of penis size.
Long and thin is simply not something that can fulfill (pun intended) their needs.
Also, a huge penis can cause a lot of pain and most women don't enjoy being intimate with a man who has a big phallus. So, whether you're a man with an average-sized penis or a woman who dates a guy with an average package, you should consider yourself lucky.
2. Chocolates and oysters are major turn-ons for couples
Another sex myth debunked!
You can often hear couples making suggestions about using Chocolates, Oysters, Red Wine, and a few others to create an aura of romanticism and set the mood on for an electric after-date.
No study has never really proved that oysters and chocolates carry sex stimulating elements in them.
But, Dr. Mike Fenster stated that "Oysters provide the essential mineral necessary for testosterone production," Dr. Fenster is a cardiologist and author of the book 'The Fallacy of the Calorie.'
Another research published in Food Research International showed that women who ate dark chocolate on a daily basis experienced a higher sex drive than the others who did not. Experts believe that the presence of phenylethylamine, a chemical is usually known as 'the love drug', is responsible for triggering feelings of contentment.
Then again, there are hardly any facts to prove that these chemicals are directly contributing towards boosting up your libido.
Still, if you think that eating a piece of chocolate can make you crave more sex or it is the presence of an aphrodisiac in the food that triggers such sensations, then so be it.
Also Try: 

Does My Husband Care About Me Quiz
3. You don't have to waste money on condoms. Just pull it out on time
Thanks to the laziness of careless people, the oldest contraceptive method or the pull-out is still very much alive.
Namely, most guys believe that they don't have to wear a condom if they manage to pull out their penis before they ejaculate.
Now, besides the other obvious dangers, like various STDs for example, this particular method is not that efficient because of the thing called pre-ejaculate fluid. Repeat after us – women can get pregnant from pre-ejaculate fluid!
This is why the pull-out system doesn't work, but unfortunately, a lot of guys these days convince their partners otherwise.
4. There's no chance a woman can get pregnant while on her period
False! Even though some people, especially guys, consider period sex to be rather unappealing, there are also couples who enjoy intercourse even if a woman is on her period.
One of the main reasons for this is a man's belief that his girlfriend or wife can't get pregnant while she's on her period.
However, this is not always the case. Yes, women are more likely to get pregnant during their ovulation, which occurs 14 days after the start of their last period, but given that every woman is different and sperm can live inside a woman's body for 5 days after the intercourse, there's always a chance a woman can get pregnant after unprotected sex during her period.
Also Try: 

When Will I Get Pregnant Quiz
5. Casual sex is always better than marriage sex
Casual or no-strings-attached type of sex is practically a trend nowadays.
People don't want to get emotionally invested and are looking for a good time without any kind of responsibility.
However, the question has to be asked – are these booty calls really better than marriage sex? Hardly.
You see, to have a good, passionate, and satisfying sexual experience. You need to have a special bond with your partner. In most casual relationships, people are simply not that close, which often makes sex rather impersonal.
In long-term relationships and marriages, on the other hand, the two lovers are bonded, which makes their sex life intimate and passionate. Therefore, if you're looking for an exciting sexual experience, you might want to consider entering a romantic relationship.
6. All orgasms feel the same each time
Sensations in your body do not feel the same every time.
To think orgasms feel the same each time you end up in bed with your partner is nothing short of faking the orgasm altogether. Kait Scalisi stated that orgasms could feel like a subtle whisper in the first attempt bursting out into an ecstatic explosion in the very next attempt. Kait Scalisi is an intimacy educator and founder of PassionbyKait.com.
She observed that there are different external and internal factors working silently to either check the orgasm from building up or damper the emotions to mild down the sexual climax.
Research also shows that each orgasm feels different if the point of penetration is different. So, it is time to debunk the myth forever.
Related Reading: 

Ever Wondered How Sex Feels like for Women

?
7. Your sexual experience should look like those in porn movies
This is also one of the most popular myths, especially among the members of younger generations. No wonder about it because pornography plays an important role in their lives, which means that most of them are trying to imitate the moves, scenarios, and language from those pornographic movies.
To be quite honest, you can learn some cool moves from these films, but a real-life sexual experience often doesn't look anything like a porn movie, and that's perfectly fine.
Remember, you're not actors, so it's normal to be clumsy, especially if you're having sex with someone for the first time. Some people try to hide their insecurities by imitating porn stars, and that's usually awkward for the other person. That's why you should always act naturally.
8. Pregnancy during periods
Something so important to our health and well-being is clouded with mistruths, innuendos, and urban legends."
The biggest misleading sexual myth amongst women of all ages goes along the lines of "If I am on my period, I can't get pregnant, right?"
Yes, indeed, one unprotected sex fact is that women can get pregnant if they engage in sexual intercourse during their periods if they or their partner are not using birth control.
Related Reading: 

Understanding When Are Women the Horniest
9. Birth control and a very important health risk
Birth control certainly does play an important role in sexual health.
While the birth control pill has gotten much safer in the fifty years or so when it was first developed, it still presents certain health risks, especially to specific demographic groups.
Women who smoke and who use the birth control pill are at a much higher risk for strokes and heart attacks than women who do not smoke.
If there's one message essential for all groups, men, and women, it would be not to take up smoking.
It is not only dangerous for women who take birth control pills, but it is also dangerous for everybody. And the evidence is now beginning to point towards the fact that vaping too creates many health risks.
10. STDs from toilet seats
One evergreen sexual myth which never goes away.
This sexual myth has probably been around since toilets were invented. You cannot get a sexually transmitted disease from a toilet seat. No ifs, ands, or butts!
Check out this video for a detailed explanation:
11. Sexually transmitted disease from a tattoo or body piercing
Unclean or used needles can transmit all kinds of unhealthy complications, from the not-so-serious (a localized minor infection) to the deadly (HIV) to everything in between.
The problem is that germs, viruses, and bacteria are carried in the blood, and if the needle is not sterile and is re-used, whatever is on that needle will be transmitted. All needles that pierce the skin should be used once and then discarded.
Do your due diligence and make sure this is one hundred percent the case before getting a tattoo or piercing.
Related Reading: 

What Is Sexual Aversion Disorder

?
12. Reusing condoms
Do not believe your cheap friend when he tells you that it is perfectly okay to rinse out a used condom and reuse it.
And another condom myth: they are not the best method of birth control. They are better than nothing, but there are too many chances for improper use, breakage, and leaking.
13. Pap tests
A high percentage of women believe if their Pap test is normal, they do not have any STDs. Wrong! A Pap test is only looking for abnormal (cancerous or precancerous) cervical cells, not infections.
A woman could have an STD and have a perfectly normal result from her Pap test.
If a woman does not know if her partner is perfectly healthy and has been recently tested for STDs, she should be tested herself. An ounce of prevention is worth a pound of cure, as the saying goes.
14. Douching or peeing after sex is a form of birth control
Many people, especially women, have this sexual myth that douching or peeing after sex is a form of birth control and that one will simply not get pregnant if one engages in these actions. Nope. Think about it.
The average ejaculation contains between 40 million and1.2 billion sperm cells in a single ejaculation.
Those little guys are pretty fast swimmers, so before a woman could even get to the bathroom to douche or pee, fertilization could be happening.
Also Try: 

Are You Connecting With Your Partner During Sex
15. STDs from oral sex
Many people believe in this sexual myth that you cannot get a sexually transmitted disease (STD) from oral sex. Wrong! While the risk is indeed lower than getting an STD through vaginal or anal sex, there is still some risk.
All of these sexually transmitted diseases can be transmitted orally: syphilis, gonorrhea, herpes, chlamydia, and hepatitis.
Additionally, although the chances are quite low, HIV, the virus that causes AIDS, can be transmitted through oral sex, particularly if there are any lesions present in the mouth.
Takeaway
There is so much mythology around sexual health. Hopefully, this article has helped to dispel some of the myths about sexuality for you.
It is vitally important that sexually active people take responsibility for their own sexual health since it affects not only themselves but also their partners.
Share this article on
Want to have a happier, healthier marriage?
If you feel disconnected or frustrated about the state of your marriage but want to avoid separation and/or divorce, the marriage.com course meant for married couples is an excellent resource to help you overcome the most challenging aspects of being married.
More On This Topic
You May Also Like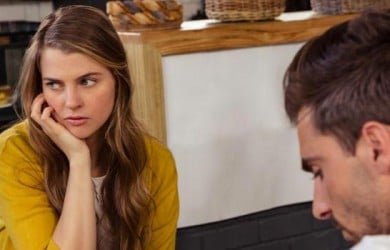 Popular Topics On Married Life