7 Ways to Get Your First Casual Hookup
A few years ago, getting hookups required effort. You did it either alone or with a friend's help.
Today, you can get a hookup in no time. You can do it by online dating. And you can do so from the comfort of your bedroom. However, if you're doing it online, understand that it differs from the real world, which means that traditional pickup advice doesn't work (for the most part).
So read on for some hook tips and more information about how people hook up.
What is a casual hookup?
A casual hookup is a relationship where people get involved physically and emotionally for a short period regardless of any commitments of a long-term relationship.
You meet these people, but you don't want to formalize the relationship. It can be because of many personal reasons.
Usually, a casual hookup implies an open relationship, and people can date other people, but some couples do keep it exclusive, although they never promise to establish a serious relationship.
Are casual hookups worth it?
A casual hookup is an individual choice, and it depends on so many external and internal parts of a person's life. The researchers have found mixed results for casual hookups. Some studies found that it impacts your mental health, and you might suffer from anxiety, stress, sadness, regret, and poor self-esteem.
Although, some studies also found that it leaves positive impacts such as a sudden boost in mood and self-esteem, physical pleasure, self-awareness, relaxation, etc.
Ultimately it entirely depends on you how you feel about casual sex and will it be worth it for you or not. Your personal beliefs in gender roles, romance, morality, happiness, sexuality, etc., will form an opinion about casual sex.
Depending on how you deal with your emotional baggage related to romance, sex, and dating, a casual hookup can be either a happy or sour experience.
Related Reading: 6 Ground Rules for Casual Sex
Is casual sex good or bad for you? Watch this video by sex researcher Dr. Vrangalova to know more about it.
How do you ask for a casual hookup?
Many people search rules for a casual hookup or how to hook up properly. There are no set rules to follow, and you can successfully hook up if you can make someone like you. However, there are some things that you need to keep in check if you want to understand how to hook up with someone for the first time.
Set a place to meet up and make sure it's clean.

Dress appropriately. Please remember that you have to make a first impression, so do your best.

Do not start with the drinks. Talk a little and get to know each other a bit.

If you are at a party or somewhere out, get them off to the side so that you can have alone time.

Observe their body language and what they are talking about. Try to understand if they are interested or not.

Try flirting and wait till they flirt back if you think it's okay.

Get playful and make the first move.

Ask them how they want to take this forward.
What are the stages of a hookup?
In this new era of hookups, here are some stages that you might find interesting.
You had a one-night stand. You understand the casual hook-up meaning, and you also have the number. You may or may not dial that again.
You don't remember a thing about that hook-up, and you may want to have a casual hook-up again with them to jog your memory.
There are many stages of hooking up with someone, but a booty call comes when they like hanging out with you but do not want a serious relationship. You become a regular person in their life.
So you hooked up with an old friend, and now either everything is awkward, or you both have liked it so much that you want to continue it without any feelings.
A fling is less than a relationship, but many consider it more than a casual hookup. A fling can last for a month, and people enjoy it because they know that it won't last in the long run.
Related Reading: What Is Casual Dating? Purpose, Benefits, and Rules to Follow
7 Ways to get your first casual hookup
Here are some ways to help you through your first casual hook-up. Do keep these in mind when trying to hook up with someone:
1. Define what you want
Oddly enough, not all people define hookups the same way. However, it's understood to involve some physicality. So kissing, sex, etc. Before venturing online, define your limits (significant for women).
Understand why you're hooking up and how you define it. For example, are you doing it to find someone to talk to? Or are you doing it for a "friend with benefits?"
2. Understand the internet's diversity
Yes, there isn't just one type of hookup site. You also have "niche hookup sites" designed for different interests. For example, you can try interracial dating sites. After all, your tastes may be somewhat exotic, or you can try BDSM sites (if that's your thing).
No Shame – It's an Open Buffet. That's one of the beauties of the internet.
You don't have to hide anything when learning how to hook up. Just find the right websites, and speak who you are. You'll find people who share your tastes.
3. Understand the sexuality of another person
Not everyone is made for hookups. Some are for long-term relationships and marriage. Others are even specialized (serving communities like LGBTQ).
So pick the proper sex. You don't want to waste weeks trying to get a hook up with the wrong sexual interest.
4. Learn how to present yourself
That's key to a casual hook-up. If you look sloppy and dispassionate, no one will want to be with you. But if you're interesting, people will hook up with you.
What if I'm not interesting? Then work on yourself before looking for hookups. If you're out of shape, work on that. Or, if you feel that you lack interesting hobbies, work on that too.
The point is, when hooking up, you're doing so due to 1 of 2 things –
Your looks

Your lifestyle
If you weren't blessed with celebrity looks, know that your lifestyle is your resume. Lacking an exciting lifestyle will repel most hookups you try to find.
5. No cheesy pickup lines
First, they don't work, and they make you look eager.
Second, they're corny and childish. Pickup is an old tactic used many years ago and has been a dying trend for years.
It won't help you get a hookup unless the other side is just as desperate or you have thrown the best pickup line they ever heard.
6. Learn to text
Yes, texting (just like body language) is a skill to perfect. There's timing, how you write, and the tone behind your texts. Don't reply within seconds of getting messaged. You're not a customer service team member. Instead, give it some time. Vary your response time. The process implies that you have a schedule where you're online at specific times.
7. Be direct
Just be straightforward. Be honest, and speak in clear statements. It gains you more respect from prospects. Being direct sets clear expectations between you and the other party. So it's easier to understand each other's needs.
Conclusion
If you need to learn how to hook up, you need to get out there and try to talk to people and make a move. Just keep the tips mentioned above in mind and be honest. People will always appreciate it if you ask for their consent for a casual hook-up.
Share this article on
Want to have a happier, healthier marriage?
If you feel disconnected or frustrated about the state of your marriage but want to avoid separation and/or divorce, the marriage.com course meant for married couples is an excellent resource to help you overcome the most challenging aspects of being married.
More On This Topic
You May Also Like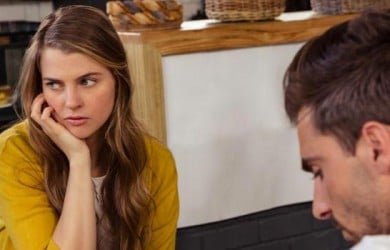 Popular Topics On Married Life