Information at Your Fingertips: Obtaining a Marriage License Online
How to get a marriage license? Where to get a marriage license? How long does it take to get a marriage license? How to get a copy of the marriage license? How much does it cost to get a marriage license?
If you are struggling to find the answers to these questions, maybe it is time to look for more convenient options. Such as 'Online marriage license.'
It's been well established that a marriage license is an official document issued in all fifty US states and an assortment of US territories.
So what is a marriage license?
A marriage license legally authorizes heterosexual and same-gender partners to engage in a federally recognized and legally protected civil union.
Marriage licenses are typically produced by county probate and/or family courts after an application for a marriage license is submitted.
The license is signed by an authorized officiant, typically a member of the clergy or one recognized in a judicatory as a notary public. The license is signed only after the marriage ceremony has been completed.
It is then the officiant's responsibility to file copies of the marriage license with the appropriate family or probate court. Also, the officiant is generally required to file a copy of the license with the officiant's office.
Typically, a duplicate copy of the marriage license is all given to the married couple for their filing.
While this "paper and file method" has worked for generations, an increasingly tech-savvy generation wants to know if it is possible to find a marriage license online.
The crux of this article explores the marriage license process for applying for a marriage license online and accessing marriage license records online.
Unfortunately, there seems to be no uniformity in this process. What may work well for Nevada, California, and Indiana, may not be an option at all in South Carolina, Alabama, and Idaho.
Inasmuch, our first piece of advice on how to apply for a marriage license – use discretion when you start looking for digital options.
By the time you find one that may work for you and your context, the marriage day may have already come and gone. What good will that do you?
Also watch:
The online marriage license application
In the states that allow an online marriage license application, most notably the state of Indiana, the online process still requires proof of legal identity as a citizen of the United States.
Typically, applicants must provide a copy of a driver's license, passport, or government service identification card. These documents must have a photo of the applicant affixed.
Further, applicants must remit digital copies of instruments that prove that the applicant has a valid Social Security Number.
This portion of the online application process can be quite cumbersome to those who do not have access to digital scanning equipment. It should be noted that poor digital copies of your identifying documents have very little value.
Make sure the "digitals" you electronically attach to your online marriage application are legible.
If an applicant has had a previous marriage, especially if the marriage took place in a state other than where the applicant is currently filing for marriage, the online applicant must also provide digital copies of the pertinent divorce paperwork.
If this paperwork cannot be obtained or submitted, there's no need to continue the online process.
On the other hand, if the state holding your divorce certificate has a strong digital footprint, it may be possible to have your divorce paperwork moved electronically to the state issuing the next marriage certificate.
This process may require nothing more than a phone call or a well-placed email. A wonderful opportunity, indeed!
Online marriage applications should be checked and rechecked for accuracy. Of particular importance is the submission of the applicants' correctly spelled names.
Further, the applicants need to ensure that next-of-kin names, addresses, and dates of birth are accurate. Significant glitches in online reporting will most definitely cause problems with the filing.
In some cases, the marriage application may be held-up in digital cyberspace indefinitely.
If the applicant has any concerns about his or her ability to complete the digital process, it is advisable to head to the family/probate court and submit a traditional application.
A final thought about the online process: contrary to popular understanding, the online process requires the same submission fee as the traditional model. Applicants should expect to spend between $15 and $100 for the license.
Further, some states charge a slight service fee to use the digital option. Thankfully, digital submission options offer digital payment services.
Yes, your debit and credit cards will be accepted by online providers. Also, wire transfers are typically acceptable to online venues.
Another word of caution. If you complete a robust digital application process but still remit a paper check or money order, you defeat the time advantages that come with the submission of a digital application.
Seeking marriage license records online
The good news is this. The process involved in obtaining old marriage licenses is not nearly as cumbersome as the actual marriage license application process.
As marriage licenses are matters of public record, the documents may be obtained by those not named on the actual license — first, a word, or of semantics.
Generally, a marriage license that has already been issued, signed, and is on file with a particular court is called a marriage certificate. Inasmuch, those seeking copies of issued marriage licenses are seeking certificates.
Now for the question of the hour… how does one go about obtaining a marriage certificate?
Absolute proof of identity is not especially important in this process; submission of one digital form of identification may be sufficient to satisfy the requirements of the archival agency.
Further, the cost associated with the digital submission of documents requesting a marriage certificate is not prohibitively high.
In some states, the online cost of obtaining a certificate may only entail printing and postage costs.
Final thoughts
In the digital age, consumers seek options that shorten wait periods and streamline paperwork. In the world of marriage legalities, the digital revolution means some helpful options for applicants.
While there is a sense of ritual involved in applying for a marriage application traditionally, we certainly appreciate the push toward cyberspace.
It's all about accuracy, friends. If you are compelled to "go digital," make your online submissions as error-free and precise as possible. While convenience and speed are always attractive, the delay of a license issuance hurts.
Share this article on
Want to have a happier, healthier marriage?
If you feel disconnected or frustrated about the state of your marriage but want to avoid separation and/or divorce, the marriage.com course meant for married couples is an excellent resource to help you overcome the most challenging aspects of being married.
More On This Topic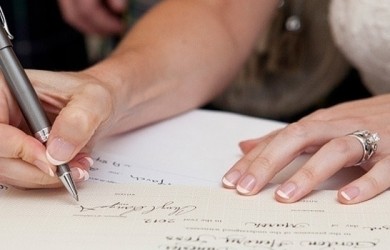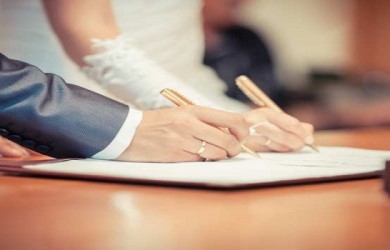 You May Also Like
Popular Topics On Getting Married